Trends of wearing western outfits are not only taking place in the western first world countries, but also in eastern countries like India. People tend to feel more comfortable and stylish with their western outfits. Now there are several western outfits to wear, but in this article we will discuss about the bottom wear and the latest trends of the same.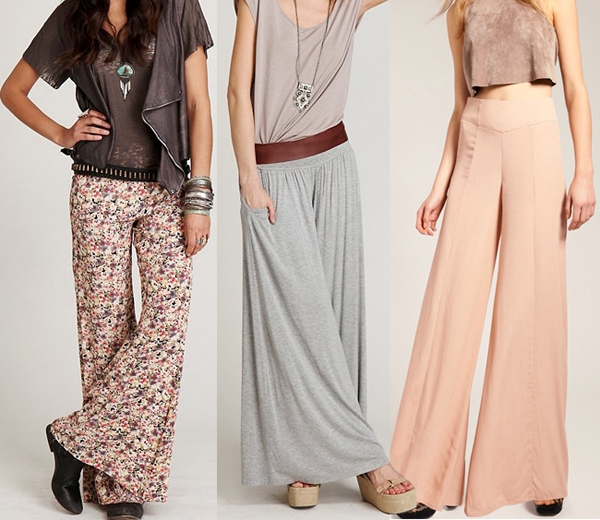 Yes, you will be happy to know that there are many different varieties of western bottom wears available in the market. All of these might not be in trends, but most of them play a great role in changing the look and personality of a person. The bell bottoms have always been in style, and they continue to dominate the fashion industry even today. Therefore, if you want to create the stylish chic in you, you can look at the different ways through which you can pair up your bell bottoms.
1.    Wearing with a flowy shirt- Whether it is spring or summer, one of the good ways of keeping yourself in trend and style is to match your bottom with a flowy shirt. It will not only make you feel comfortable, but bring style on you naturally. Moreover, if you can tie a belt in the middle part of your shirt, near the waist, things can look more stylish.
2.    Try an oversized sweater- Have you ever tried wearing your bottoms with an oversized sweater? If not, this is the right time to give a try. Bright colored sweater can make an excellent match with your hip styled bell bottoms. You will feel the difference in style with this extravagant combination.
3.    Rounded sunglasses- Many people fail to realize that accessories also play a big role in making one look stylish and awesome. Therefore, when you wear your bottoms, you should make up a point to match it up with the right accessory. Using a rounded style sunglass can take you to different height altogether. You will look chic and elegant more than anyone else. You never know, with this style, you can even create a style statement of your own.

4.    Try with chunky boots- If you want to look like a hipster, pair your bottoms with chunky boots. These look awesome, and it will create an amazing impression on your style and personality. It will create a chic element in you, something that you have been wanting for a long time. As a result, it can turn out to be highly satisfactory.
In fact, there are innumerable ways through which you can match up your bottom wear to reflect an exceptional style statement. Moreover, apart from the bell bottoms, you can also try out the other options in bottom wear like shorts to get the look that you have always wanted. So the next time you want to wear something where you want to look stylish and feel comfortable, simply choose your bottom wear carefully and accessorize it in the right way.