Indian fashionistas can never get over their love for georgette sarees. The trend for georgette sarees is not new; it has been loved by women for a decade. The light-weight sheer fabric with a crinkled look gives georgette a beautiful feel. Due to the feather-like weight, these sarees are very easy to drape and are perfect to flaunt your feminine figure.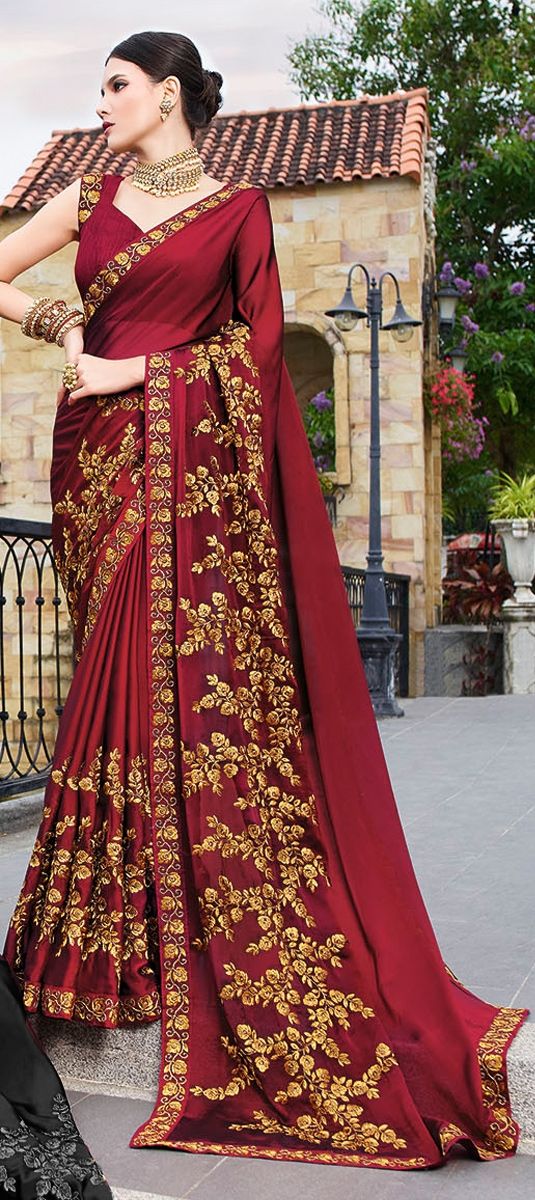 But, what is so special about a georgette saree? We say the feel of the fabric and its versatility to be embellished with any type of work.
The beauty of georgette fabric:
The inspiration behind georgette somehow comes from chiffon. People needed a fabric that was close to chiffon in look and feel but stronger and durable. Georgette is a sheer fabric that can be both transparent and opaque. It is flowy just like the chiffon fabric. However, it is opaquer than chiffon. Due to the quality of the fabric, it is used to design dresses, suits, sarees, gowns, kurtis, tops, and even lehengas.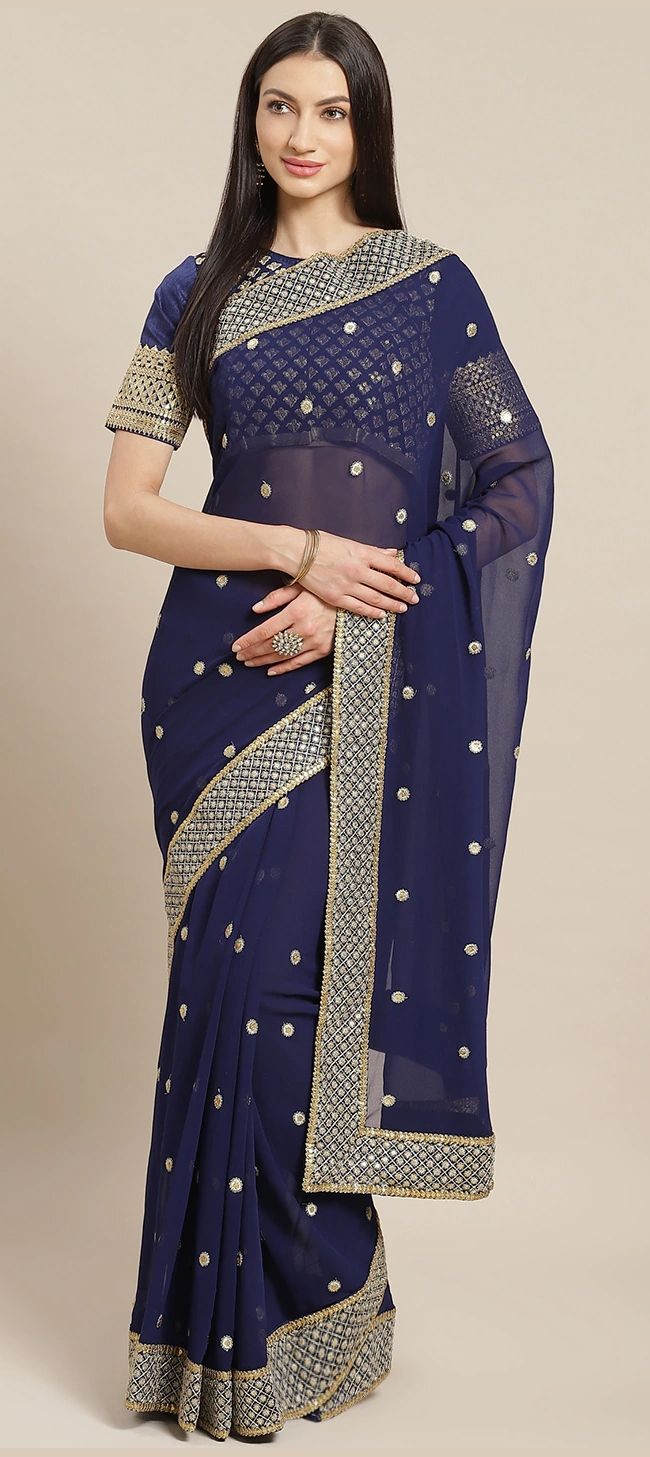 You can find different types of georgette but the most popular are poly georgette and faux georgette. Poly georgette is more expensive than the faux variety. The faux variety of georgette is very popular in Indian wear. This is because faux georgette is suitable for nearly all seasons. The fabric supports embroidery and different types of prints. The best part is that it is durable and lasts longer than any other fabric which is the primary reason why Indian women can never get enough of this fabric.
The other types of georgette are satin, georgette, jacquard, and so on.
Classic drapes in georgette sarees:
Georgette saree drapes beautifully, accentuating your figure through its light and flowy feel. The pleats of a georgette saree fall very pleasingly. Having a collection of georgette sarees is like a treasure. The intricate workmanship and stitches used in pure georgette saree are beyond excellence.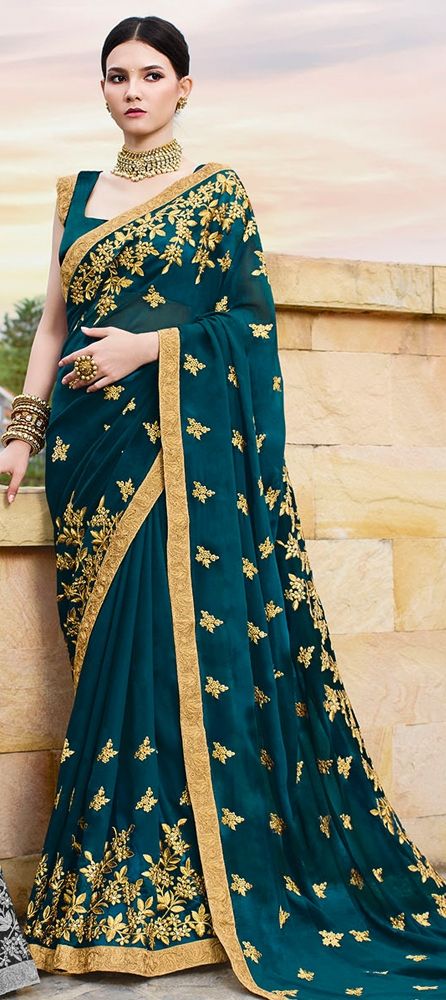 Due to its light fabric, it is ideal for traditional zardozi work and other similar embellishments.
This Indian attire is available in many varieties for different occasions. From daily wear in beautiful prints to party wear georgette sarees, you can find them in a wide range. The faux georgette designer sarees are available in a wide range of colors and designs. You can find simple floral prints and digital print georgette sarees as well as heavy-bordered sarees for festive occasions.
The current trend calls for designer georgette sarees with alluring booty works. They are perfect for both casual and party looks. Designers experiment with this beautiful fabric by applying patch borders, intricate zari work, modern prints, and other eye-catching elements.
How to take care of your georgette saree?
Georgette is a very light and sheer fabric, you need to properly take care of it. This will ensure that the saree retains its shine and luster for a longer period.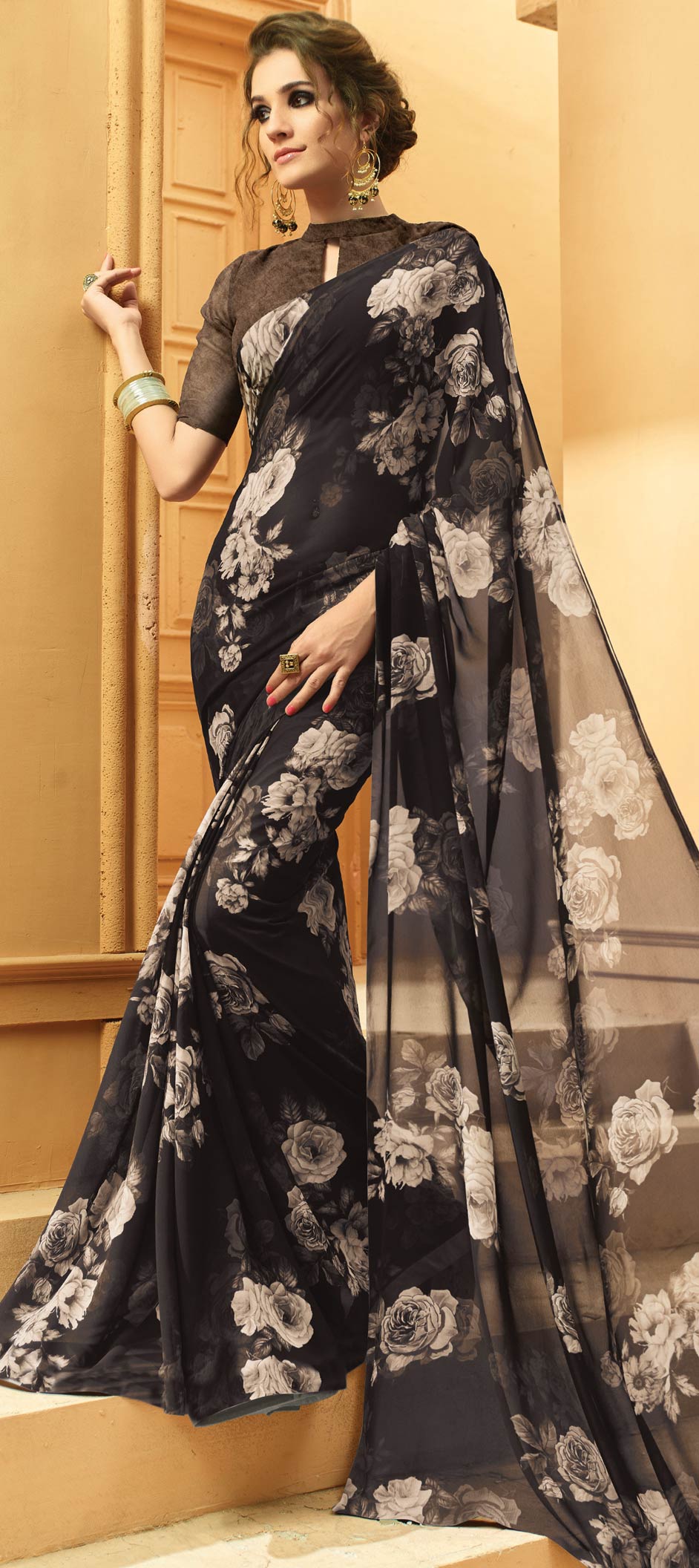 Unlike silk, you don't necessarily need to dry clean your georgette sarees. Simply hand washing them with a mild detergent would suffice. Don't leave the saree in sunlight for too long. If possible, dry it indoors or in areas where there is no direct sunlight.
You can easily buy georgette sarees online. If you're looking for the exclusive collection of printed georgette sarees, designer georgette sarees, or embroidered georgette for weddings, you can visit the Indian Wedding Sarees.