Now days Fashion Trend is flowing in a magnificent range of attracting and dazzling neon colors. When some say "How gorgeous you look" a sense of feel good factor ripples our mind. Each one is conscious about their look and how to look special from others among the latest fashion emerging every day.  If anyone wants to steal the show and desires then the eyes should be on them exploring the real zeal of neon colors.
A look that gives a definition to fashion
When we see the Show stoppers hitting the stage wearing these eye-hitting, fresh neon colors in the fashion parade it strikes on our mind that how it will go on us.  This peppy look goes well in all form of style from kurti's , top's, shirt's, kaftan's, salwar's and sarees. It has become the latest style mantra.  Some of the popular neon colors are pink, lime green, yellow, blue, orange, light purple, and bright poppy red.  Not only has the western attired but also in eastern dresses as in sarees these neon colors are in high demand. Ace fashion designer Masaba Gupta has created a niche for herself by using various shades of this shade in her collection.
Brightening the life of Bollywood with Neon Sarees
Most of our Bollywood stars are making a fashion statement with the attracting neon color sarees. Many celebrities can been seen in the page 3 parties, the fashion week parades, award ceremonies and even in social functions draped in a sophisticated neon saree. Bollywood actor like Priyanka Chopra walking the ramp on a lemon green neon georgette saree has the set the stage on minty refreshment. Actor Deepika Padukone has been spotted in a lime green neon saree during the promotions of the super hit movie Chennai Express.  Other Bollywood actors who have followed this trend are Kajol, Kareena Kapoor Khan, Madhuri Dhixit, Sonam Kapoor, Alia Bhat and Sonakshi Sinha. Many Bollywood songs have also featured actors in these hot chic neon colored sarees.
Fabric and Patterns used in Neon Sarees
The mostly used fabrics in neon colors are georgette and net but designers have introduced these into cotton and chanderi silk. These colored saree has an advantage to wear on nights creating a feel that a person can be marked out in the dark with the specific look. These neon colors work wonders whether they are spread all over the body of the saree or a patchy work on the body of the saree. Dark color saris like navy blue or black, bottle green and brown bordered in fascinating neon colors like orange or pink and lime green gives a classy and sophisticated look. A trend of bi colored pattern of sarees using neon colors with soft colors like ash, white beige and baby pink are also very attractive.  You can rock the party with these highly thrilling and luminous neon color sarees with a half net and half georgette body in glittered borders.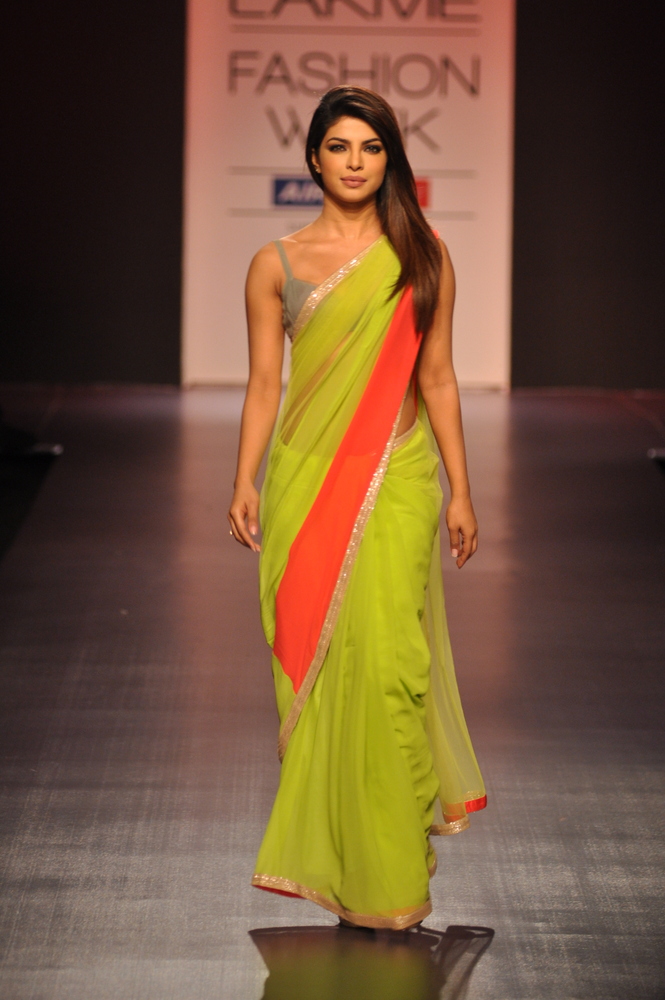 You can easily find the designer wears at any renowned online Indian wedding saree.