The first name which comes to our mind when it comes to Fashion Designing in India by a lady is Ritu Kumar. This gorgeous lady was the first woman in India to bring the concept of "boutique". She first came up with her store with uniquely designed pieces for individuals. The ancient traditional craft and fabric of India was celebrated first by Ritu Kumar in her own way. She recreated the magic of Indian embroidery and traditional craft of India for the people. The different types and kinds of weaving of clothes practiced in remotest places of India, the lost embroidery and stitch work of different states were bought back by Ritu Kumar who made traditional clothing popular amongst the new generation. She almost pioneered the fashion industry in India and made India recognised to the International Fashion Fraternity.

A look at Achievements
Ritu Kumar was the first designer to make the ancient once lost skills contemporary in modern Indian fashion market. Her textile crafts made received huge response from people all over. She modernised the Indian embroidery heritage and reached it to every person.
Her styling and creativity gave the Indian dresses an amazing global touch. Much senior fashion worker, Ritu Kumar had bought a revolution in the fashion industry. She devoted and deployed a number of people in to this business and created employment on mass. From remotest corners of India she searched skilled craftsmen who did wonderful textile weaving, but were in darkness forever.
The Excellent Traditional Indian Fashion
The excellent Indian Zari work was again made popular by this lady who ran multiple workshops on Mughal embroidery culture and skills. Several people were made a part of this work and sarees, salwar kameez, churidars; dupattas once again came in to trend.
The heavy embroidery stitch and zari work of gold done by the Mughal people were once again bought back. Ritu Kumar also wrote a book on this research work called "Costumes and textiles of Royal India" which had all records of the Zardosi work of the Mughal Kingdom. Lehengas, heavy embroideries sarees, anarkalis became popular with the use of Zardosi work recreated by Ritu Kumar.
A Brief Look on the Bollywood Celebrities
We can mention almost all the bollywood divas in to this list. No bollywood beauty has ever refrained herself from wearing a "Ritu Kumar". Madhuri Dixit, Aishwarya Rai Bachchan, Sri Devi, Rekha, Jaya Bachchan, Karishma Kapoor, Raveena Tandon, almost every Indian heroine has sported in Ritu Kumar Saree. Apart from Bollywood, her label is cherished and appreciated in other regional film industries like Tollywood and Kollywood.

Awards
The highest achievement of this lady is the revolution of fashion which she bought in the country. Her work has effected and changed life of mass directly and indirectly. Whether it's about sporting her designs to look fabulous or to work with her in this huge affair, lives of many has been touched by her. She has received the Padma Shri in the year 2013 which is the highest recognition in the nation in to this business.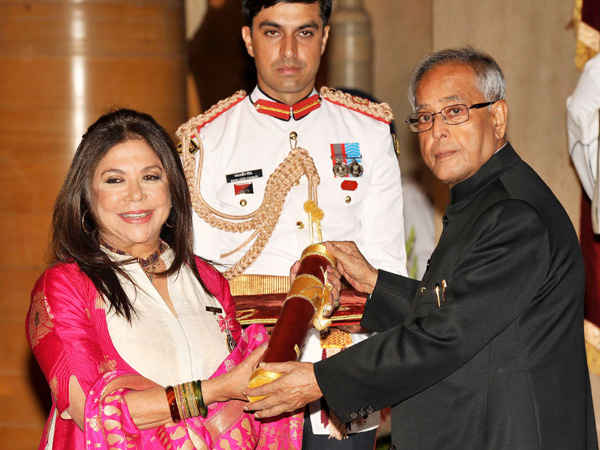 Apart from India, Ritu Kumar is honoured and rewarded in many other nations and fashion destination.