Fashion is something that reflects your personality. Men can look classy and charming with trendy Indo western suits. An Indian man can never imagine a wedding without a traditional outfit. You can look dashing in this Indo western outfit on a wedding. Indian fashion is highly influenced by western fashion. You can see many clothes in India that show a touch of western fashion. Men can get a sophisticated look by wearing an indo-western outfit. Men always love to look fashionable and charming. This desire of men can be completed with this type of outfit. It's not that hard to get a hold of an Indo western outfit anywhere in the world. Indian Wedding Saree brings many stylish Indo western outfits.
A look that inspires people
Every age of men has their own style. You can accentuate your style with this black and grey outfit. It will be interesting to groom yourself by getting this look. Sustainable choices of men sometimes stick to one type of outfit. Indo western dress is something that lets you experiment with your look. The sophisticated look of a man attracts people. You can get this look by simply wearing this outfit. Black and grey color outfit will fit to your choice. Men have many types of outfit if they opt for indo western style. Black and grey outfit gives an insanely cool look to the guys. Indo western jacket with white trouser makes your look cool and classy. You can leave people wondering with this simple and sophisticated outfit.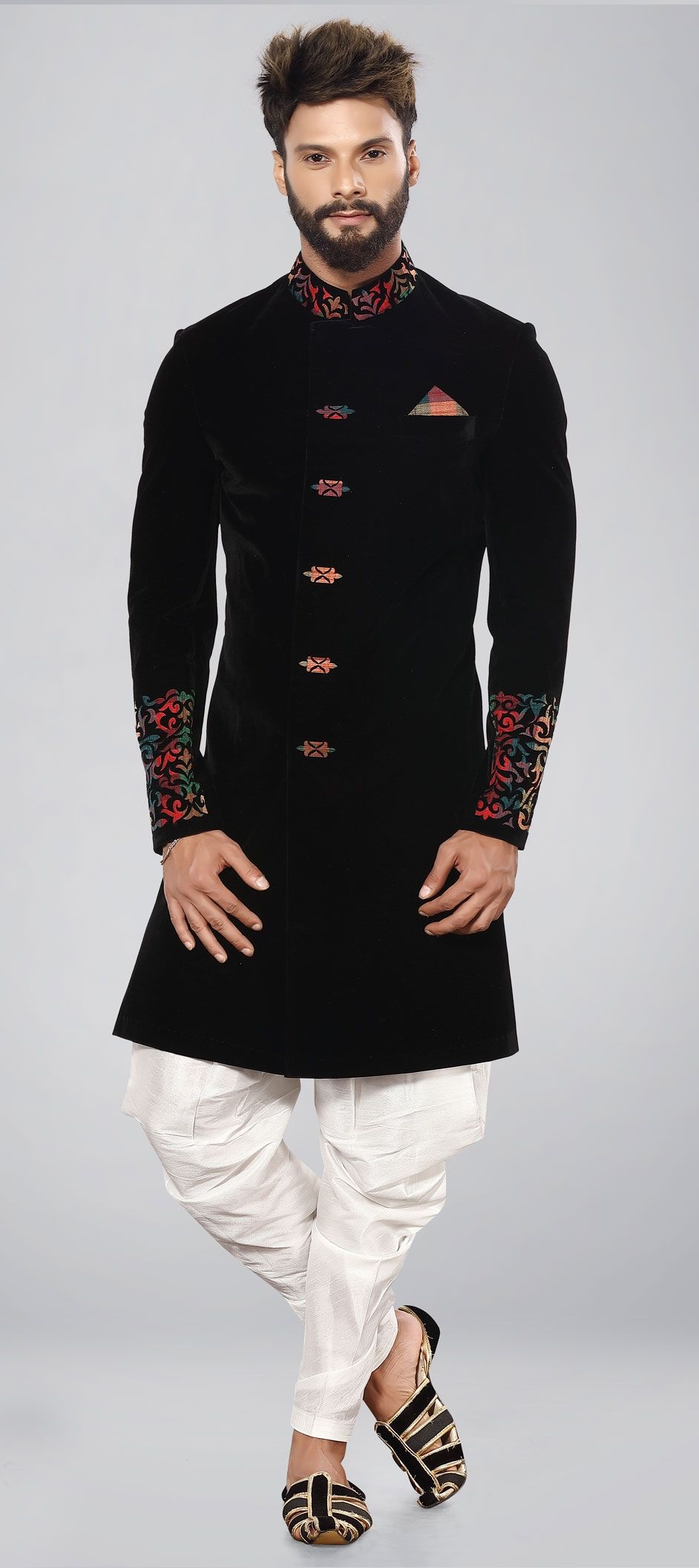 Let your style make the statement
The importance of this piece is going high as it's the perfect combination of Indo western outfit. The stylish hems in the asymmetrical pattern reveal a stylish man in you. It has intricate thread work that makes it rich and decent outfit. This ethnic outfit is carrying the essence of Indian fashion and western fashion. It is comfortable and stylish so that you pair anything with this dress. Go step higher to boost your fashion sense with beige and brown Indo western outfit. Style in the manner that gives you more effective appearance.
This Indo western outfit holds the charisma that can complete your wish for the dream outfit. You can compliment your personality with this amazing outfit at any time. Wear this Indo western outfit on a wedding or any other occasion to look fashionista.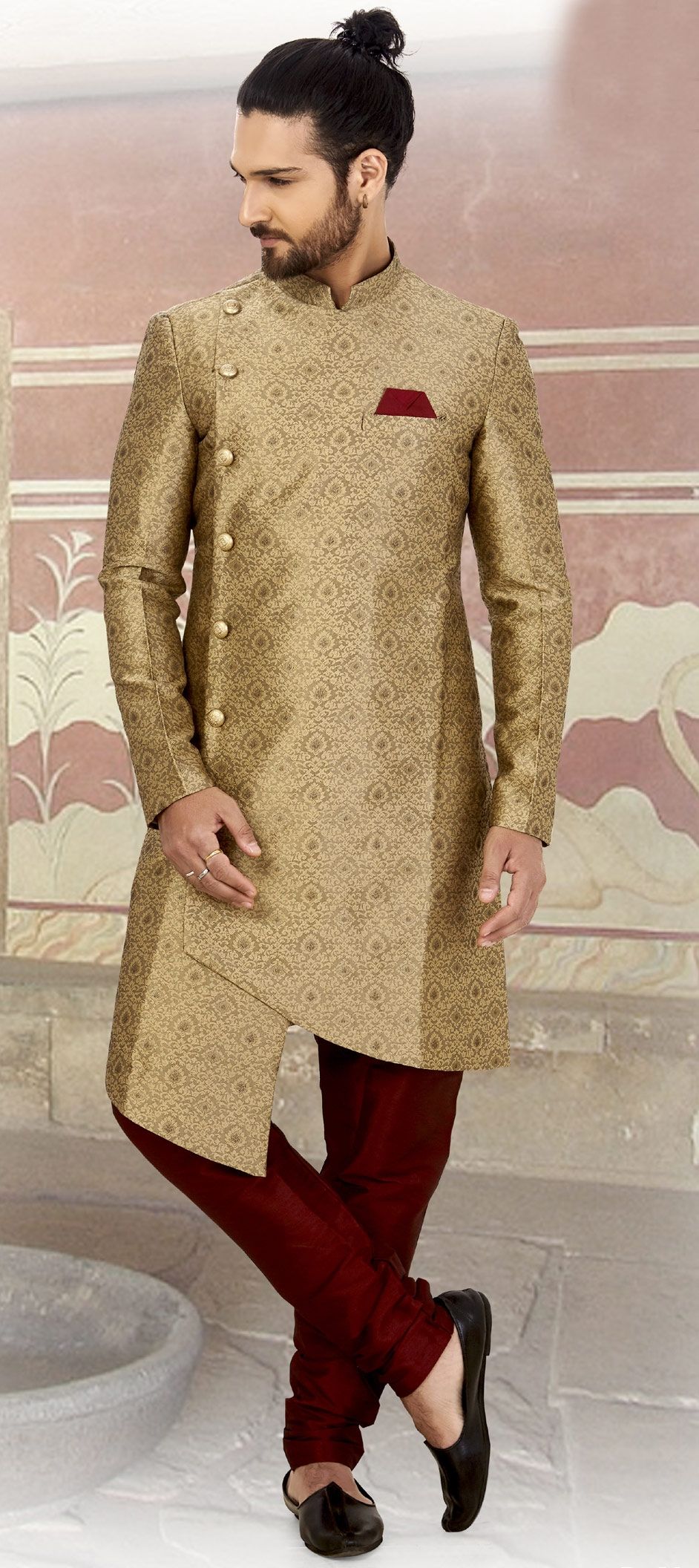 Get trendiest and traditional look
Blue jacket with brown trouser is a great combination of an outfit. If you are gearing up for a wedding or any other occasion you can opt for this elegant dress without a doubt. Golden work covering the collar and ends of the jacket gives a lavish and sophisticated appearance. You can wear safa with this type of Indo western dress to look traditional and elegant. The trouser resembles dhoti that does work of two types of outfit at the same time. You can develop a love for western fashion and Indian fashion at the same time by wearing Indo western outfit. You can step out the house with this Indo western outfit to attend any traditional function. these outfits can take your look to the level where you can feel fashionable and classy.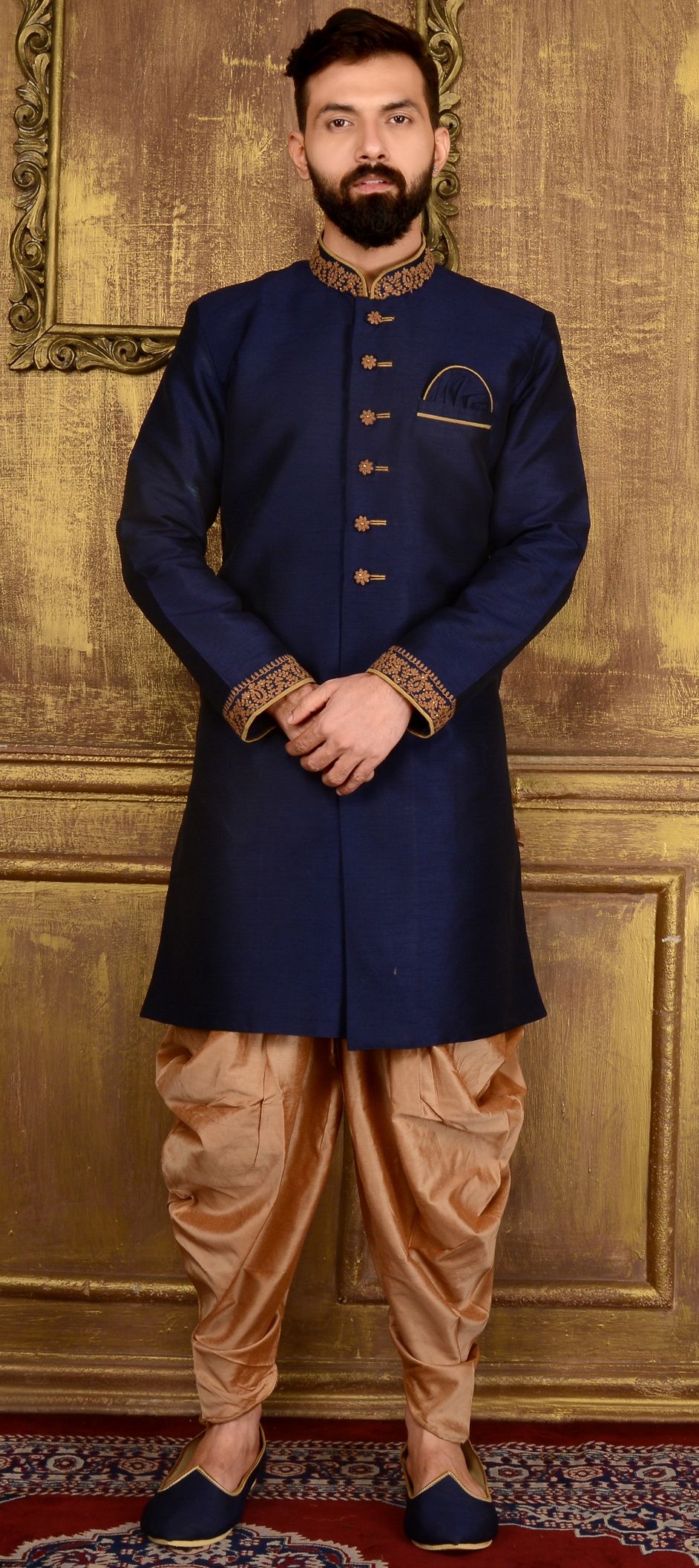 Our world of men's indo western outfit
Indian Wedding Saree gives you many choices of Indo western outfits to make. You can pick your favorite one on our website. Not only stylish designs and fascinating works make your dress good looking but fabrics also. Silk, cotton, chiffon, georgette, and many other splendid fabrics of Indo western suit are available on our website. Colors also make a dress fabulous to a certain extent.
We offer Indo western outfits in maroon, blue, brown, white, and other shades. You can take a pause from regular shades of colors in order to try unique shades of Indo western outfit. Designer Indo western outfits are made by the expertise. They leave no stone unturned to make it fabulous and attractive. Zari, thread, embroidered, resham works make Indo western outfits majestic. To add a more traditional touch in your look you can pair safa with Indo western jacket and trouser. You can pair mojari with the Indo western outfit to look elegant.
Do you always look for stylish and trendy men's wear? You are at the right place as we provide many designer and trendy dresses at reasonable prices. Want to stay up to date with the latest trends and fashion of ethnic wears? In order to this, you have to be connected with us.