Bride and groom clothing differ much in terms of range and variety they offer. While you get a lot of new and wide array of designs easily for brides, you get to see limited options when it comes to choosing wedding outfits for men.
As you look for options for the groom's attire, you will find dresses confined within a few styling options that mostly take up conservative and limited choice of design, pattern, and color, that are overly used across fashion trends and timelines.
Even if you talk about wedding sherwani, which is the most celebrated attire for grooms, you'll find them going through the same mediocrity. So, if you go around finding a unique style in sherwanis at nearby local stores, it may always be a challenge to find some interesting fashion that makes you stand apart in that purview.
And the obvious reason is these suppliers and trading outlets play safe and go only with the clothing options that are 'good with everyone'. Alternatively, if you approach designer modules, they are pretty expensive at offering rare and unique designs. So, how do you get something unique to wear out of this mess?
To make it easy and affordable for you to check with those interesting and trending new groom sherwani designs, here are the four latest options available online to get you a break from this overdone cliché in the groom's fashion.
Floral Paisley Green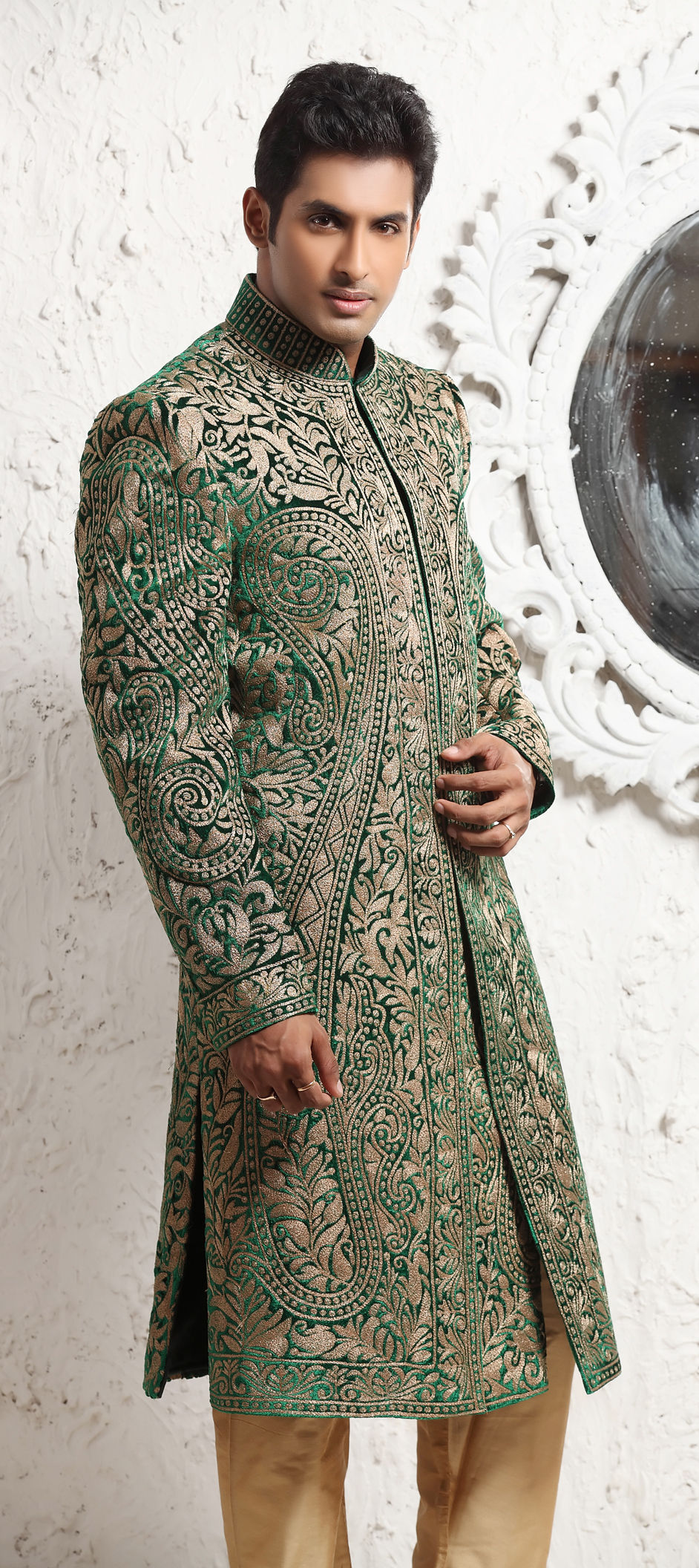 Well, that may sound pretty offbeat and unlikely for men, but as you get to wear the sherwani ensemble depicting floral and paisley greens it looks great. Intricate thread nuances and Zari brocade work all over the length gets it the regal attraction in a unique work of couture art. The fine blend of texture and edging overlays get it the rare artistic finesse. All you need to do is carry it with the pride of a groom going with the traditional poise that comes naturally to you and it will be doing great for you.
Beige Silk Sherwani with Stole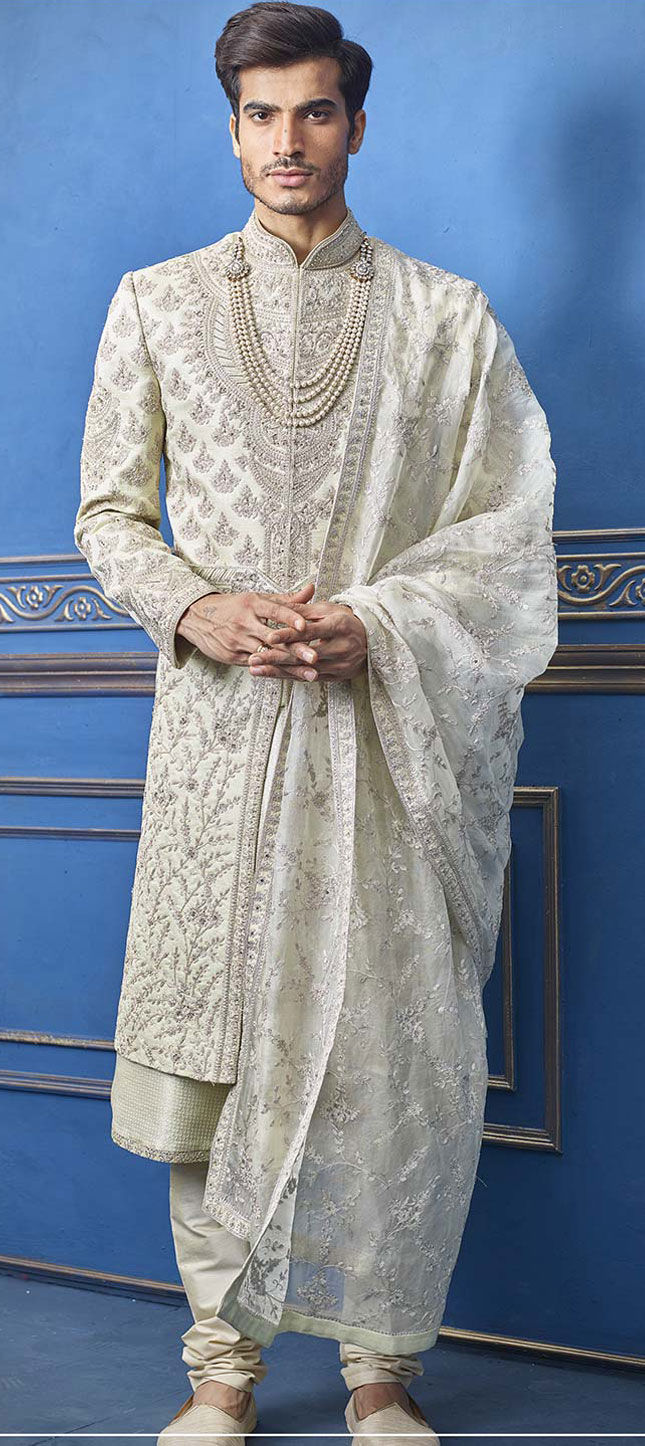 The heavy Zari embroidery work done on the silk vestment all depicted by basic beige and white shades get you something subtly appealing as a Wedding Sherwani outfit. It gets its enigmatic charm with the matching white stole, all done with beautiful thread work and profoundly created borders. A great way to act unique and different from your choice of a wedding ensemble.
Turquoise blue silk sherwani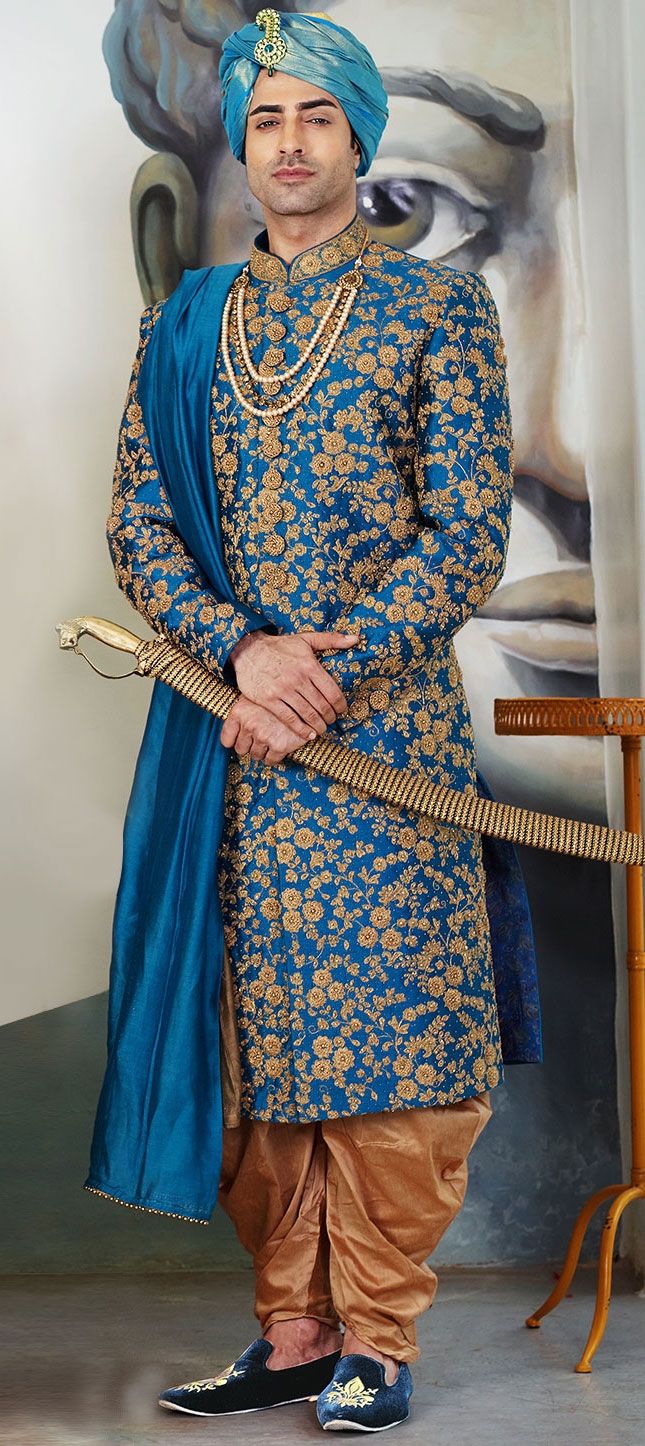 Turquoise blue color in men's sherwanis is something that is not meant to be carried by everyone. But, for those who know how to wear designer traditional wear with grace can really make the most out of the distinctive shade to the best of the merits of traditional fashion. Gets along well with the blue turban with an ornamental charm mounted on it.
Gold Sherwani with Zardozi work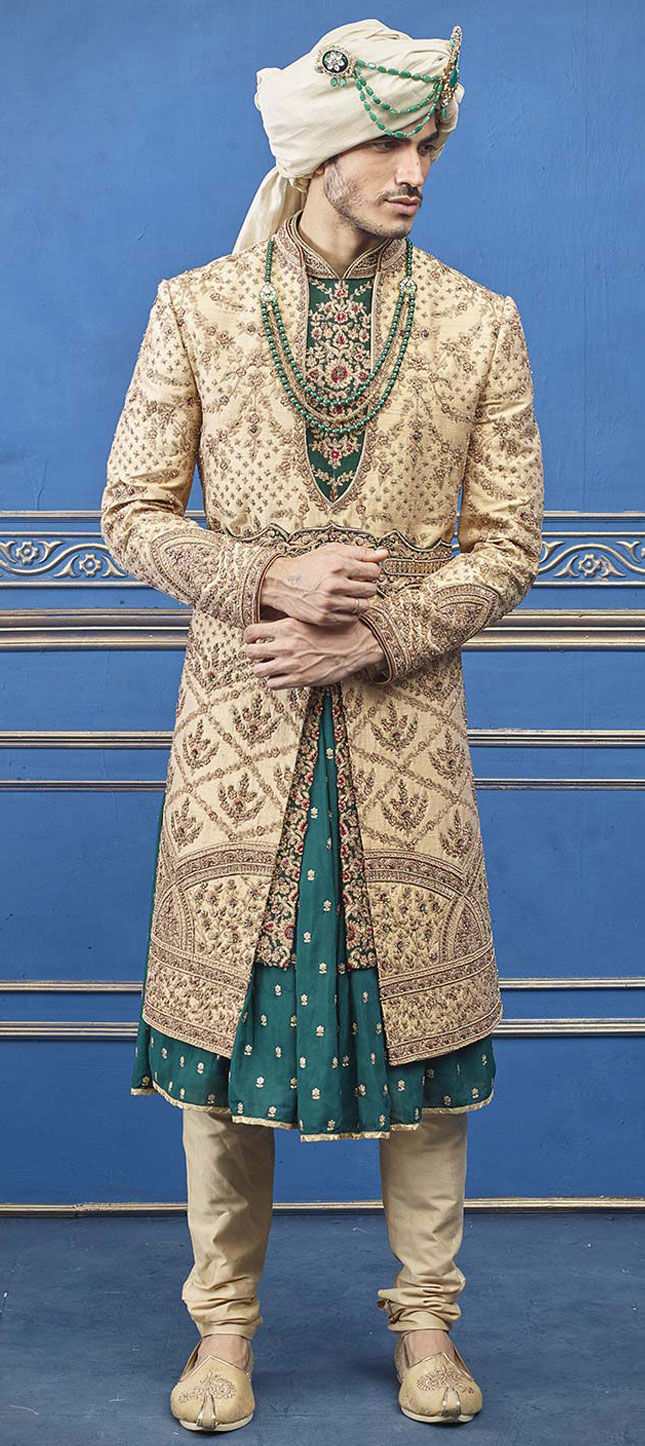 This one is something meant only for those for whom the princely acts and regal code of dressing come quite naturally. This sherwani is built on multiple folds and layers and has intrinsic royal art done all over with rich Zardozi work and layered couture craft with flared ends. The dress gets even more attractive when worn with gemstone necklaces and apparels. Something to be rejoiced by the modern men who have the knack to try different dresses going with their flair of traditional dressing.
Final Words
With these exclusive Groom Wedding Sherwani designs, you are surely going to get the best of style covered in a unique ensemble of traditional clothing that makes you stand out on your wedding day. You may have more colors and patterns around these that should get you a wider range to select from and stay unique and amazing in an Indian groom's avatar.