Kaftans are quite popular in the market. In fact, a lot of famous celebrities are also seen wearing such beautiful and special garments. There is no woman, who doesn't have at least have one Kaftan in her wardrobe, since it is extremely comfortable and fits beautifully on the body, without clenching the skin too much in its clutches.
But wait a minute… there is not just one way in which a Kaftan can be worn; it can be worn in the following five trendy ways:
1) On jeans: If you like wearing jeans all the time, the best thing about a Kaftan is that you can wear it on jeans anytime you wish to. Whether you have a blue colored jeans or a purple colored one, a nice and trendy Kaftan can go on anything and everything. You just need to be sure that the cloth is smooth enough to look gorgeous on jeans.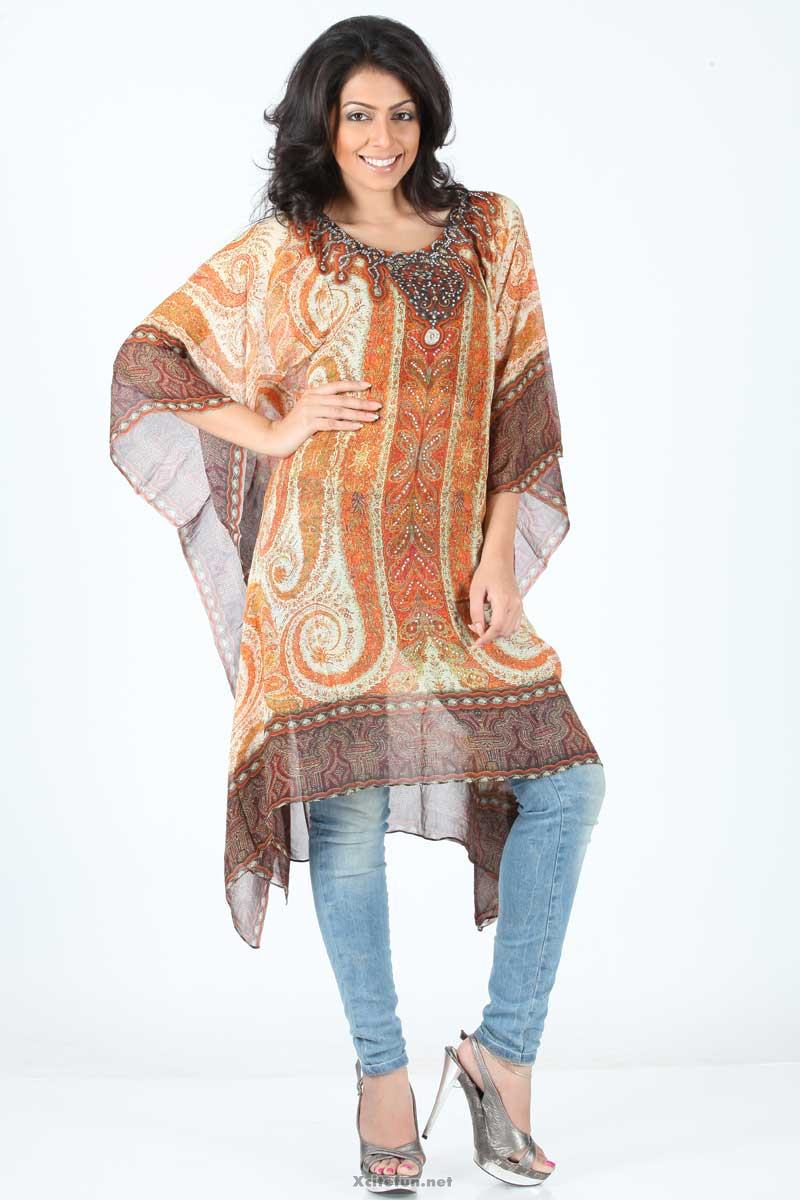 2) On leggings: Leggings are amazing and the most comfortable bottoms you would ever wear! If you have a basic colored legging in your wardrobe, you can blend it with any Kaftan that you wish to. A deep blue colored Kaftan on black colored legging would make everybody fall in love with your trendy style. You can also combine two different shades belonging to the same color; for an instance, a light colored pink legging and a dark colored pink Kaftan would look amazing, if you want to look beautiful.
3) With no bottoms (like a one-piece): There are so many women, who wear Kaftans and flaunt their gorgeousness on the streets. The surprising thing is that they wear no bottoms under them! If you have the confidence to carry yourself bluntly on the road, buy longer Kaftans and wear them without any bottoms. You would surely look good with a little bit of makeup and a few accessories covering those earlobes and neck!
4) As a pregnancy gown: If you are turning into a mother or you have got a bun in the oven, the best thing is that you can wear a Kaftan as a pregnancy gown. Just when you get the news, start collecting some amazing and loose Kaftans for yourself and notice how comfortable you feel in them, when you have the baby-belly after a few months. Pregnant women are seen blessing the creators of Kaftans!
5) On skirt: A lot of people would feel that a Kaftan would never go well on a skirt, but they know nothing about fashion and style. If you are a skinny lady and you want to look different at the party, buy a short skirt and a short Kaftan over it. Assemble them on your body and flaunt those sexy legs! You can always wear long shoes that stretch up to your calves and make yourself look stunning as you walk into the party hall.
Kaftans can be worn in any way, depending on how you want to wear them. So, suit yourself in them! Search Kaftan online India to get the best one at an affordable price.