Class never goes out of fashion and that is what is likely to be retained even years after your wedding day. Hundreds of wedding gown dress later, you can finally pick some of the best bridal gown that will turn you into a damsel for the day like nothing else.
Picking the best bridal wedding gown to make it an event of the season depends on a lot of elements—your body type, complexion, time of the year and of course, the wedding theme.
Here are 6 top bridal wedding gown ideas for every bride.
1 White Florals— Top pick of the season
White florals reflect the longevity of the moment. The scintillating patterns etched on intricate bodice and cascading skirt make it look like a tumbling garden. There are two options when it comes to picking White florals for bridal wedding gowns. You can either choose alluring embroidered florals or try out painted-onto-fabrics. The painted florals are definitely more contemporary than the embroidery ones.

2    Lacy mermaid and trumpet dresses
A perfect prom-inspired bridal gown dress, the Mermaid fish tailed gowns continue to sizzle on the wedding circuit. However, it takes courage and superlative body shape to adorn this dress with aplomb.  You can pick from a hundred trending colours for the mermaids, each of which have a signature lacy waist and bodice reserved for the dress. Top picks of the season—Champagne, ivory and blush pink.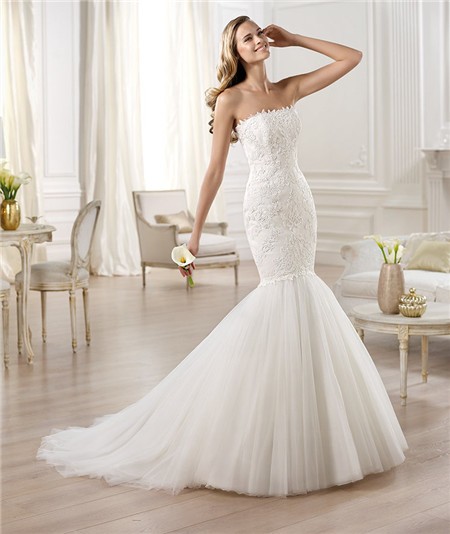 3    Celtic Tulle Stone-Washed dress
Subtle fabric shades with engorging Celtic designs make up for a scintillating combination of art, class and contemporary fashion taste. Best colours in stone-wash category preferred for tulle-braided gowns are taupe, pink and ivory with hints of pearl and blush. For a warmer appeal, the gown is given a bluish tinge, perfectly complimentary with cummerbund and a flaring skirt.
4    Bridal suits and pant gowns
Unconventional to the core, and inspiring over the top—this is the most ravishing western element to be ever associated with the wedding. Bridal gowns with suits and pant totally eliminate the need to focus on traditional wedding items like bodice, corset, skirt and necklines. Decked with rich colours and fabulous cut lines, the suit and pant gowns carry a bohemian flavour in them. They can be featured in quarter-sleeves, sleeveless, off-shoulder suits and even bell sleeves. Bolder it gets with the suit, sweeter it looks with the bottom.
5    3D Victorian Touches
Floral bridal wedding gowns with high necklines and beaded lace on flared sleeves belt out a strong message to the contemporary designers. Class is still the single most factor that makes any bridal gown rule the roost on the D-day. Padded along the corset, and laced bodice make the Victorian gown in White and Pale blue draw unflinching opulence even in twilight settings.
Another top trend in the rounds is the illusion-filled flutter sleeves with deep plunging neckline and embellished kaftan. The backless wonder is a high-price catch for the season, stitched with a strapless sweetheart trumped outline.