If you are a prospective bride, perhaps the greatest concern is to choose the right bridal wedding gown. With array of options available, it is easy to get overwhelmed, and in the process you might end up making a wrong selection. Moreover, several questions are associated with it as where, how and which gown to buy. Well, you can keep reading the article in order to obtain complete information about your queries. The perfect time to buy your gown is once you get engaged and are ready to tie the knots. However, you should have an idea of the type and style of gown you want so that the availability is not a big issue for you.
Top Styles To Select:
Even if, you like a particular style, you might be confused whether the style will suit your body type. However, do not worry because there is something for everyone, and you will surely find an option to suit your body type. Take a look at some of these styles for different types of body shapes.
1    A-Line wedding gown-
This style is also known as the princess style dress, and it is highly suitable for all brides. It does not have any marked waist, but it would play a great role in hiding your bulging tummy. Moreover, with a rectangular or triangular body shape, it will suit you in a great way.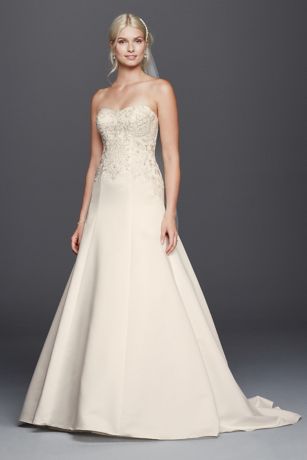 2    The mermaid Wedding Gown –
If you have a curvy figure or if your body is of the shape of an hour glass, going for the mermaid style of gown is definitely the most suitable option for you. This style will play a great role in accentuating your curve and make you look flattering. When the gown flows out around the knees, it will make you look more stylish. This is a sophisticated style, and if you are confident in carrying yourself, you should go for this style.
3    Empire style dress-
These dresses comprise of a high waist line and it appears right underneath the bust. Moreover, the fabric below the waist is designed in such a way so that it flows continuously to the floor like a slim skirt. Women with small bust can go for this option.
4    The sheath style-
This style is also known as the column wedding dress which comes with a narrow shape so that it tightly hugs the body. Moreover, the design is also such so that it flows straight from top to bottom. This style is perfect for short brides because it tends to make them look taller. Apart from that, if you are not confident about your figure, you should not opt for this gown because it hugs your body and shows the curves.
5     Ball gown dress-
The Cinderella type of dress comes with a fitted bodice and full skirt. If you have a pear shaped body, it will suit you the best. This is because it emphasizes the waistline and hides the heavy lower part of the body.
Thus, you can shop easily now.