If you have a look at the Bollywood movies in the last 2 years, you will see the major influence of South Indian Saris. Take a look at the 2 major hits that rocked both the Bollywood charts well as the fashion circuit- 2 States and Chennai Express. Both the story lines are predominantly about Southern Bellies and as a result the Southern queens seem to rule the fashion circuit big time.
Alia's sizzling Two Sates Saree look
Let's start with 2 States, this 2014 hit movie starring Arjun Kapoor and Alia Bhatt was a box office hit. Alia Bhatt played the role of the South Indian girl to perfection and veteran actress Revathy was her onscreen mother. The best part being that both brought to screen a plethora of South Indian Silk and Kanjivarams. Suddenly, this traditional sari became one that the youth of India could identify with. That's not all, throughout the movie; Revathy is seen wearing beautiful traditional Southern silks that simply light up the screen. There are certain parts in the movie where Alia dons the Southern look to absolute perfection. First, when she visits Delhi to attend Arjun Kapoors Cousins marriage she wears an extremely simple yet beautiful South Indian Ghagra Cholli and completes the look with the whole gajra affair on her hair.


Secondly, the last scene of the movie shows Arjun Kapoor marrying Alia Bhatt. In that scene she decks up as a complete Southern Bride wearing a beautiful orangish red Kanjivaram saree, mang tika, gajra on her braid and a kumarbandh. She looks so pretty and resplendent that she simply takes one's breath away. Many youngsters seem to be heavily influenced by her traditional avatar and are opting to wear the mang tika and kamar bandh on their special day. Even the traditional kanjivaram sari with gajra look is opted by many bride mothers.
Deepika's Sexy Chennai Express look
Next, if we take a look at Chennai Express, Deepika Padukone seems to redefine the look of a simpleton South Indian girl. Throughout the movie, she is seen to wear various versions of the famous white sari with golden border that is often seen in Kerala weddings. The best part being , that not only does she rock the look in the simple white and gold sari she also wears various colors to the traditional one that simply jazz ups the whole look and also makes her look beautiful and fresh.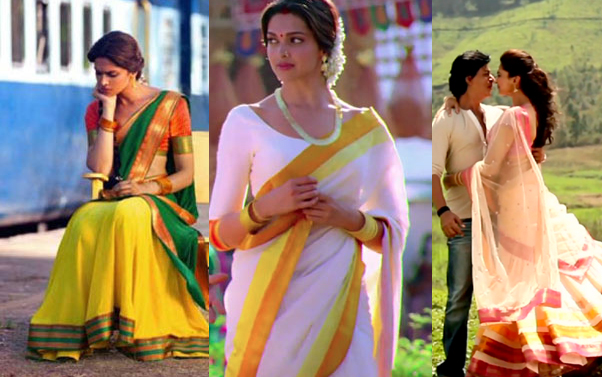 Instead of wearing light colored crepe and georgette saris, she is seen to wear various bright and contrast color combinations like blue and orange, green and mustard and so on. A fashion rage that caught on post the movie was the look of wearing traditional keralite sari ghagra cholli and wearing cotton sari in contrast color combinations neatly draped in pleats. The look is complemented with a gajra on the bun, mang tika and kamar bandh.
Post these 2 movies, the young generations seems to have picked up an instant liking towards these silk and traditional drapes and seem to opt to wear them at any given opportunity.