When it comes to versatility in Indian fashion – the sky is the limit. From traditional silhouettes to the latest Indo-western coordinates, the Indian fashion line is swarming with versatility and style. One such multifaceted and never-dying trend in Indian outfits is of – Anarkali Suits.
Anarkalis salwar suit is a popular form of Indian traditional clothing. The ensemble primarily includes a set of three – a flared kurta (preferably long), a pant or churidar, and a dupatta.
The literal meaning of Anarkali is – a gentle bud of pomegranate flower which symbolizes softness, purity, vulnerability, and beauty. By wearing an Anarkali outfit, a woman too reflects an epitome of softness and purity.
The eternal trend for festive Anarkali suits
From Bollywood divas to young girls and women, everyone is in love with Anarkalis. Especially with the festive season in full swing, women look for fashionable anarkalis to enhance their look.
Its standout style and flawless fit give you a fashionable outfit for every occasion.
The suits have been worn by Indian and Persian women for ages. Since their entry into the fashion world, they have evolved to include different styles and versions.
Anarkali suits are available in multiple styles and variations like cape style, jacket style, floor-length, layered, gown style, etc. Similarly, they are sewn in different fabrics as well including cotton, georgette, silk, velvet, and crepe among others.
It is a festive and wedding season staple, with everyone from Deepika Padukone and Anushka Sharma to Sonam Kapoor Ahuja and Alia Bhat wearing it; and play a key role in popularizing this Indian outfit.
The market is full of different designs and trending colors in Anarkali salwar suits. But how do you choose one? Go per your choice – pick the one that suits your personality, style, occasion, and perfectly fits your body. To help you know the trending designs in anarkalis, we have curated a quick list of Anarkali salwar suits that are trending this season. Take a look!
Floor-length anarkalis – the latest addition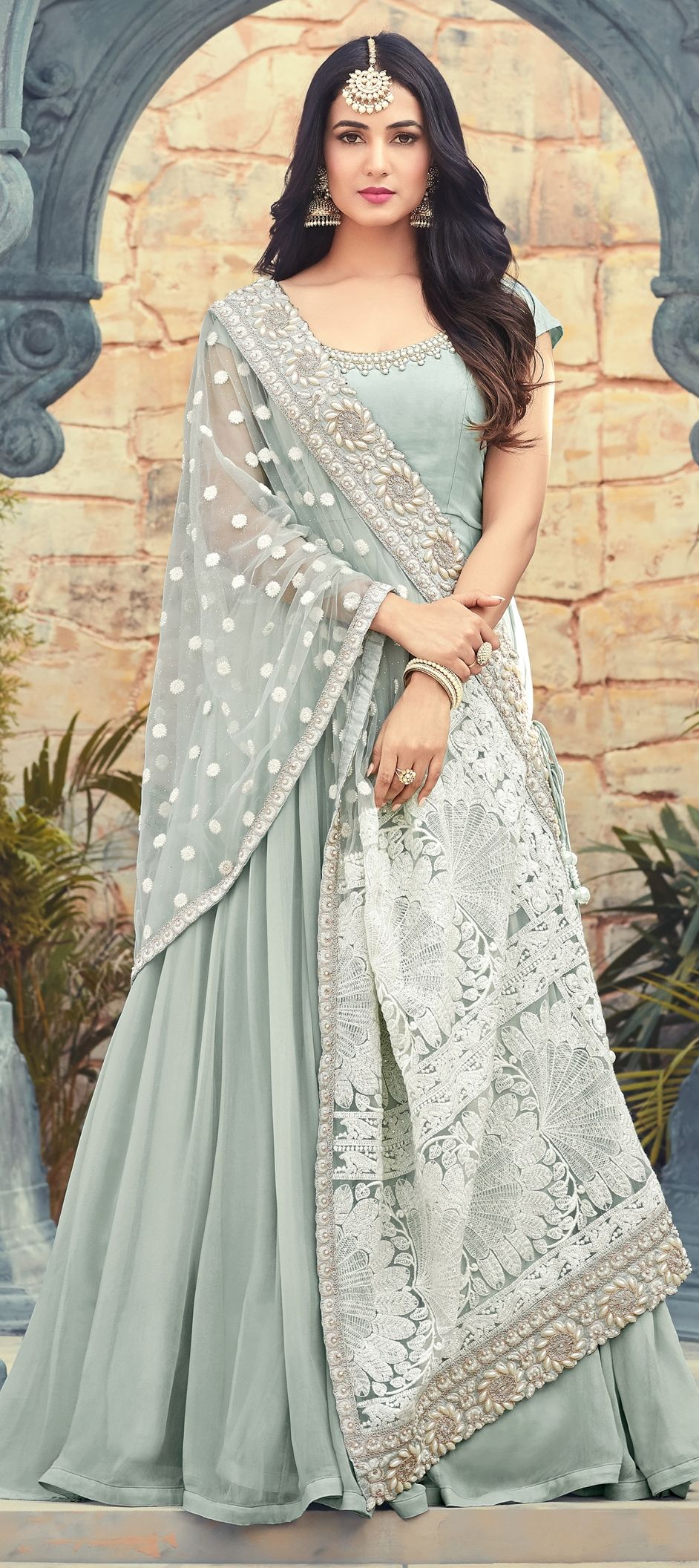 Floor-length anarkalis oozes grace and femininity like no other outfit. The comfortable fit and flowy fabric give you a highly stylish silhouette. This Anarkali suit design in the blue shade has a warm appearance. The intricate resham, stone, and thread work are accentuating the overall look of the outfit. Wear this outfit with statement jewelry pieces like an earring or a beautiful silver neckpiece. The flowy nature of georgette fabric and the heavy work on dupatta is giving it a complete look.
Steal the show with a jacket style Anarkali with dupatta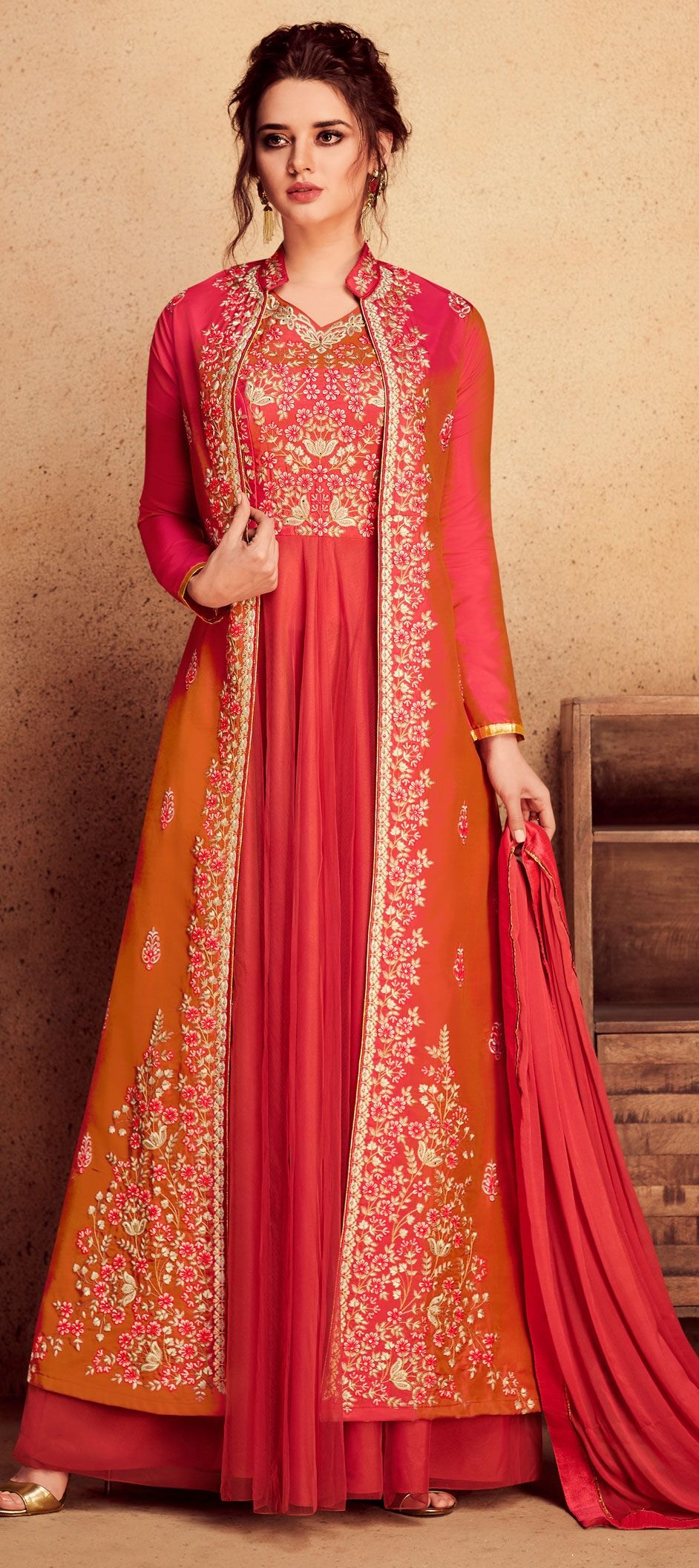 Jacket style anarkalis are a new addition to the Anarkali outfits and designs. You can wear them at any festive or wedding season. The combination of orange shades is making the outfit look resplendent and beautiful. The stunning embroidery on the jacket with resham and thread work is adding elegance to the outfit. Complete the look with statement earrings and high-bun, and you are all ready to rock any festive event.
The beauty of silk anarkalis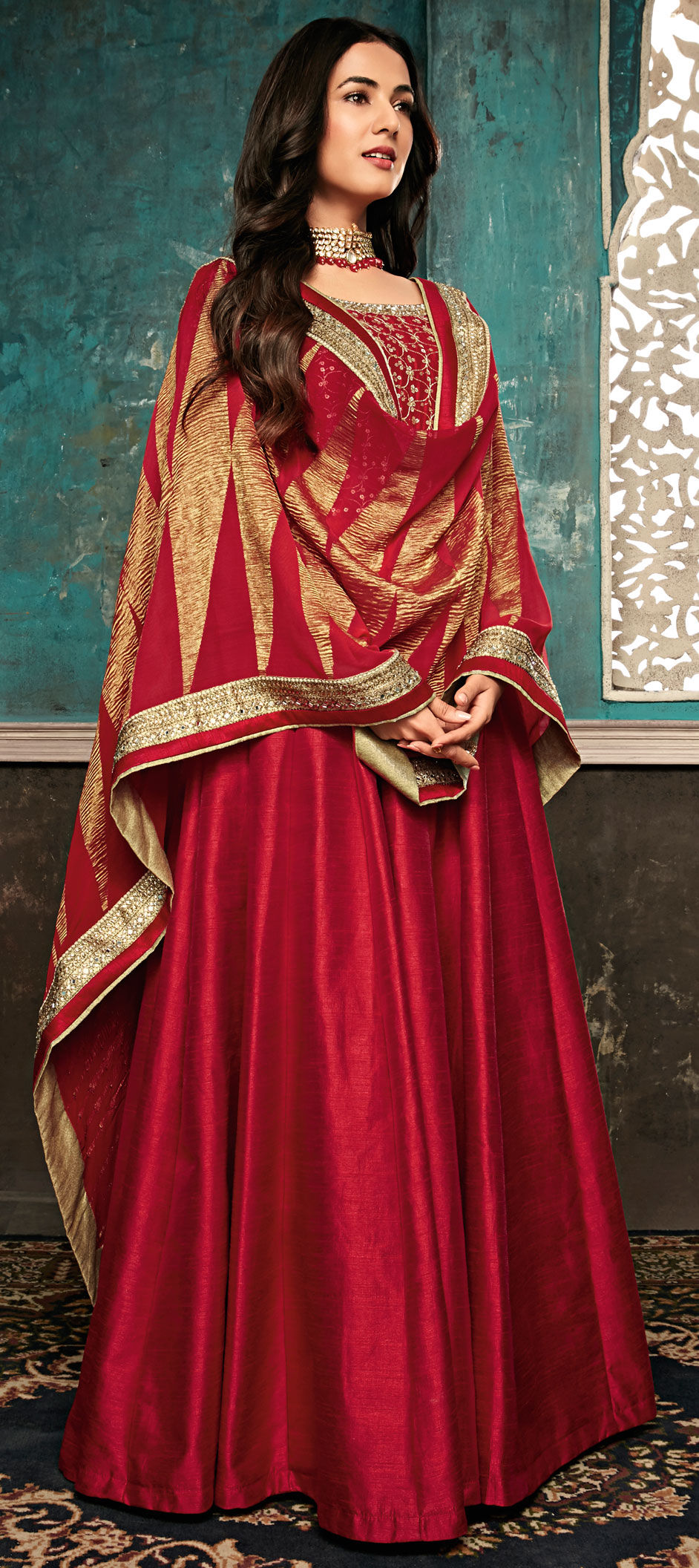 Silk is an evergreen fabric and ladies can never get enough of it. Anarkali suits in silk fabric are both comfortable and stylish. They are sewn to perfection to bring out the feminine beauty and grace. You have plenty of color choices when it comes to silk fabric. Colors that are in trend this season are green, blue, red, and maroon. As silk is very fancy and has a shine of its own, colors pop out really well in this fabric.
Lehenga style Anarkali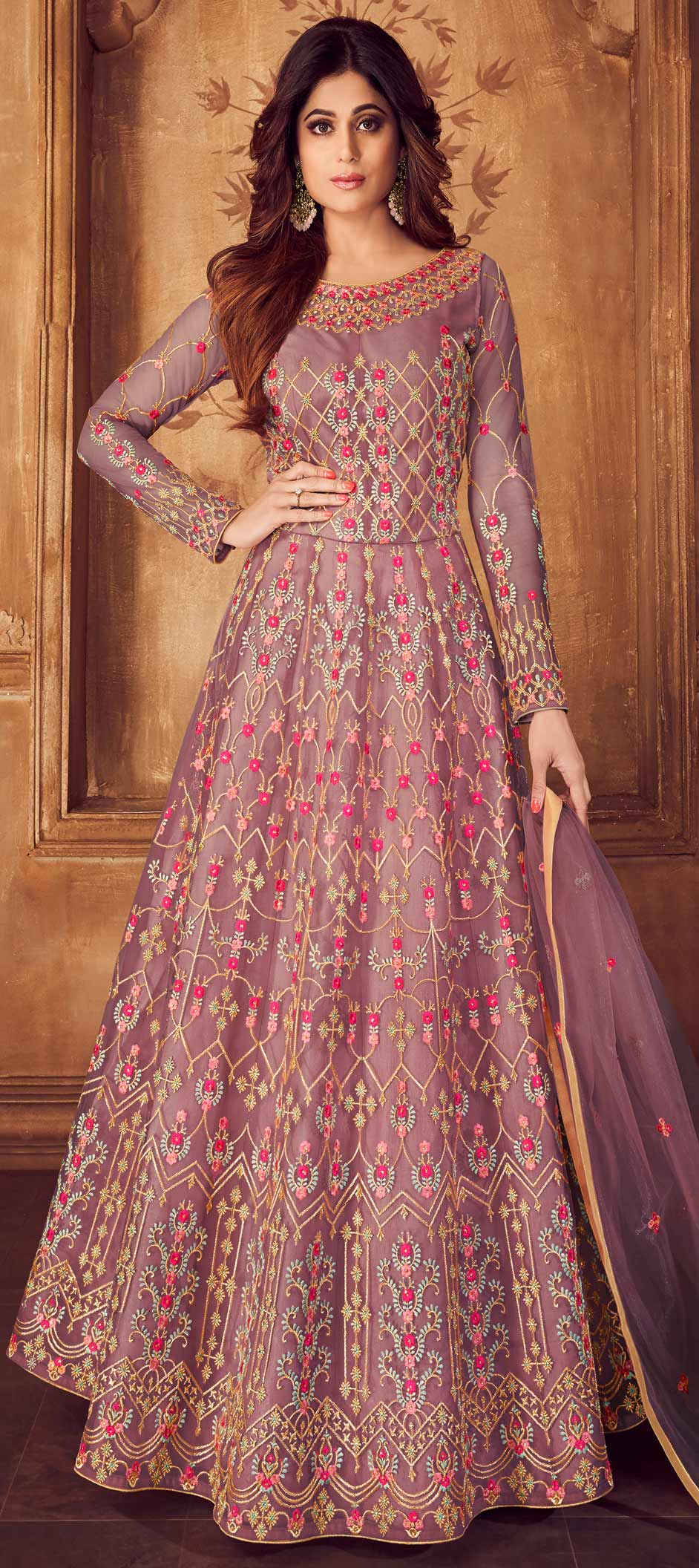 A lehenga style Anarkali gives you the best of both worlds. The flare of a lehenga and the comfort of an Anarkali salwar suit. This Anarkali in purple and violet shade with resham, stone, and thread work is looking ravishing. The runway style and soothing color are giving this ensemble a unique grace.
Beautiful anarkalis in net fabric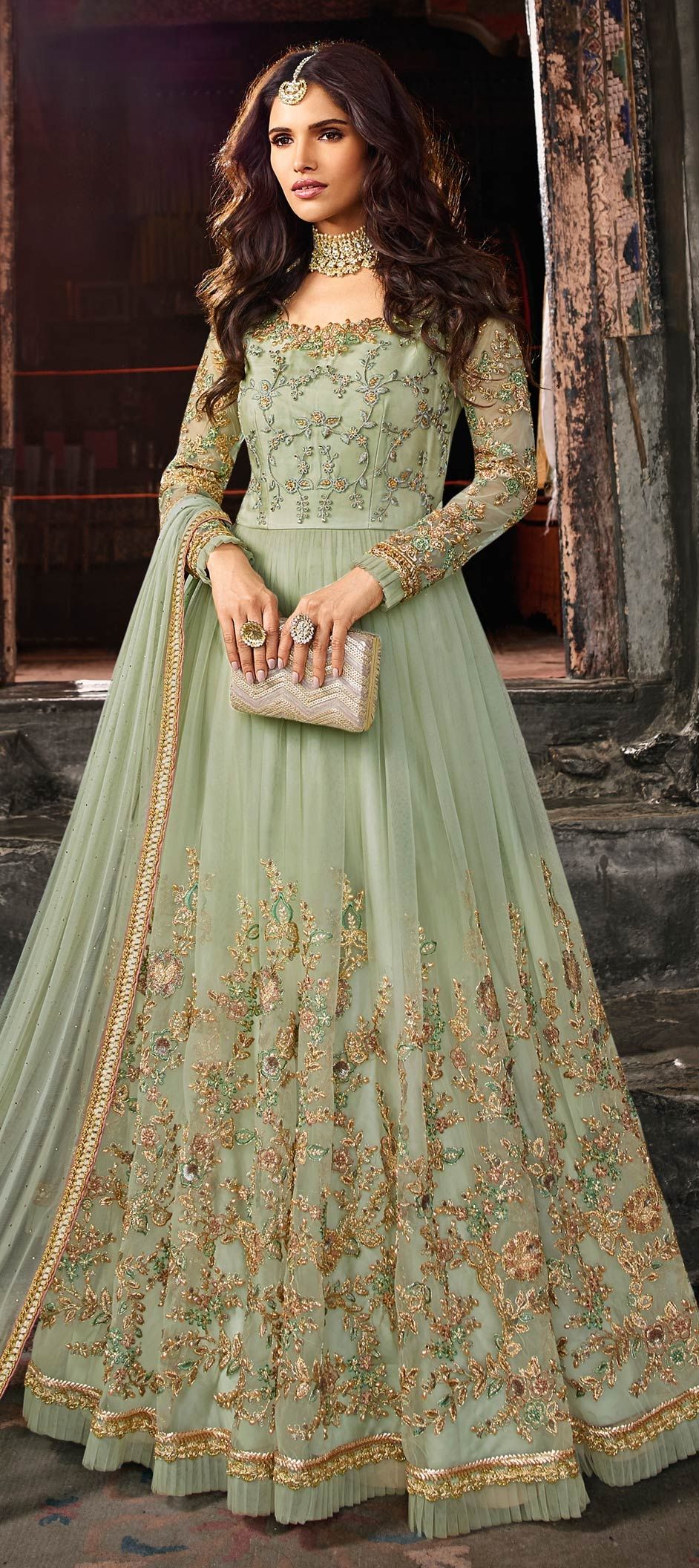 The net fabric has a beauty of its own. When fine embroidery and moti work is added to the net fabric, the combination is extremely stylish and gorgeous. This Anarkali in the green shade with fine golden resham work and embroidery is perfect to grace any festive event.
Anarkali style kurtis for girls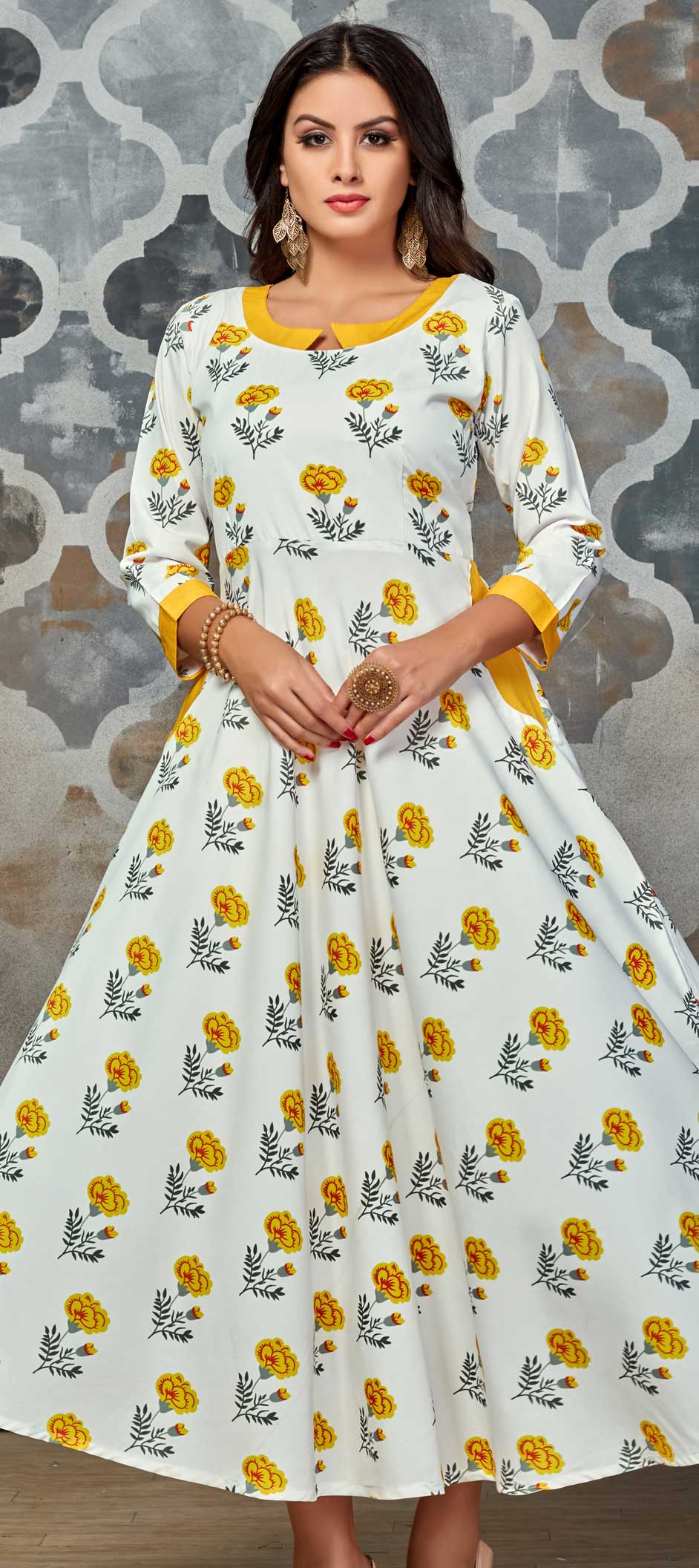 An Anarkali styled kurti is loved by women of all ages. You can find them in several designs, cuts, colors, fabrics, and silhouettes. You can wear them at any festive as well as semi-formal event. Don't forget to add essential accessories to make your look stand out.
The trend and love for anarkalis are here to stay for long. Explore the different designs in this beautiful Indian outfit at the Indian Wedding Sarees.