It is again that time of the year when Indian women get ready to celebrate the most pious and important event of their married life – Karwa Chauth. Largely celebrated in the northern states of India, Karwa Chauth 2019 is falling on October 17th, 2019.
The festival celebrates the devotion of an Indian woman towards her husband. By fasting, women pray for the good health, well-being, and long-life of her husband. It is a celebration of the institution of marriage dating back to the mythological era of Hindu culture and traditions. The event is marked by reciting the story of princess Veeravati, whose selfless dedication and fasting saved her husband's life. Every year, women celebrate this occasion with a vast array of delicacies, precious gifts, mother-in-law's blessing in the form of sargi, and the opportunity to dress-up in the traditional best.
Look beautiful in a pre-stitched saree on Karwa Chauth 2019
In addition to following all the stringent rules of this important fast, women also have to look and feel good on this day. The best way to do that is to dress up in traditional attire and look perfect from head to toe. To spruce up your look on your Karwa Chauth, you can try to be different this year by wearing a readymade pre-stitched saree.
Readymade sarees are a beautiful and time-efficient way to deck-up for this pious occasion. If you're a working woman, you have to manage professional commitments too along with keeping a fast for an entire day. We understand how difficult it would be to get ready in the evening after a hectic day at work. A pre-stitched saree can be your savior. You just have to wear the saree like a skirt, hook it properly, adjust the pallu, and you're done. With spare time in hand, you can work on your make-up, jewelry, and other accessories that can enhance your beauty.
Pre-stitched readymade sarees are available in several designs and patterns. The quintessential pre-stitched saree can accentuate your look this Karwa Chauth. It is a treat for women who love Indo-western look by adding a modern essence to traditional clothing. For a change, ditch the maroons and red this year, and go for hot picks of the season like aquamarine blue, glacier grey, almond, lucite green, etc. Let's look at some of the best picks in pre-stitched sarees for this season:
Lycra readymade saree in blue sequence work with stitched blouse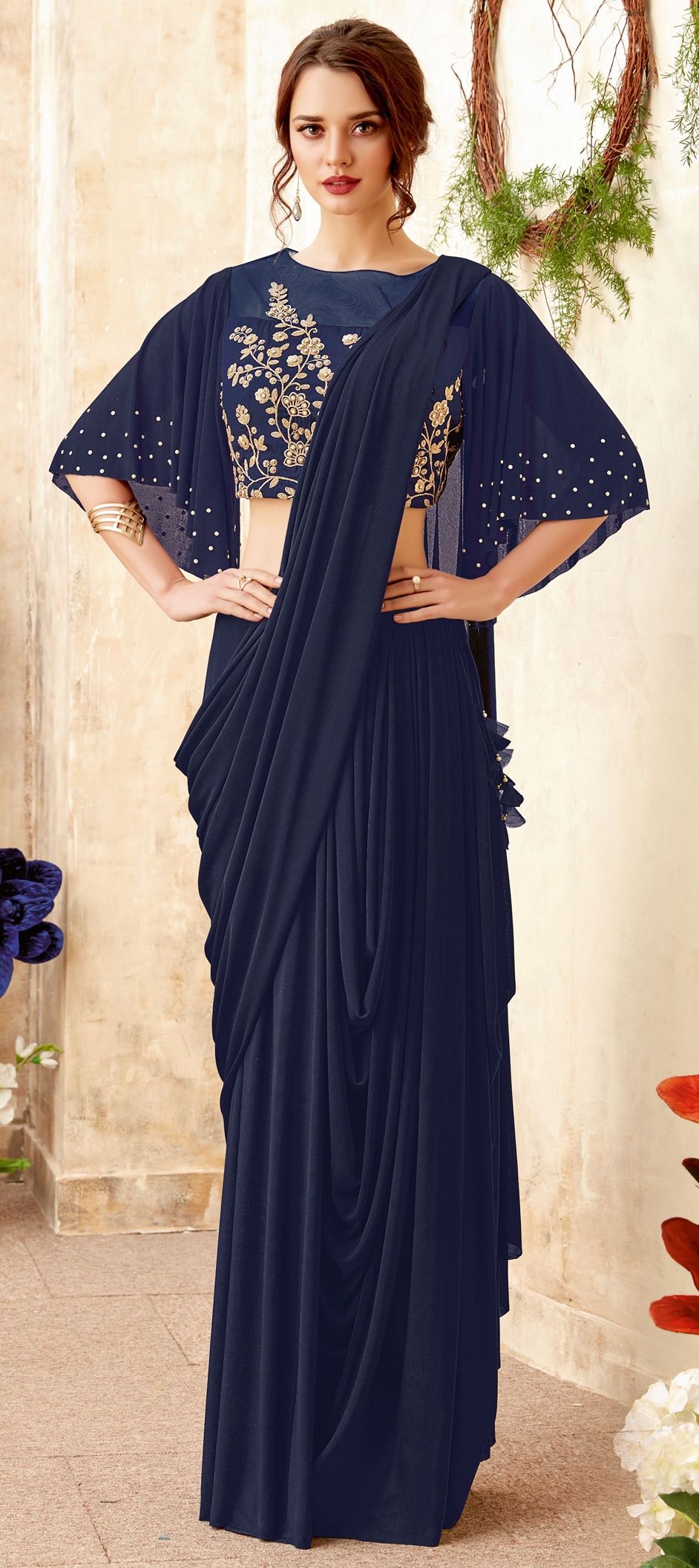 The beautiful pre-stitched saree in blue color is classy and elegant. The star of this look is the embroidered blouse with ruffle sleeves. Accessorize it with a stunning charm bracelet and a low-tie bun for the perfect look. Don't forget to put up your bindi and sindoor.
Red and maroon thread work saree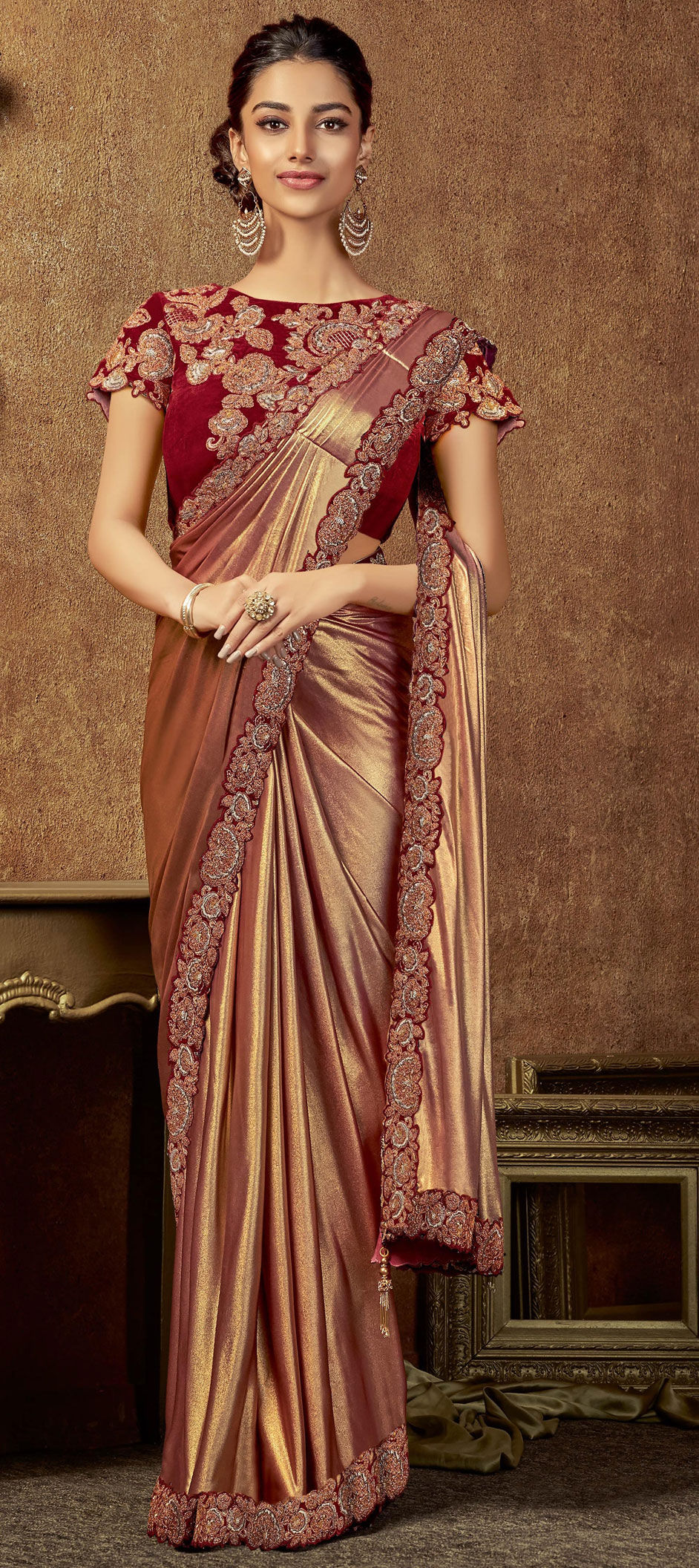 Red is a significant color for a married woman in India. Thus, we couldn't help but share this amazing red and maroon pre-stitched saree with thread work on the border and the blouse. Accessorize it with minimal jewelry and hairstyle for a standout look.
A classic blue saree with fancy work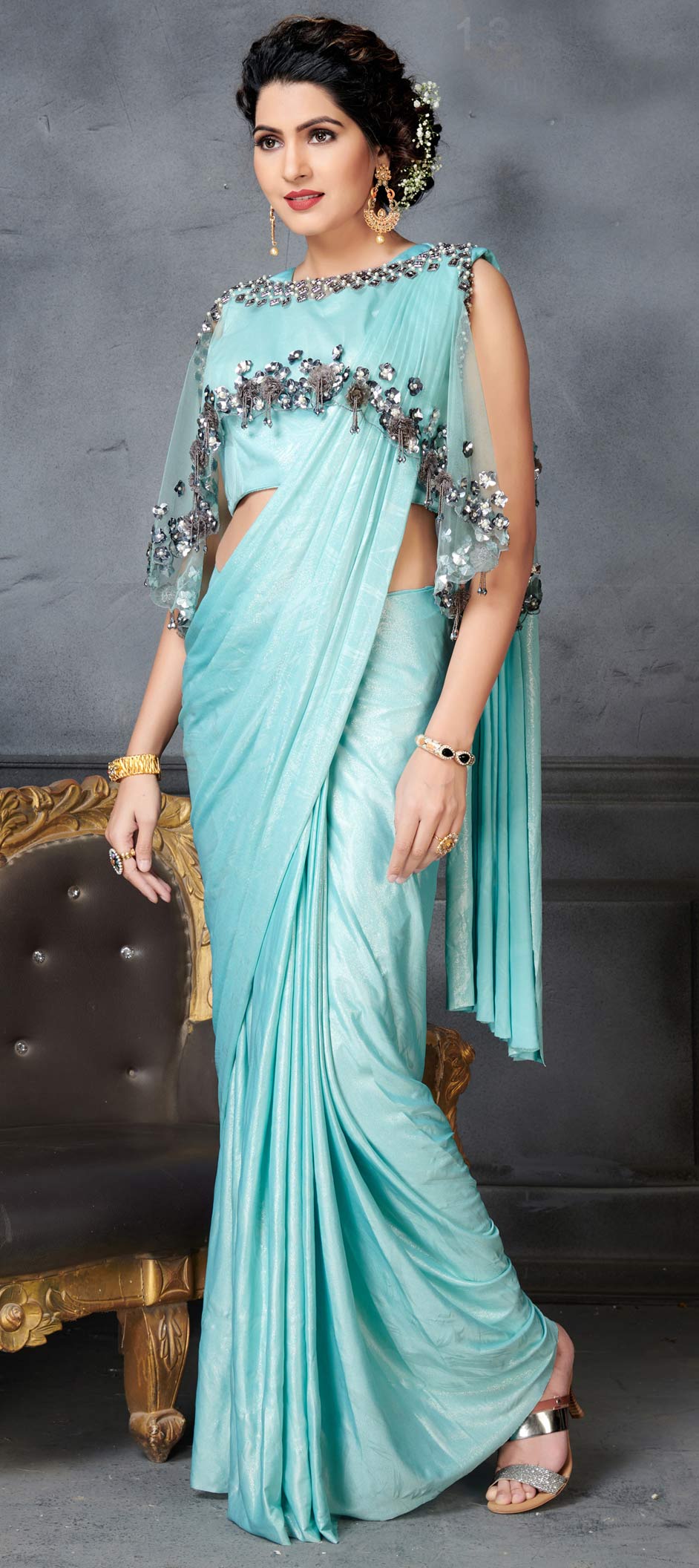 This look is quite unique with vibrant color and blouse with sheer net sleeves that look like a cape. The color is quite different and a break from the traditional color like red. It's perfect for those women who love to experiment with new and edgy colors.
Magenta bugle beads work saree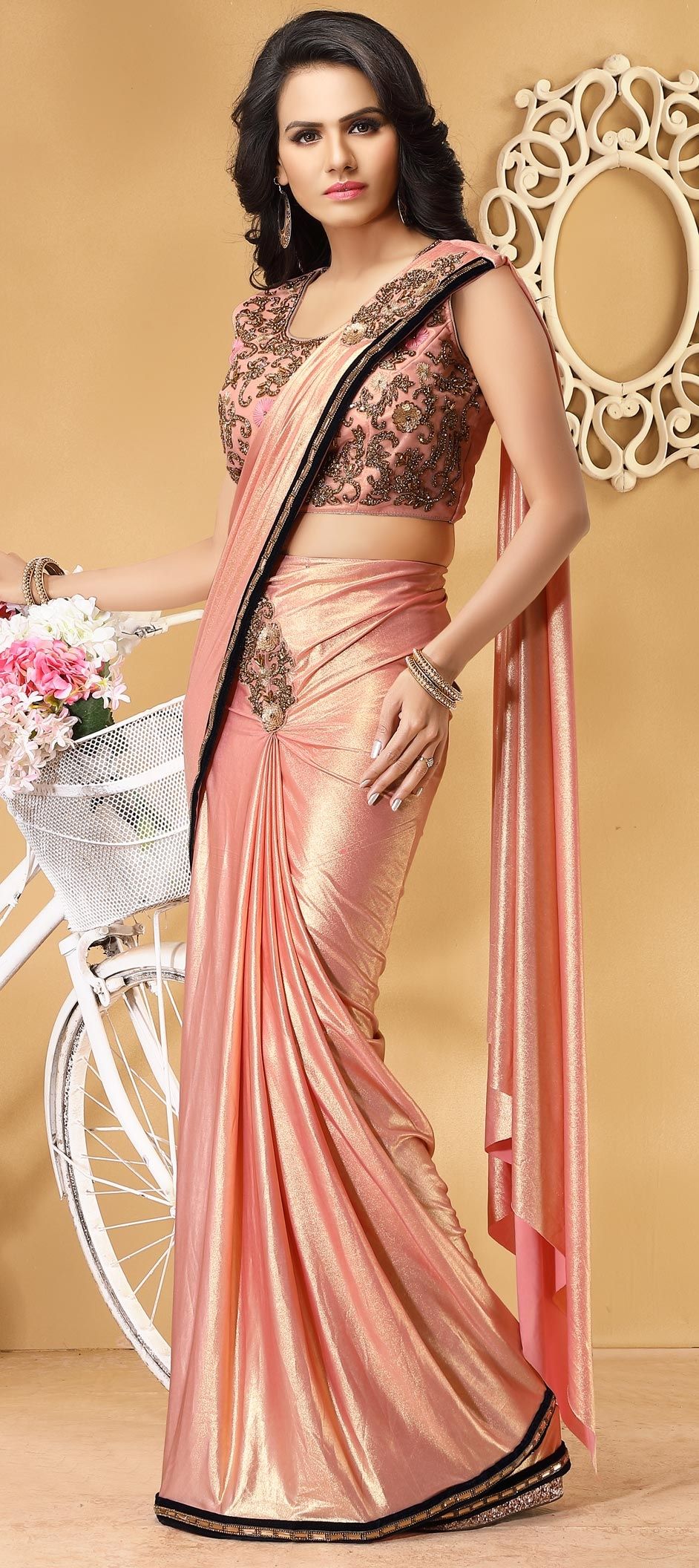 The magenta color readymade designer saree is beauty personified. The detailed bugle bead work is the highlight of this look. The perfectly stitched pleats on the saree and the pallu give it a neat look.
Net readymade saree with mirror work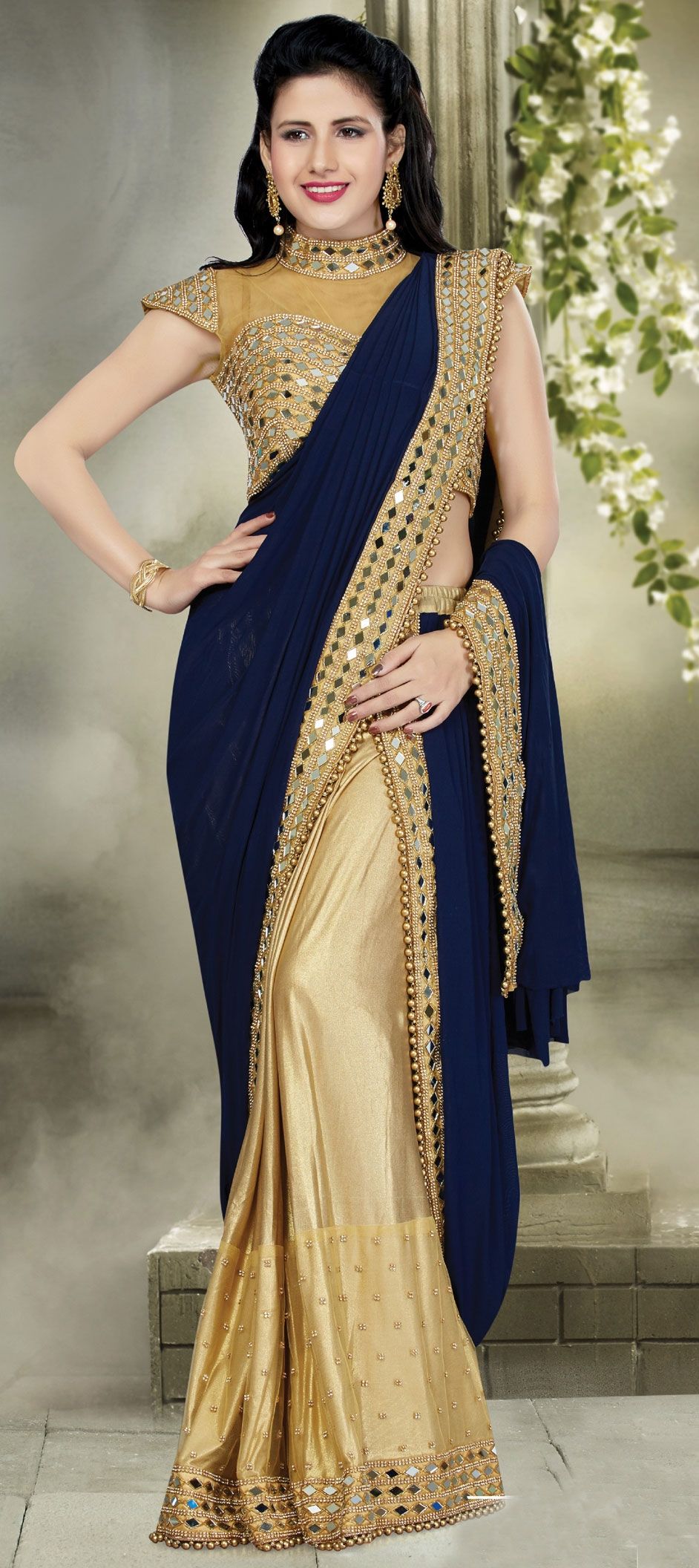 Women can never get enough of net sarees, and a pre-stitched net saree is a treat for them. This net pre-stitched saree with gold mirror work is perfect for traditional functions like Karwa Chauth. The pre-stitched blouse with complete mirror work is enhancing the overall look.
Pre-stitched sarees are available in multiple fabrics and designs. Unlike traditional sarees, you don't have to invest time in styling them in unique ways. Apart from looking beautiful in saree, you can also follow some tips to naturally glow this Karwa Chauth 2019.
Tips for Karwa Chauth 2019
Apart from unique mehendi designs, also pep-up the look with stylish nail-art.
Don't forget about the hair; opt for stylish braids, fancy buns, and other quirky hairstyles.
Let your eyes sparkle by opting for winged eyeliner for an ethnic look.
Drink lots of water to get rid of body toxins and get a natural glow.
Instead of tea and coffee, choose green tea and other healthy drinks to sustain you throughout the day.
Karwa Chauth is now just a few weeks away, start prepping-up today!