A woman can never stop adding variations of outfits to her closet. When she's in love with Indian sarees, then an embroidery saree becomes a key-outfit in her wardrobe. We suggest the same, keep experimenting with the outfits and fall over and over again for your every new makeover. Embroidery work sarees make sure that you always stay in the trend. Handcrafted & intricate work of embroidery gives a lush look to the wearer.

Choices never end in the women fashion world; you can explore limitless variations in these sarees too. Want to know how? IndianWeddingSaree.com is at your service for your short tour to the world of embroidery sarees. Women are very particular about fabrics, styles, colors and everything else. So, if you're going to pick an embroidery saree for yourself, then choose a fabric and style that assures your comfort. Net embroidery saree is the most popular one, the sheerness of these sarees can win many hearts. Yet, silk remains the perpetual one, a silk embroidery saree is perfect for all occasions and seasons.
You can explore many more fabrics too, to complement your summers and winters. If you have a special occasion approaching then a hand embroidery saree will be the finest choice. If you want to wear something heavy and crafty, full embroidery saree is the one for you.
So, this list is never-ending, to ease this journey we've created a lookbook for you. Catch on all the styles at a time, with a few designs from our collection. Stick to the blog and keep scrolling…
Our world of embroidery saree
IndianWeddingSaree.com presents you with the designer range of embroidery work sarees. Choose from a variety of styles, colors, and fabrics in embroidery design saree. Stunning styles from our collection will leave everyone enthralled. You can't miss out exquisite jewelry to enhance the look of your embroidered saree. Choose matching earrings, maang tikka, necklace, bangles, and others to look perfect for the occasion. Pick the one, that you'll feel the bliss to have. Have a look…
Classic embroidery saree: Everlasting elegance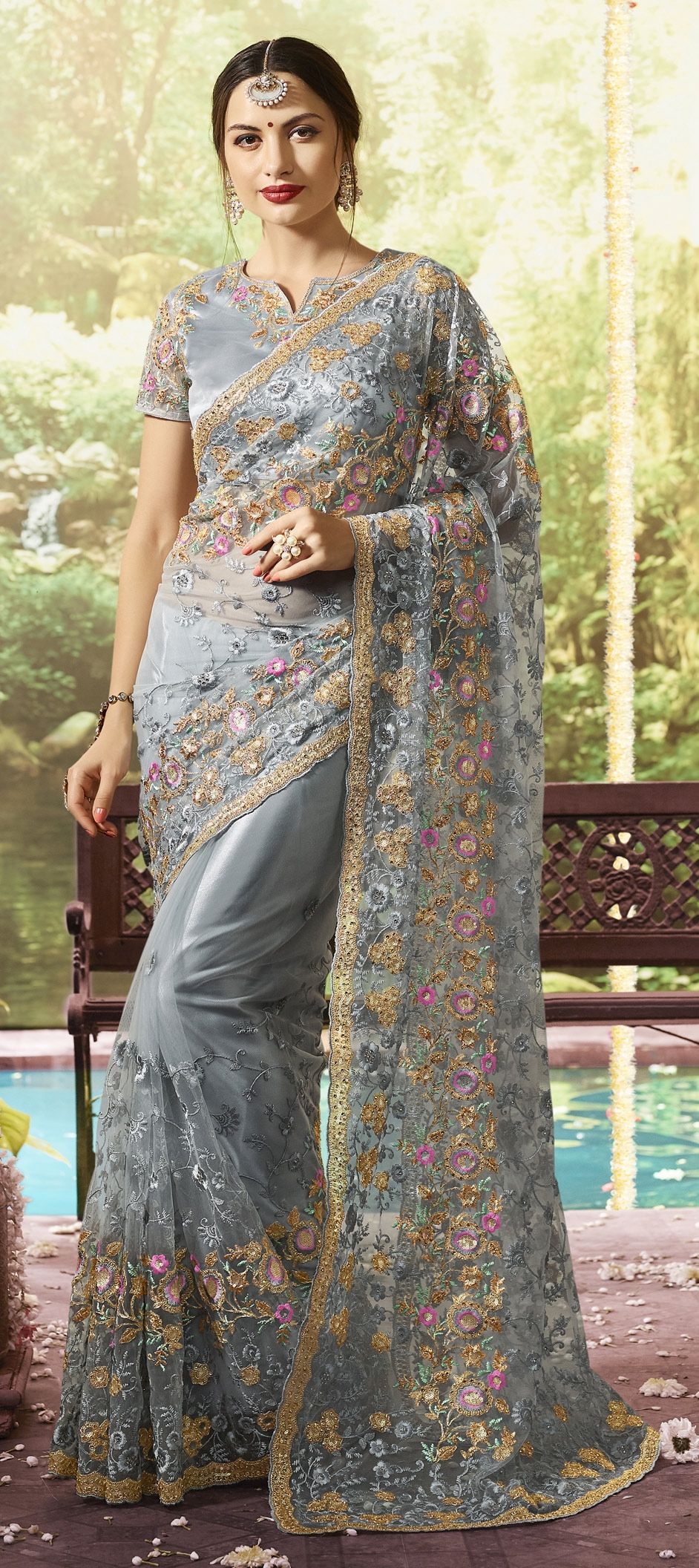 Sarees never let you down for any occasion. Classic sarees have a beautiful attribute of looking extremely glamorous even with the simple look. Check out this stunning grey net saree embroidered in startling floral motifs. Sparkling floral motif crafted from the thread, zari, and stones makes it an ideal-wear for your special occasions. Pick out dazzling jewelry like maang tikka, earrings, bracelet, and others to add charm to your look. These sarees are perfect supporters of your celebration-mood. You can choose from a variety of pastel and bright shades in this collection.
Contemporary embroidery saree: Walk with the trend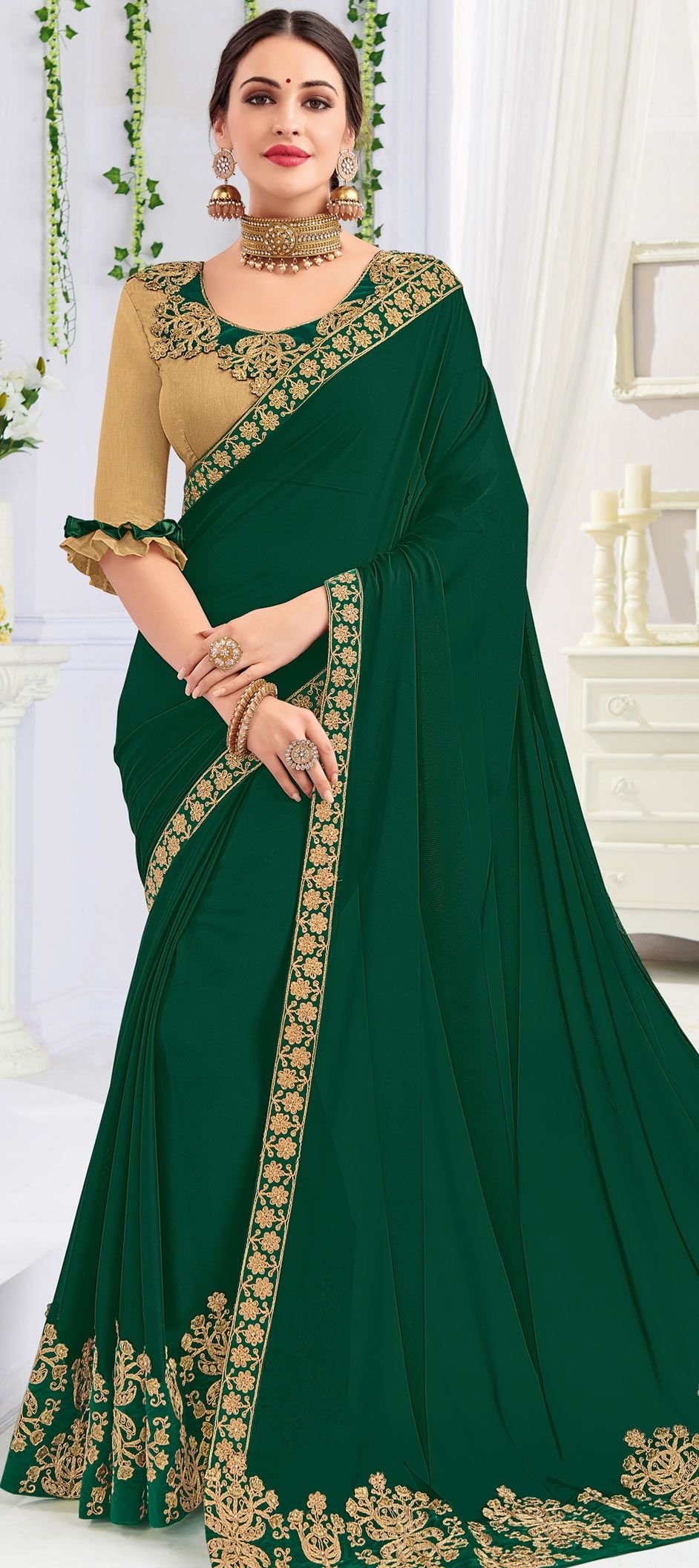 Even sarees have experimented with different types of works. Contemporary sarees are a perfect example of a traditional outfit with a slight touch of trends. Have a look at this bright green saree, even with light work, this feels gorgeous. Sarees like this are perfect for almost all occasions like festivals, parties, and others. Jewelry is a must add-on with these sarees. Pick matching necklace, earrings, and other jewelry to complete your look. Try a different color this time, a vibrant one can look charming too.
Half & Half embroidery saree: Stylish cum traditional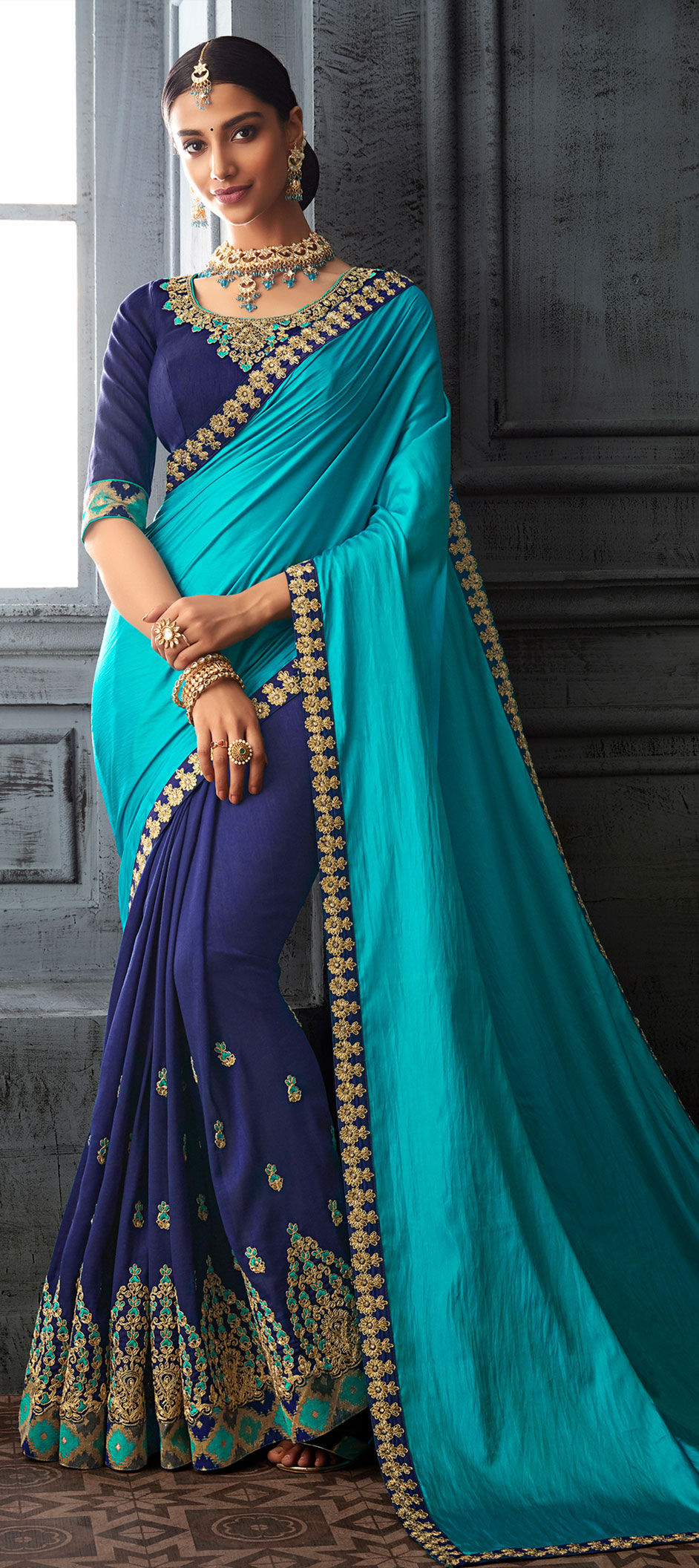 Half and half sarees look colorful and stylish. These sarees are perfect for all occasions and seasons. You can explore these sarees in combinations of different colors and fabrics. Check out this beautiful half & half silk embroidery saree in shades of blue. Floral embroidery highlights this sari. Don't forget to pick out matching jewelry. If you want a light-weight saree with a stylish look, sarees like this are perfect. Explore a variety of combinations of colors and fabrics, try a new one and experiment with your experience.
Paithani embroidery saree: Handcrafted luxury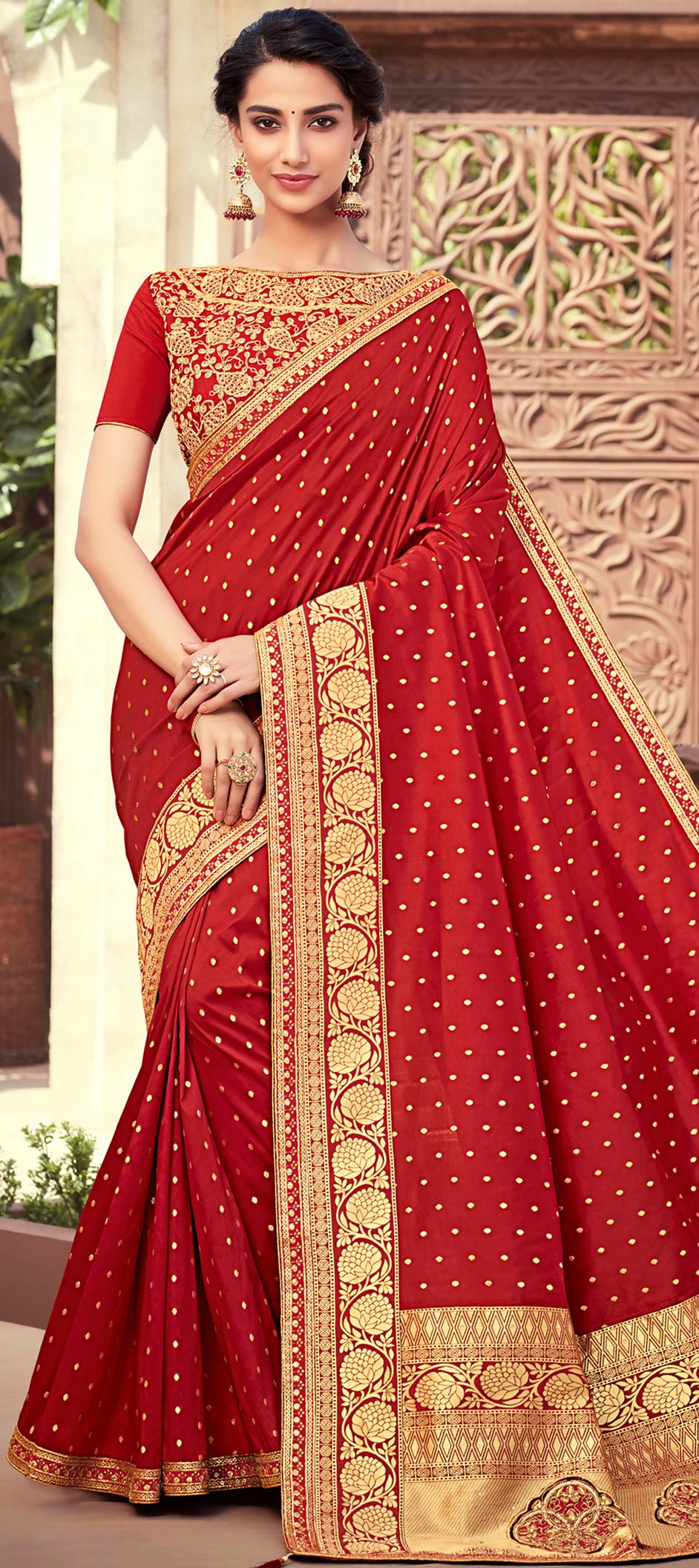 Paithani sarees are popular for decades for their handwoven work. If you're an admirer of handcrafted Indian sarees then a paithani saree is a must-pick. Look at this beautiful red saree embroidered in gold floral motifs. Golden polka dots enhance the beauty of the sari. And another noticeable feature of the sari is the heavy blouse. Get your blouse designed in a stunning design, a shoddy one will disgrace the look of the sari. Show some love for traditional sarees and next, you'll leave everyone amazed.
Buy embroidered sarees online
Planning to shop an elegant embroidery saree? Don't worry we've got the selective designs for you in our latest saree collection. Now, get your favorite saree online at the best price. We ease worldwide shipping of the products. It's difficult to give up on these enticing styles of embroidery saree, don't you think so?
Get your favorites, these styles are not worthy to be compromised with.
Stay glued to us because we've got a lot more for you in our collection!