Most ladies get confused when it comes to differentiating between a pair of pants or leggings. How to pair them up for a complete look, or will either or both would suit their body types are the primary doubts that come up in a woman's mind. However, there is a pretty vivid difference between these two attires. We give you some tips on how to differentiate a pair of pants and leggings.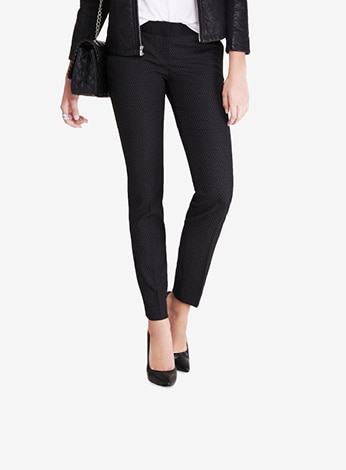 Leggings were worn by both men and women in the past. Right from military men, to civilians, leggings were a part of the outfit when it used to get chilling outside. The bottom wear became a sports wear trend in the 1960s, which were paired up mostly with long length t-shirts or sweatshirts. Girls preferred wearing knee-length leggings with skirts or small-length dresses. The trend still continues with a few alterations to suit the consumer's needs.
Talking about pants, the 20th century witnessed pants becoming a fashion trend among men, which slowly dripped in to the women community also. The style and pattern of pants have been evolving with time, but still hold utmost importance in both men and women's wardrobe – be it casual or professional.
These days leggings India are made of Lycra, which are mostly worn in the gym or on traditional Kurtis. Leggings are designed as pants, however, it is important to note that leggings need to be covered by long shirts as they are tighter and body hugging than pant that often look body shape exposing. This might seem unattractive, especially if you have a heavier bump and thighs. If women with such body shapes wear short tops on tight fitting leggings, then it might look ugly. While on the other hand if you have a weak figure that looks bony and slim, then leggings might look too skeletal and unsightly.
Whether a pair of leggings suits you or not is a subjective concept. However, choosing tops that suit the leggings perfectly well need to be finalized after deciding when and where to wear the leggings. For instance, if you want to wear the leggings as pants, then you need to pair them up long t-shirt or indo-western tunics. If you want to wear leggings on a traditional occasion, then you can team them up with Kurtis of any length size.
Also, the fabric of leggings you want to buy depends on the weather conditions. For instance, you would prefer thick woolen leggings when it is cold outside, and thin and light weight cotton or Lycra leggings when it is a hot and humid day.
Another important accessory that would enhance your outfit is the footwear. Most times the type of footwear depends on the top you wear with the leggings. If you're planning a casual yet feminine top then you can accessorize the look with high heeled or delicate looking flats. If you wish to pair it up with sporty tops like jerseys, jackets then sneakers would complete the look perfectly well.
When it comes to buying these stylish attire online legging shopping is very popular.