Indian sarees were once only woven for temple deities, but those days are history now. Sarees have always been an integral part of the Indian culture and traditions. Since the ancient times, sarees have been one of the most preferred choices of the Indian women. There are other Asian countries also, where women wear sarees, but Indian sarees are exceptional and are different not just because they are beautiful and have a huge variety in them, but also because they represent the Indian culture and has a history behind them.
Indian sarees are no more limited to Indian and Indian women, but have now become an outfit of international recognition. With time and the fashion industry growing stronger with every decade passing, we have developed a lot in the fashion industry. Talking about sarees, there have been many development in sarees as well. There was a time when sarees were only made of either cotton or silk. No other fabric was used in the weaving process of a saree. Today, we have a huge variety of fabrics available for example, georgette, chiffon, crepe, net, and many other.
Saree, are one of the most elegant traditional Indian attires that defines the beauty of a woman, bringing out her grace and elegance. It reflects the true essence of an Indian woman. Sarees today are available in various prints and designs. You could find a plain saree, a printed one, the one heavily embroidered, dyed, etc. A saree has got a grace that's beyond comparison. No other ethnic, traditional outfit can match to the persona of saree. Right from the period of Indus Valley Civilization we get sufficient evidences indicating the tradition of wearing Sarees as a custom that is age old, prevalent in the Indian subcontinent.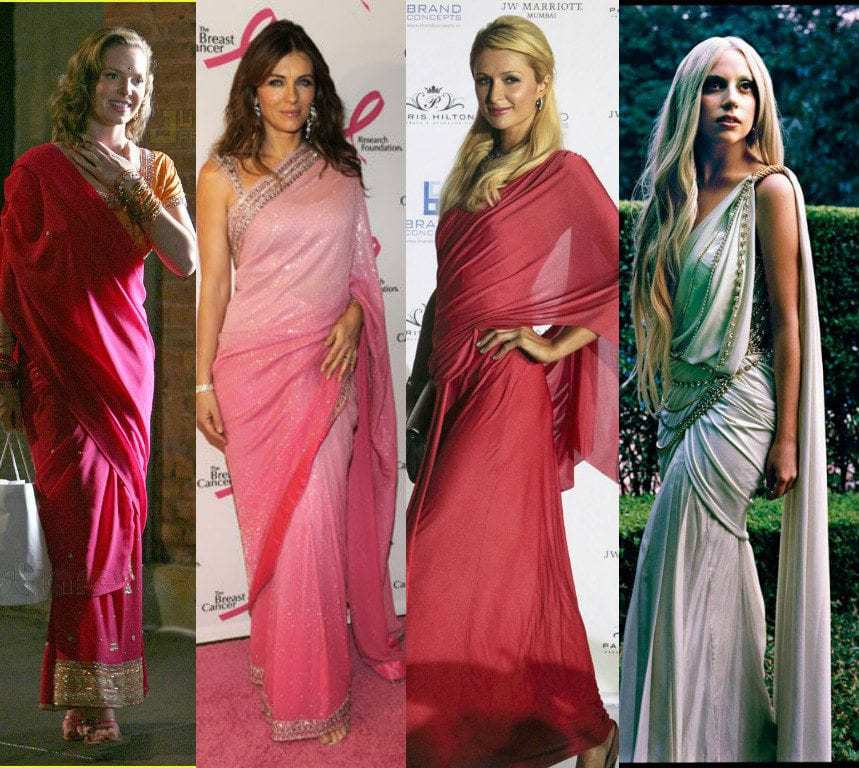 Thanks to the fashion industry and the excellent fashion designers and craftsmen, that today, one could have different sarees as per the occasion. Also, wearing and draping styles vary from region to region in this diverse country. The several well-known types of sarees found in the Indian subcontinent regions include Chikan, Banarasi, Jamdani, Shalu, Tant, Tanchoi, Kantha, Kanjeevaram, Bandhej, Zari, Baluchari, Chanderim, Paithani and Bandhani, etc.
Gone are the days when saree was confined to the regions of the Indian subcontinent only. Now this popular dress form is worn by women from all over the world. In the contemporary times the look of a women in a saree was highly appreciated. Woman in Saree and India are synonymous to each other. Fashion shows and air hostesses deserve additional credit for popularizing sarees at the international level.