Women love to experiment with fashion. More with something that is already a popular attire to bring them the most glamor and charm. Churidar salwar suit is one such outfit for women that has been loved and treasured by all across trends and cultures.
The reason is the silhouettes and seams of a churidar suit allows you an engrossing style. These are great for festive celebrations, traditional get-togethers, casual outings, and even to accompany you on a regular day at work. Proving a great way to diversify your style without having to shift your choice of attire much as a salwar suit lover.
Even if you love to wear different outfits including the western ones, churidar suits allow you to adopt a different style of clothing that incredibly adds to the variety of your wardrobe.
Churidar salwar kameez oozes traditional demeanor with the fine act of elegance and class. It is known to add an enigmatic style element to the functional array of Indian dressing. This is a great addition to your traditional closet and therefore is so popular with the women in the sub-continent.
That says a lot about the popularity of the dress. For you to get more out of it, we get you a few style add-ons that can make your churidar Indian salwar kameez even more interesting and attractive to wear.
Team it up with an Anarkali Kurta
Churidar Salwar Kameez generally accompanies a straight fit or A-line kurta. But, breaking that norm and getting over conventions you can make it play a different role, teaming it up with churidar. Anarkali is usually considered to be worn formally at festive and special occasions. They are mostly embroidered and printed with intrinsic patterns and artistic motifs. With its flared and voluminous profile, it can grace a heavy make-up look. Pairing it with a churidar suit can get to express Indian traditional fashion in an interesting style. This has already been tried by many and is now a popular styling option with most of them. But you can always try different variations in designs and patterns.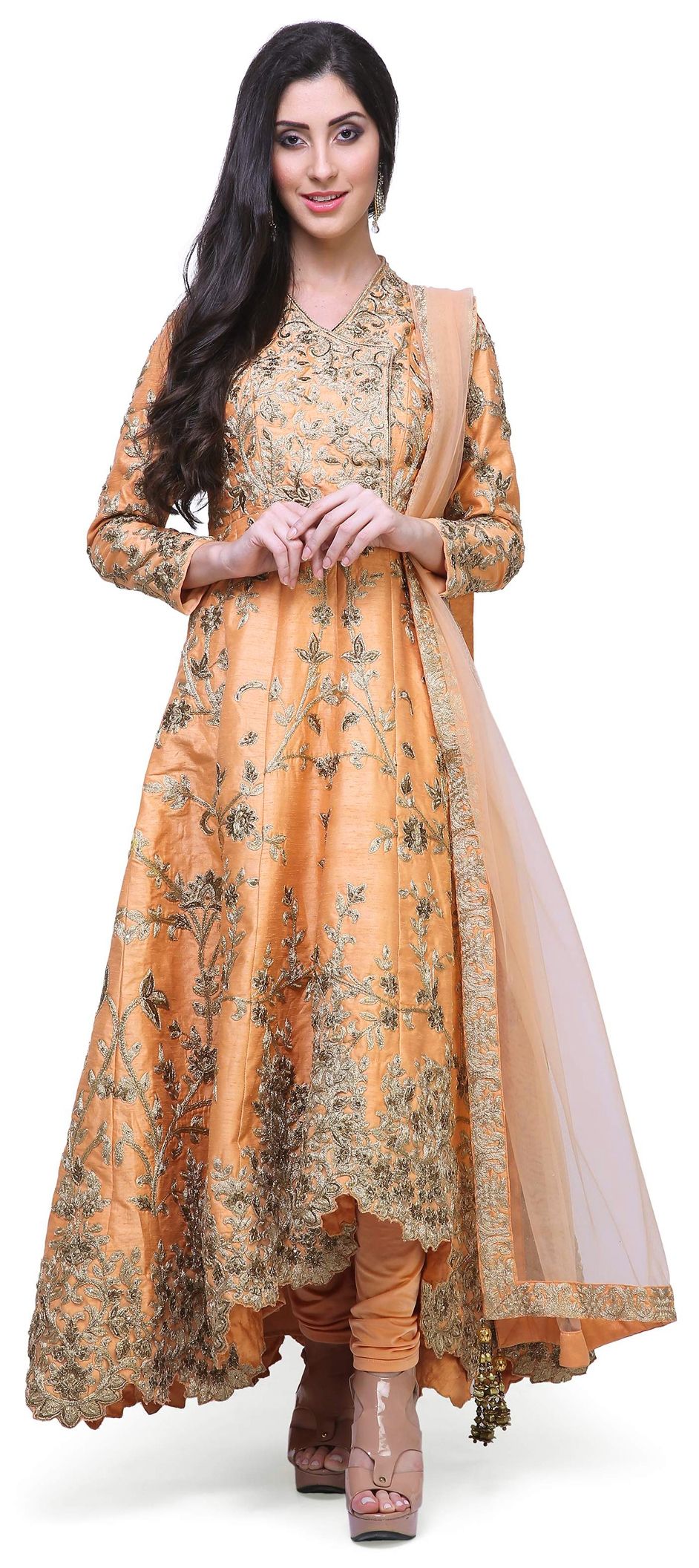 Contrasting or Designer Dupatta
Now, this one really distinguishes your clothing style transforming your churidar into a new vesture. It can fairly put it into a different choice of an avatar as you can style it with the dupatta of any color and design. It could be something that offers an adorning gloss to your churidar outfit or just work as great fusion apparel for it. If you use a dupatta of a very light tone with a pitch-dark salwar, it can be an interesting contrasting affair.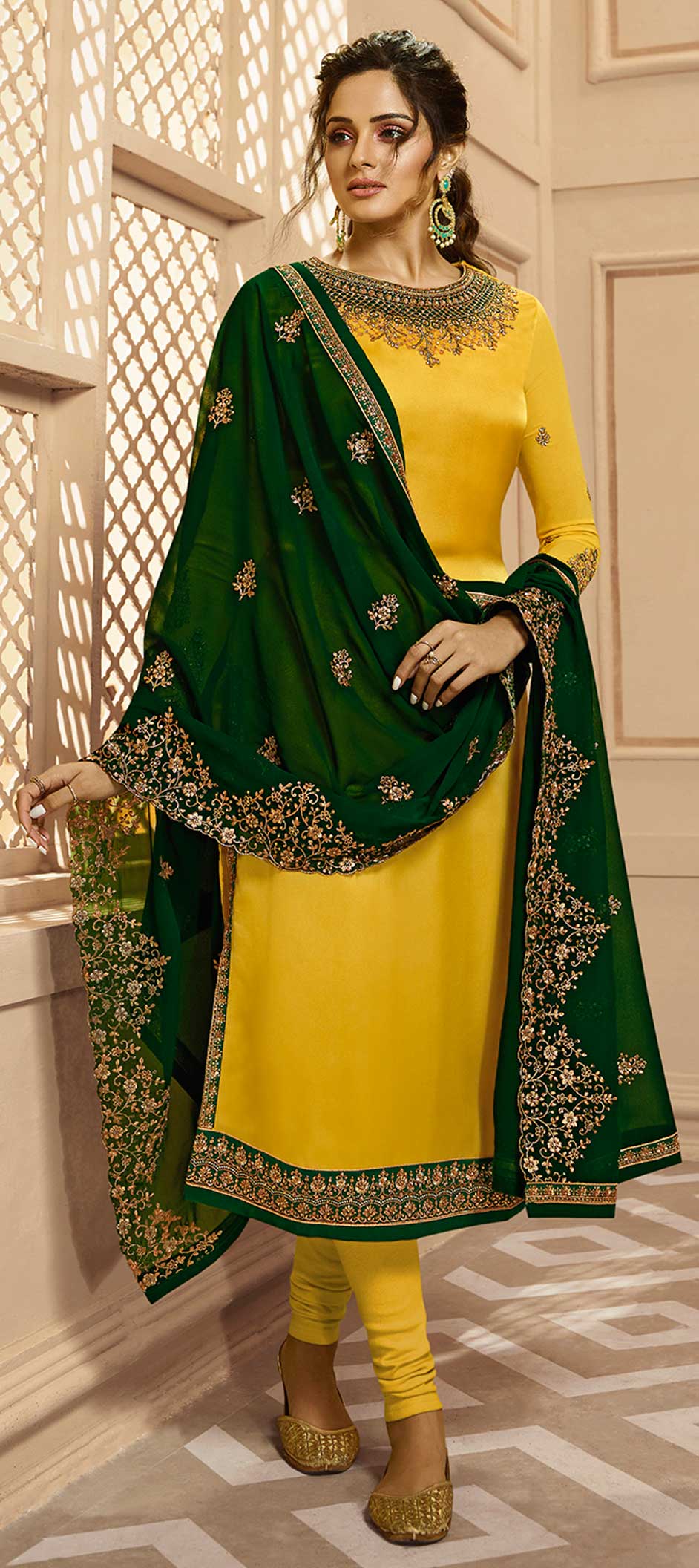 Alternatively, if you pair it with something done with gota, laces, tassels, or some gloss work it should be making it more of a partywear outfit. Here, you can try anything from Banarasi drape, classic kalamkari, traditional ikat, flamboyant gotapatti, vibrant phulkari, or chic pom-pom to get you the many variations.
Try various draping styles
As you have your choice of dupatta to add to the unique style of your churidar suit, you can try different wrapping styles with them. You don't need to just pin it to your dress letting it fall straight as you do it always. You can try to put it in different ways carrying it over the arm or across the shoulder. It can even be tied and braided in different styles to reveal interesting traits at dressing.
And with this, you can get more options to add attraction to your churidar dress. To have more ideas on draping you can have a look at different magazines and blogs that offer Indian clothing tips. Be it churidar cotton salwar kameez or a dress made with brocade or silk, it is going to get an enhanced look with these interesting drapes.
Pick the right accessories
No Indian wear is complete without jewelry. So is with churidars. To enhance your look, you need to look into the right option to accessorize your salwar suit. You can just put it along anything rustic, glossy, heavy, or minimal, looking at your choice of clothing.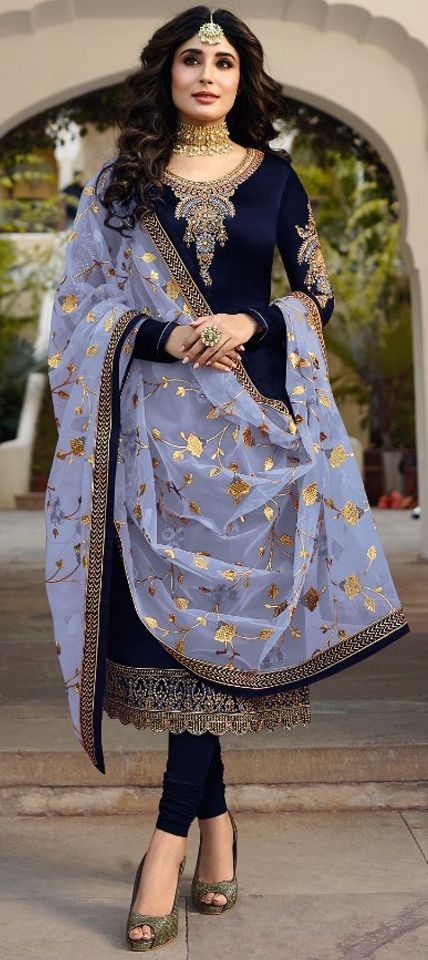 This can include easy pair of earrings, statement necklace, chunky bangles, or bold jhumkas to grace your looks best complementing your churidar. You can choose the ornament in the form of heavily studded jewelry, detailed kundanmeena work, reviving fashion jewelry, blazing trinkets, or subtle accessories to go with your idea of embellishment.
Cape it up
Adding a layer to your attire can incredibly enhance your churidar looks. It can be a great way to get a dressed-up look for a more formal event or a special occasion. Luxe jackets, sheer shrugs, overlapping furs, and modish stoles can be a great match. These are available in a variety of designs, styles, and cloth material to offer an interesting match with different patterns of churidar salwar suits.
Caping is always fun and you get immense options to sport a new look as you add that expressive upper facia to your attire. While you do this make sure you have your theme covered right and it matches your idea of dressing well and you will get the best results with your churidar ensemble.
After You
These are different ways of pepping-up and enhancing the way you dress up with a churidar salwar suit. So, you can simply put across the best traditional Indian version of yours offered by an excitingly unique fashion element that is served by these empowering styles. For more ideas, you can look for churidar salwar kameez online and let your churidar style stand out and lead the trends.