A Kanjivaram saree is a complete luxury that a lady serves herself with, by draping it beautifully around her body. We can bet there's not even a single person out there who's never heard of Kanchipuram sarees or Kanjeevaram sarees, while mentioning Indian sarees. These sarees are the soul attires of Tamil weddings and other festivities. And whole outfit starts looking even more mesmerizing when it gets paired with lavish jewelry and stunning hair accessories. Sarees that never go out of trend!
Travelling straight from the heart of Tamil Nadu, these sarees have got their own charm and stately strings attached. Wide borders make theme supreme of other sarees, Kanchipuram Silk Sarees are all-time and all-season wear with everlasting striking looks. These sarees are handcrafted in very precise and exemplary manner, inspired from temple borders, checks, stripes and natural features like leaves, birds and animals.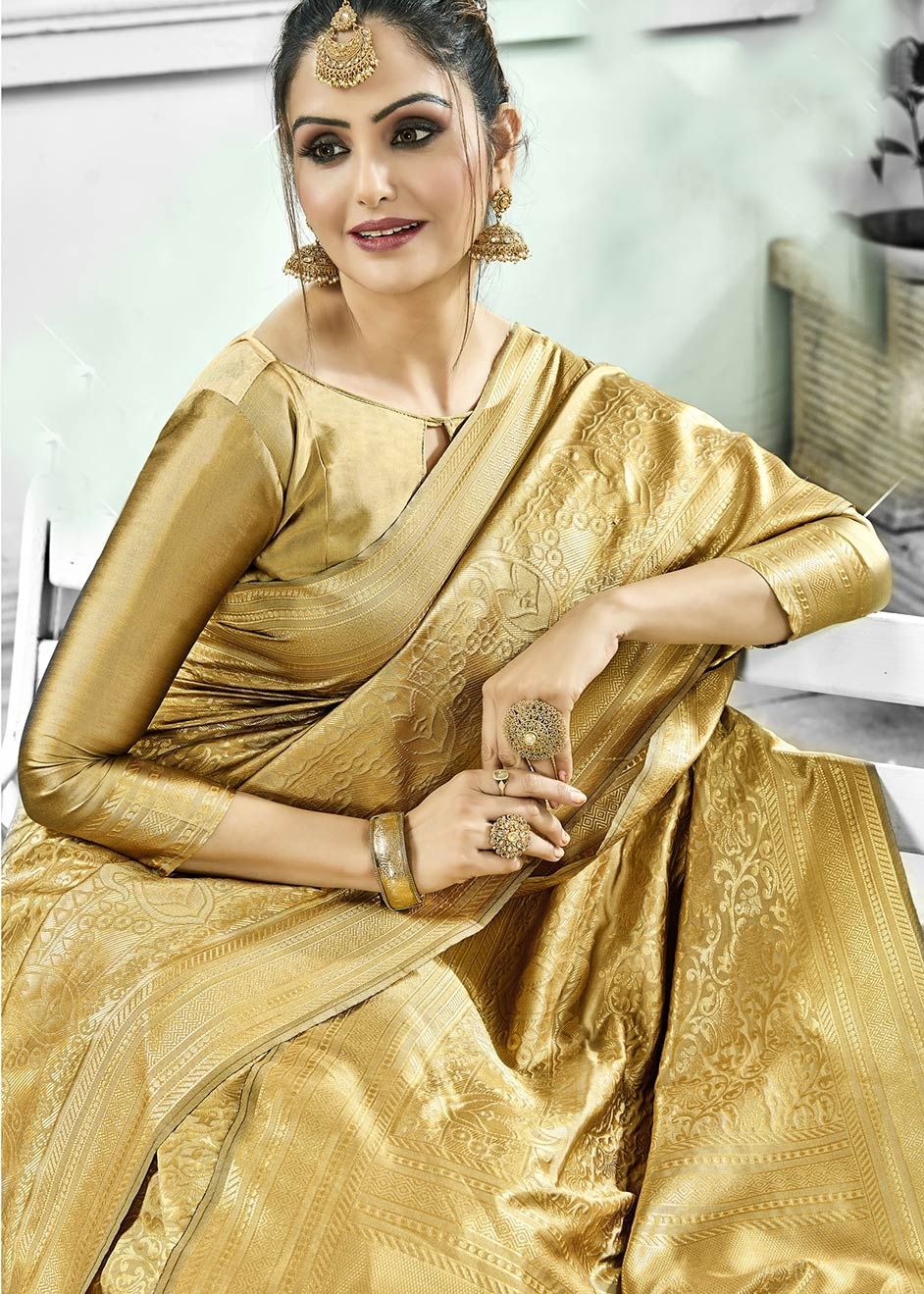 Kanjeevaram silk sarees are loved for their heavy silk and gold cloth work, which perfectly jazzes all of your occasions, from wedding to reception to festivals to parties to rest of the occasions. We have caught glimpses of some of the most classy and beauteous Kanjeevaram silk sarees for you from our Indian saree collection. So that you can check out our fashion saga. And you can add more glamourous outfits in your trousseau. And you can add more beautiful outfits to your trousseau.
So, stick to the blog and keep exploring!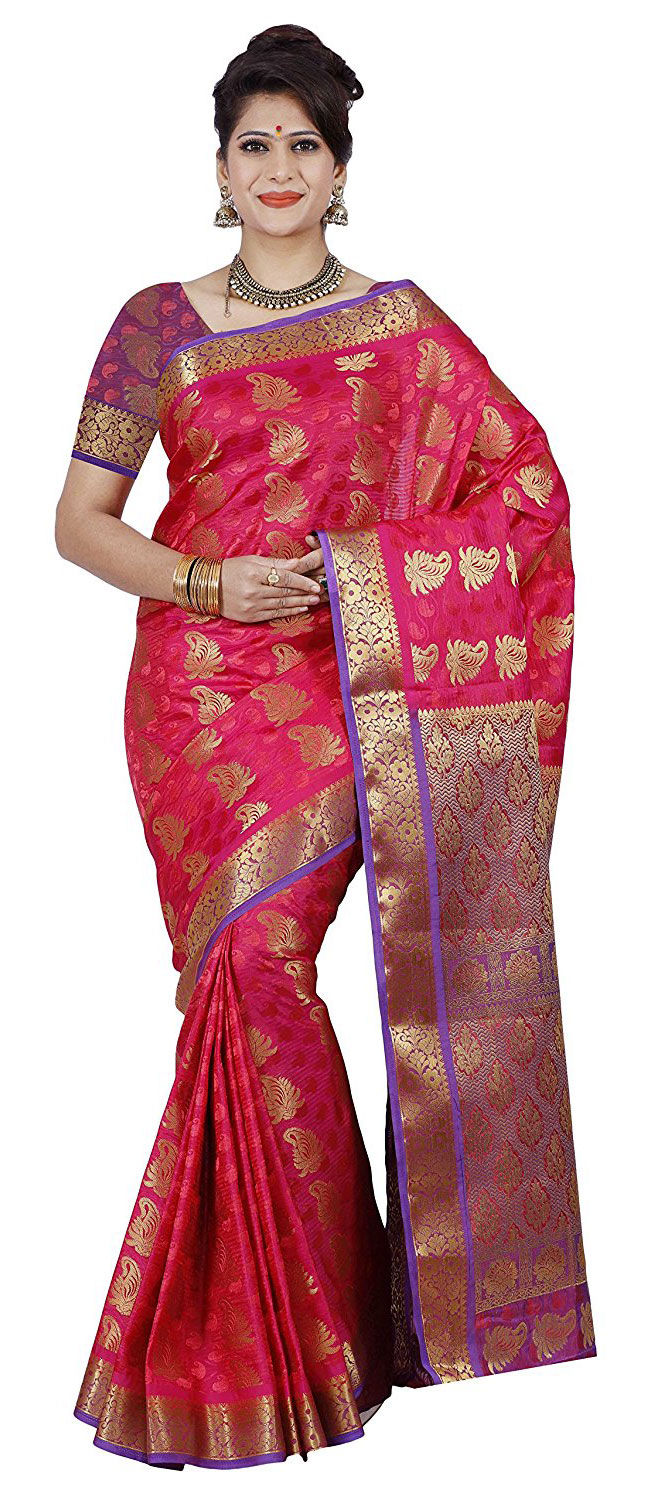 One of our bestsellers! Beautiful bright colors of this saree can make your day with lots of compliments. The magenta Kanjeevaram saree juxtaposed with violet hues and woven in stunning golden motif. You really need stunning earrings and necklace with this saree. This will be a perfect match for a traditional occasion and this will look good in parties too!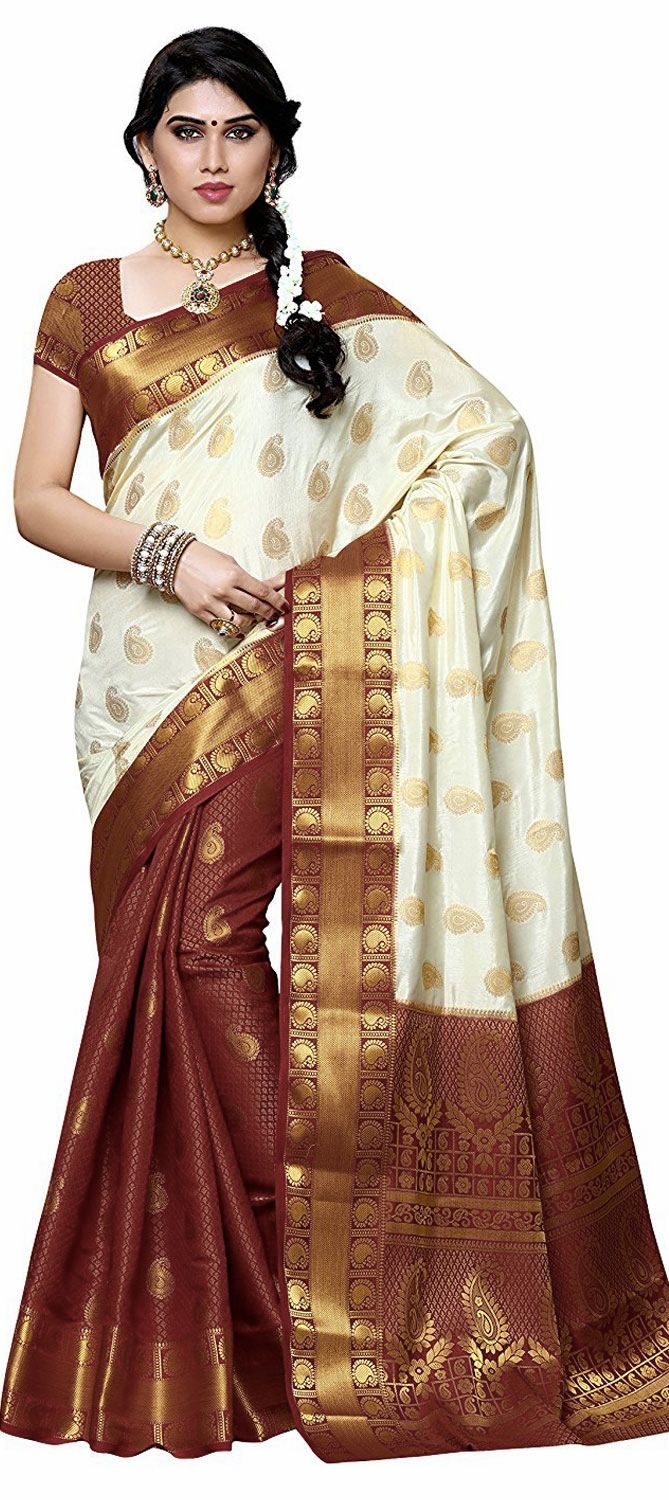 An ideal South Indian wedding saree cum party wear. In South India, combination of white and red is considered as the purest and thus most of the brides wear white saree with red embroidery on their wedding day. This Kanchipuram silk saree is beautifully handcrafted in golden paisley motif with thread and zari work. An elegant wear!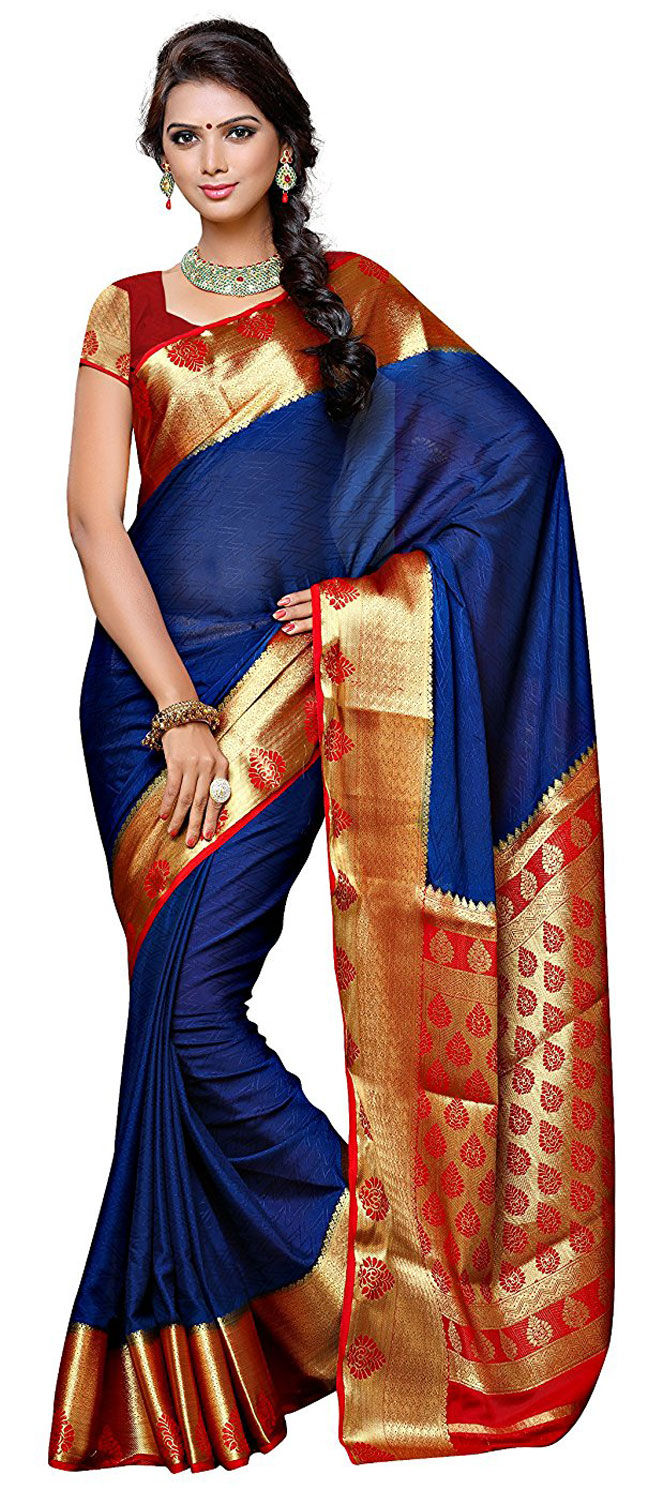 A party-wear sari! Beautiful blue kanjivaram saree with green embroidery and enhanced with red embroidery handwoven in golden thread work. This saree will perfectly go with a traditional occasion as well as for a wedding too.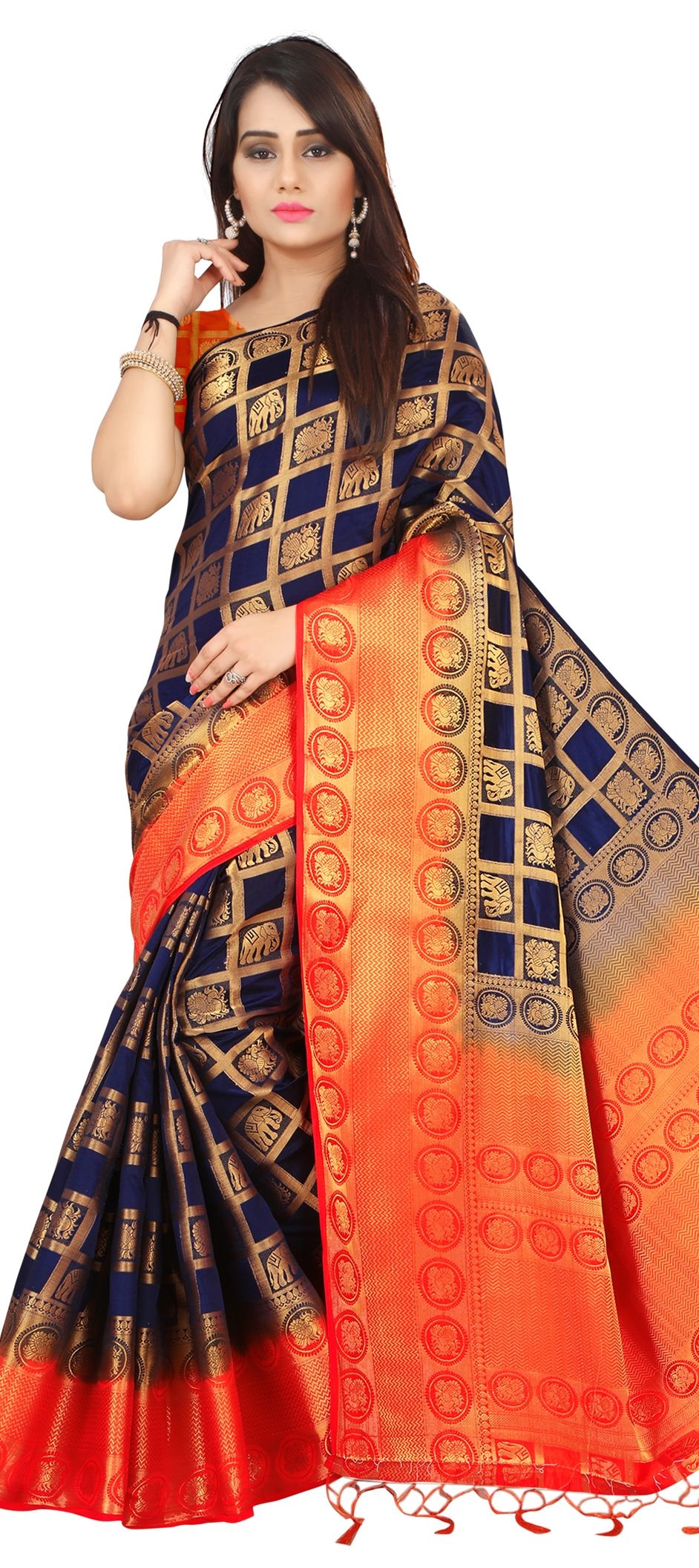 Stunning blue Kanjeevaram silk saree with orange embroidery and handcrafted with golden elephant motif in thread work. Round earrings will create magic with the saree. A beautiful match for a festive occasion and for any other traditional occasion!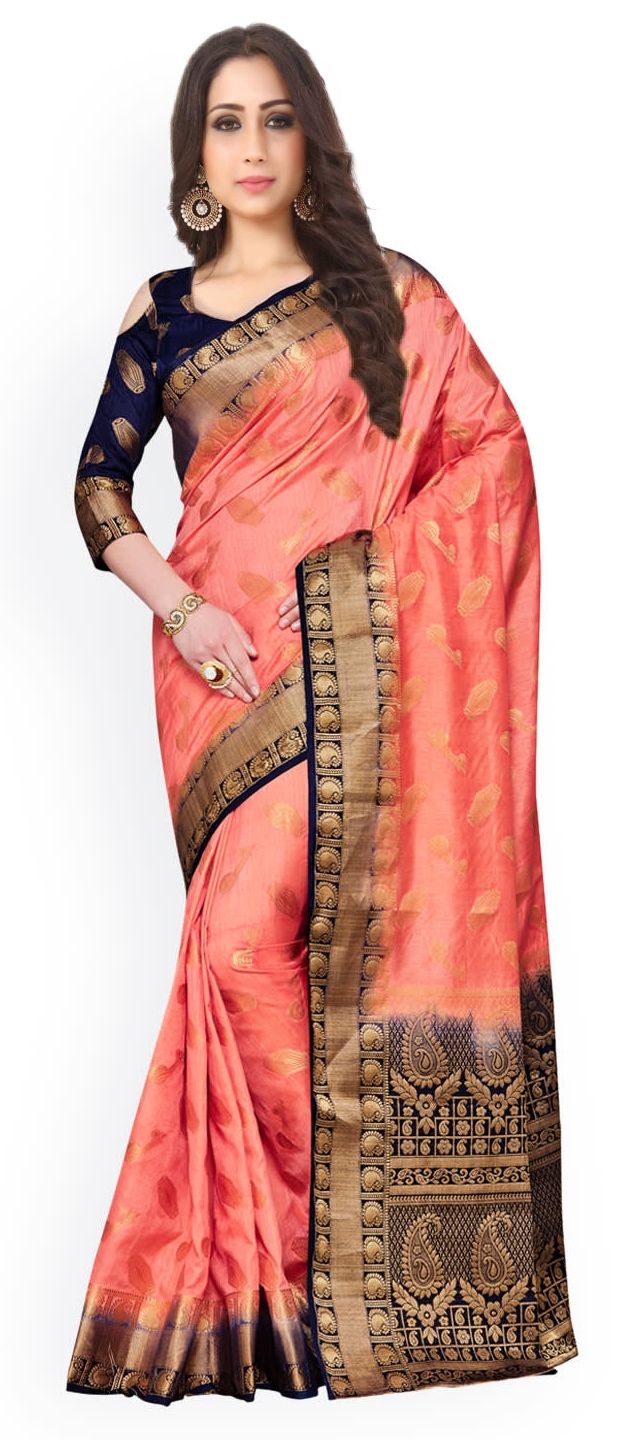 Another one to embellish you festive cum summer saree collection! Beautiful peach Kanchipuram saree in blue embroidery and embellished with paisley motif in golden thread work to jazz any traditional occasion. Earrings are must to accentuate your looks in the saree.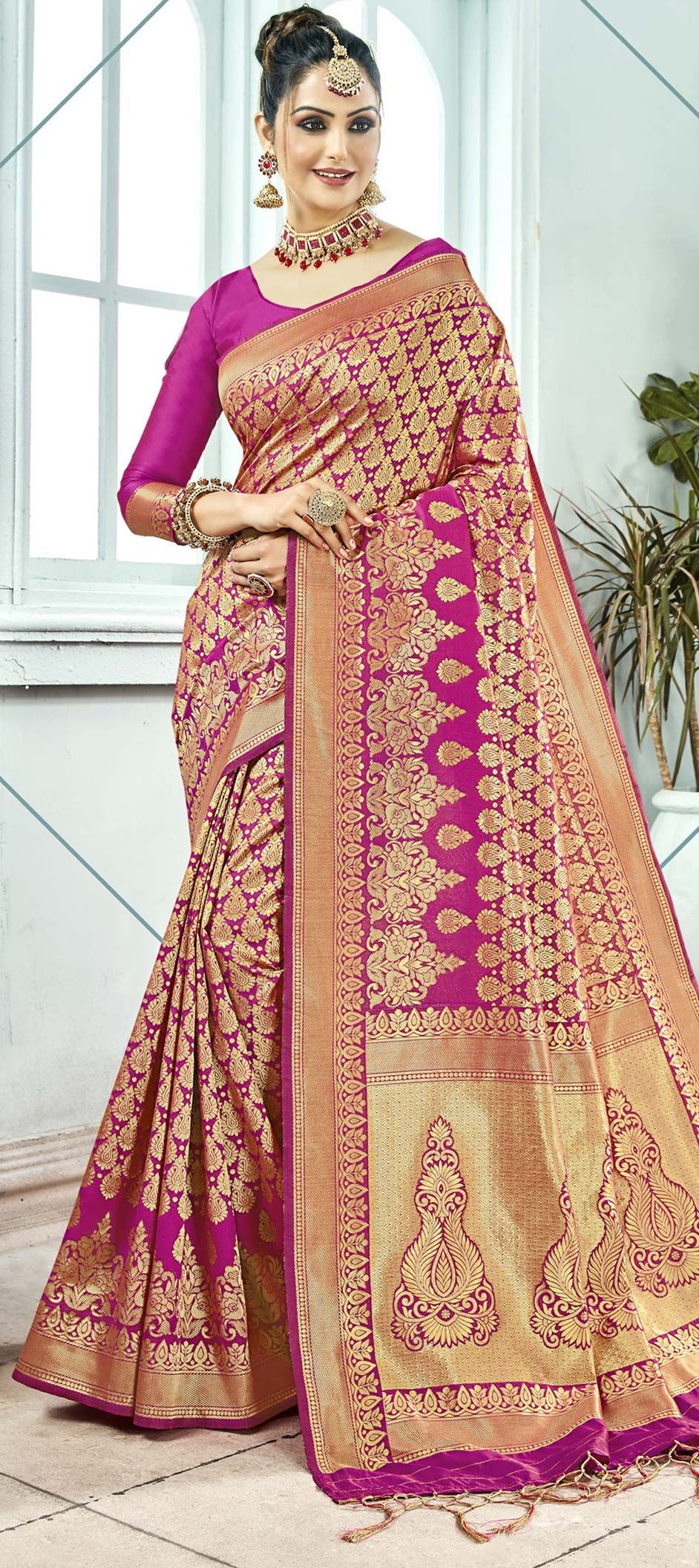 Gorgeous pink Kanjeevaram silk saree crafted in dense golden motif woven in thread work. Maang tikka, earrings and necklace are mandatory to be worn with this elegant saree. An all-season wear and all-occasion wear!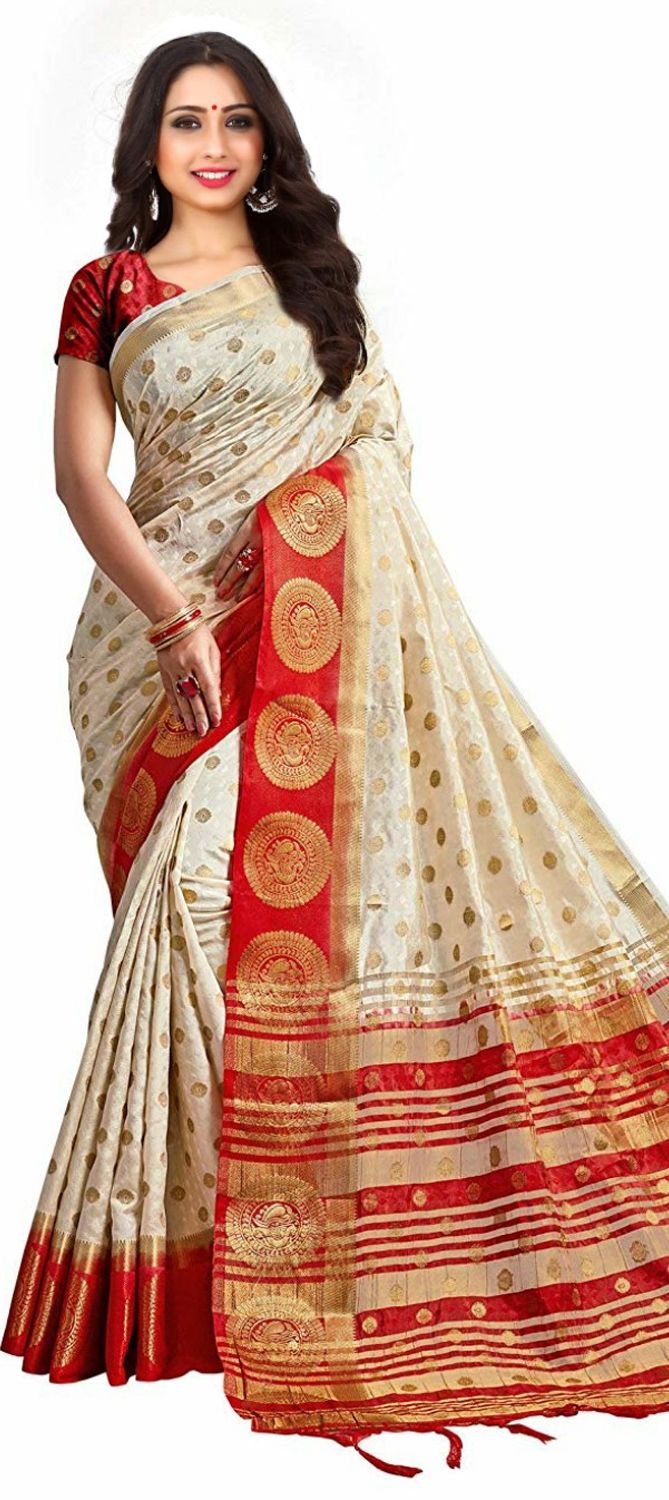 Beautiful white Kanjeevaram silk saree with red embroidery and gorgeous golden thread and zari work. Another gorgeous wedding cum all traditional occasion wear!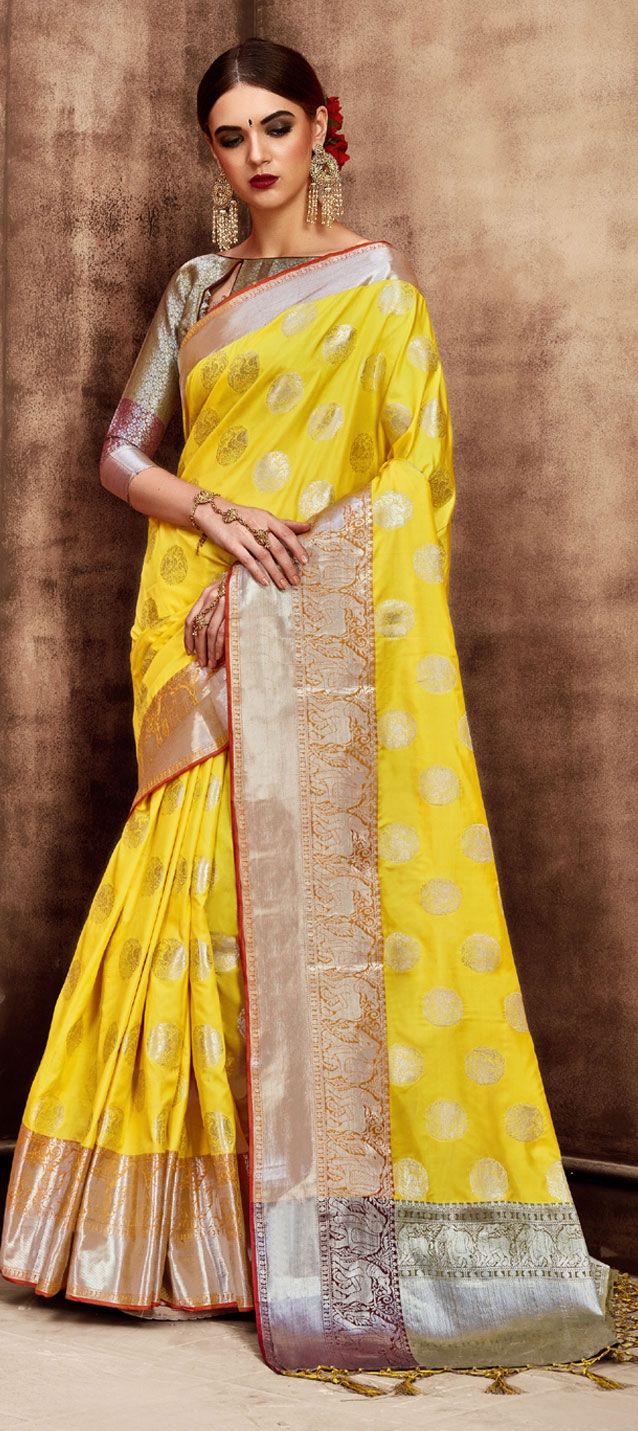 Gleaming & radiant yellow Kanjeevaram silk saree graced with precise and detailed motif in thread work with shining silver embroidery. Heavy earrings will give chic looks in addition to south style of the saree. Stunning all-occasion wear including party to wedding to festive occasion!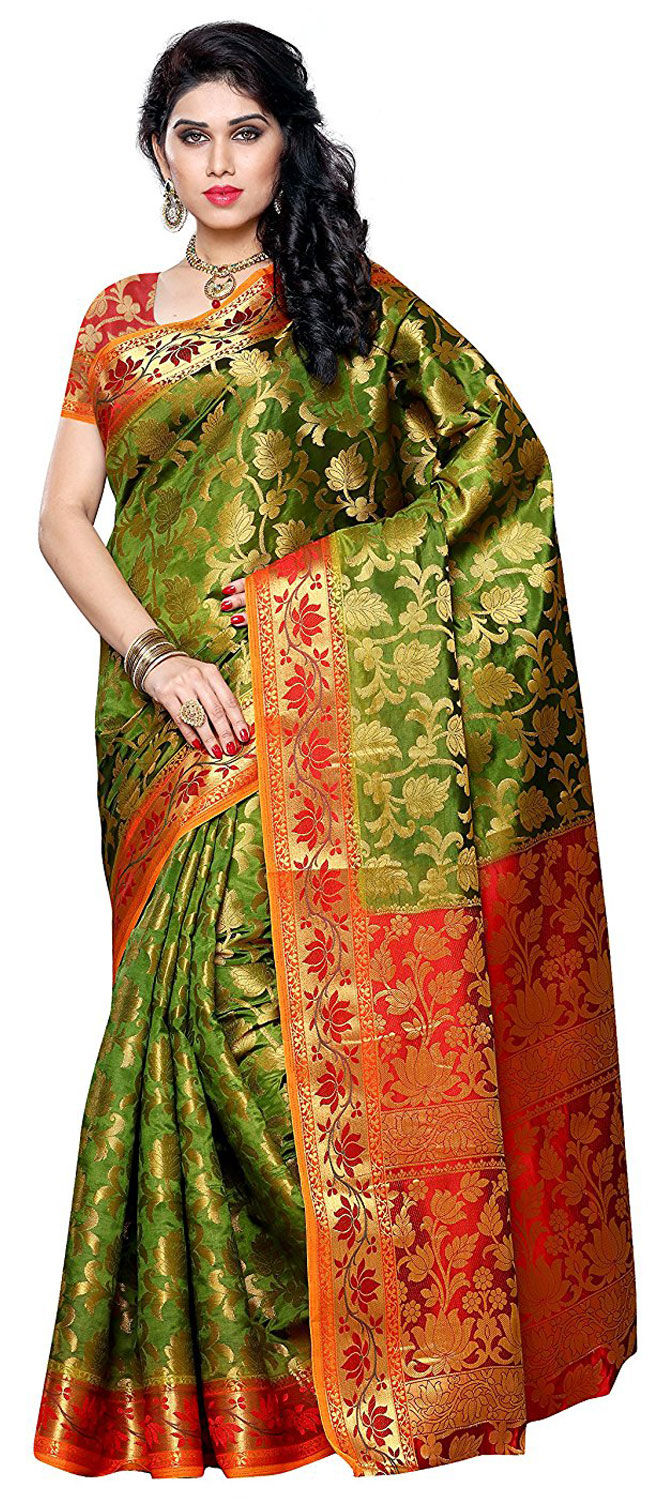 Gorgeous green kanjivaram silk saree in red embroidery and crafted with heavy golden thread and zari work. Perfect for a party and wedding too. Color of the saree is all-season choice.
So, this was our look book in which we gathered the glances of some of our Kanjeevaram silk sarees for every occasion from weddings to party to a regular day. Try any of these and we are sure you are going to leave everyone stunned with your looks. We celebrate elegance in ethnic looks and we always try to bring subtle creations of ours for you, so that you can garnish your trousseau. For exploring more new outfits, keep checking our blogs…