The engagement ceremony is one of the important occasions that complete the wedding loop. This is the time when you have to look glamourous, go with the trend, and closely follow your traditions. And, most of all you need to carry your style in the clothing ensemble and design craft that suit your bridal fashion the best.
Here, you can be helped with the right choice of saree that can bring you the special attraction you need on the day of your engagement. Here are a few selective styles to take the idea for the engagement saree attire that should make your big day more special.
Lehenga Saree for Engagement
When you think ofIndian weddings, you cannot do without considering lehengas. The lehenga sarees generally carry embellishedcraft with intrinsic work of embroidery and fine ornate art. These are made with heavy borders and detailed inline patterns that feature a collaborative designto make it a grand affair all prepared to serve a conformistbridallook in an Indian culture-rooted wedding.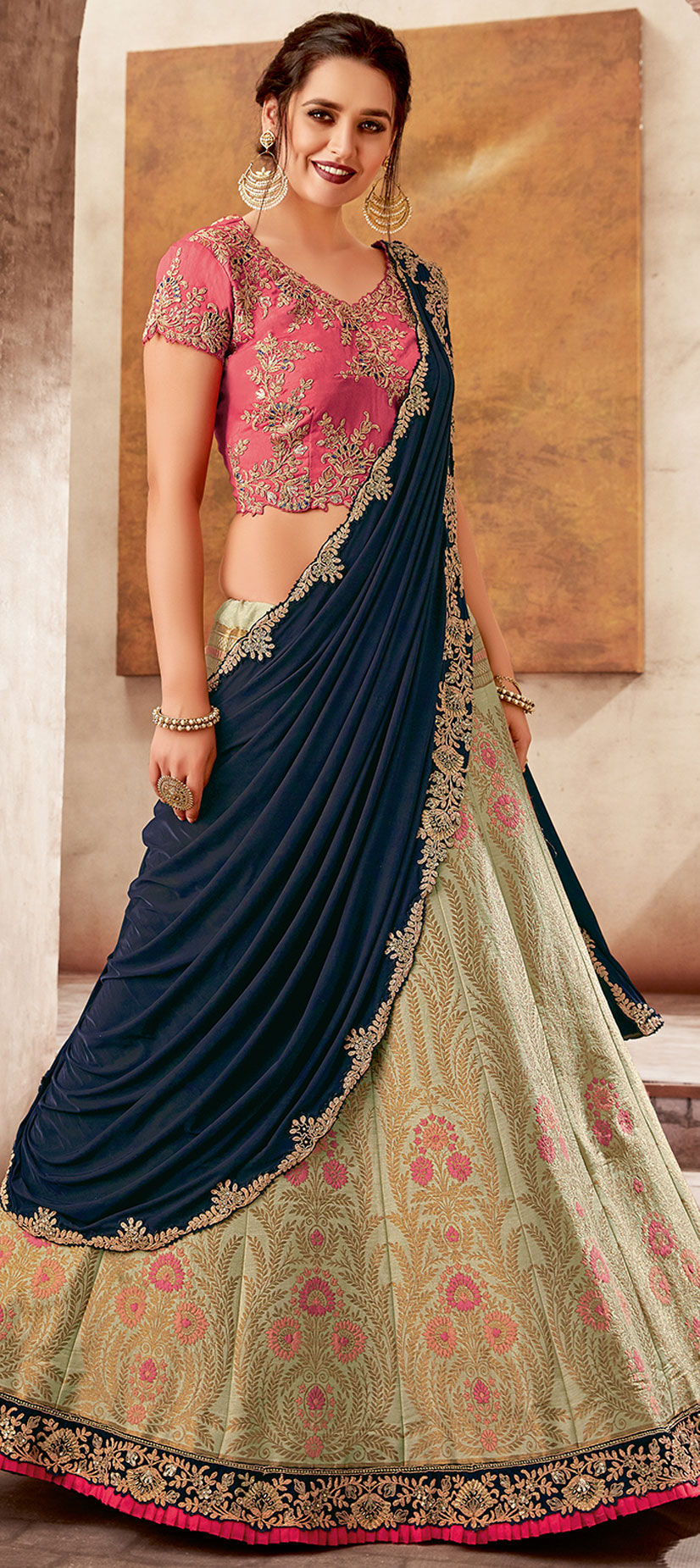 Engagement Silk Saree
Silk is about lush and grace. Silk sarees are accustomed to being worn on special occasions as a ritual in many Indian cultures. There are different ways silk can be adopted to give you a gorgeous feel in the form ofbridal attire. And you have many striking options tohave in terms of textures and forms as silk is available in various styles of origins and finishes.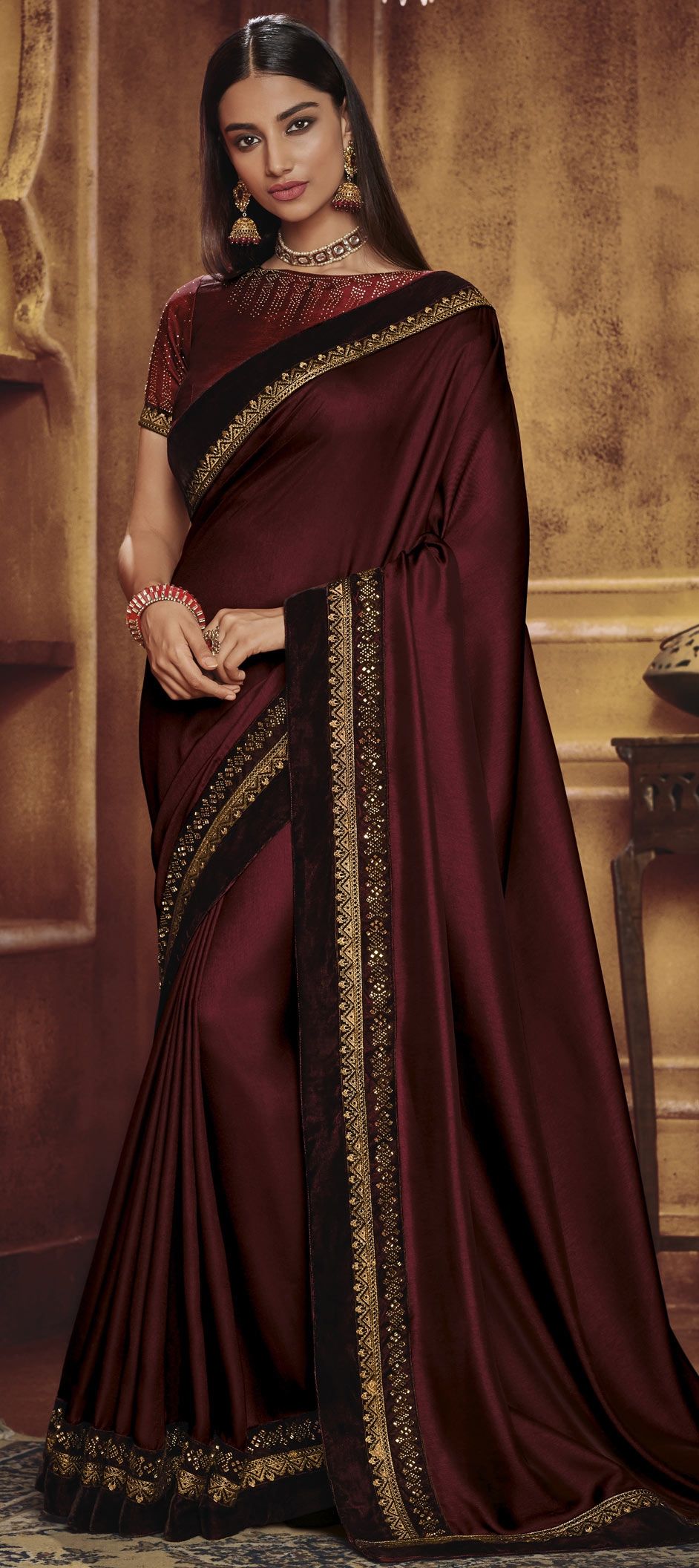 Designer saree for Wedding engagement
If you are more towards fusion dressing and like to pick up the in-trend style that gets you a modern getup, designer saree is the way to go. With this, you get to have your design created on different styles, patterns, and color schemes to get you a look outside of the regular and conventional choices. With which you can expect interesting artistic blends and creative adoptions in saree designs.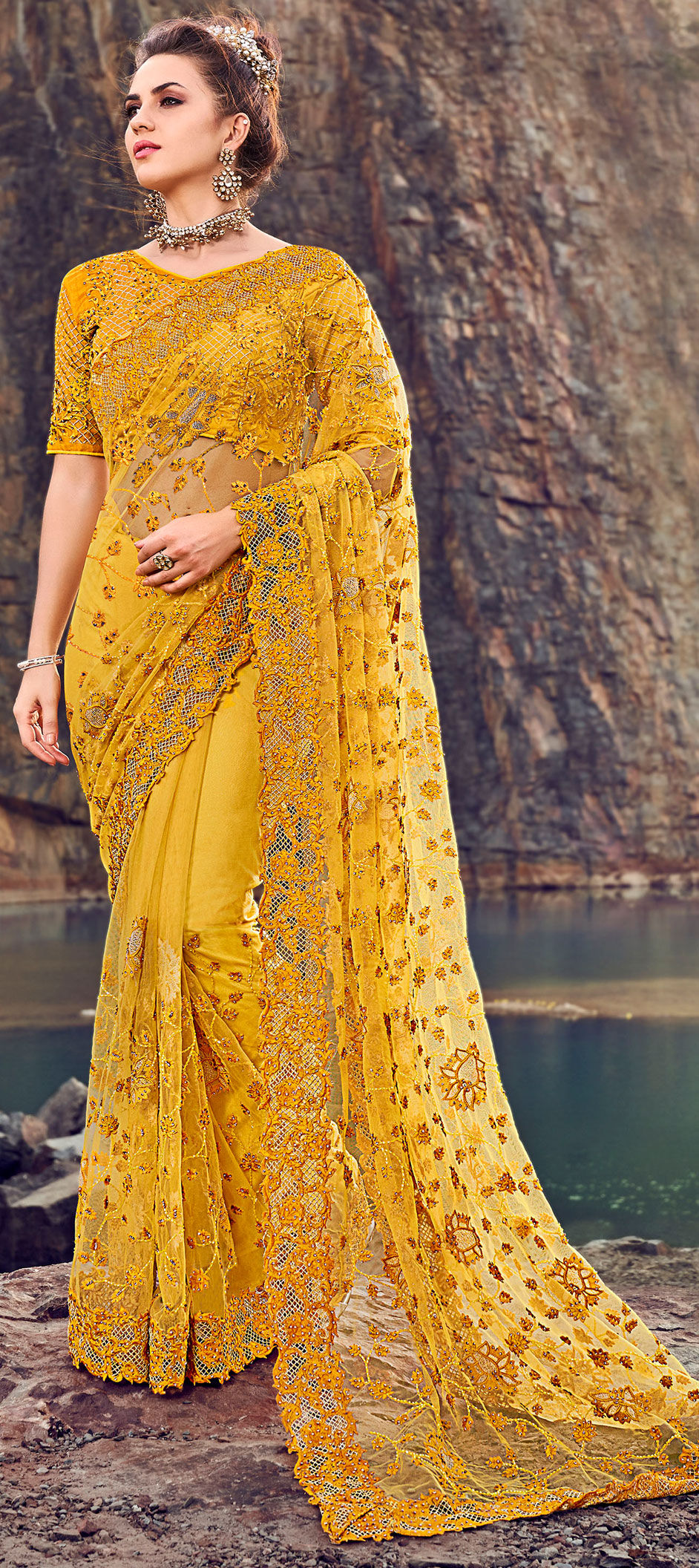 Fancy Engagement saree
Though it sounds to be one from the designer module,it is a different form of engagement saree for bride. It is the same traditional wear saree that is conventionally popular with wedding occasions but is more engrossing and sparkling in looks. It is done with more frills, trappings, trimmings, and glitters to give it a sprightly and glitzy appearance. A perfect saree outfit option for those who love to keep it all playful and perky on occasions.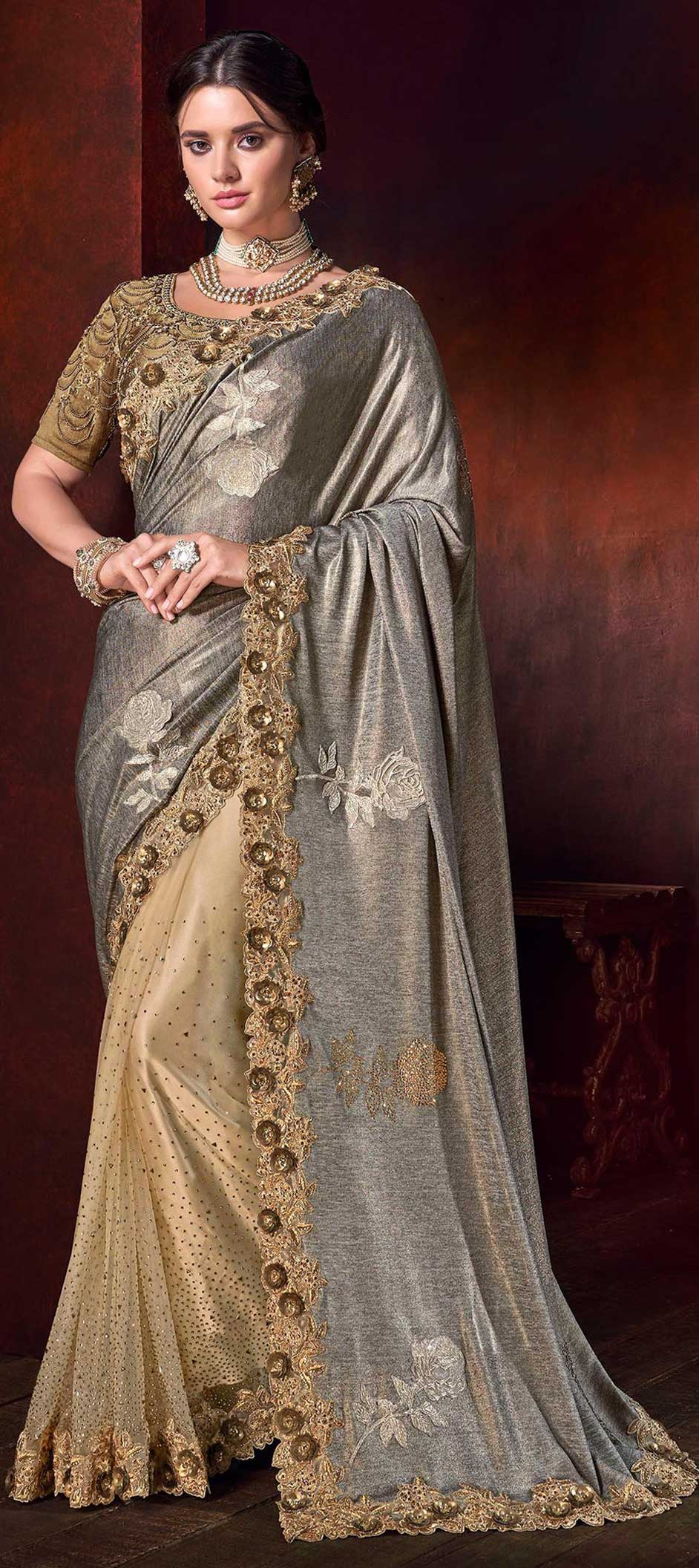 Woven Banarasi saree
Banarasi sarees have the touch of the ancient era that is dominated by Mughal art and culture. These have a woven design border and you will find these sarees done in golden and silver tones of brocade and Zari. Perfect to be worn with the traditional art jewelry it offers a very different charm and a suave appearance that is much beyond and different than anything regular!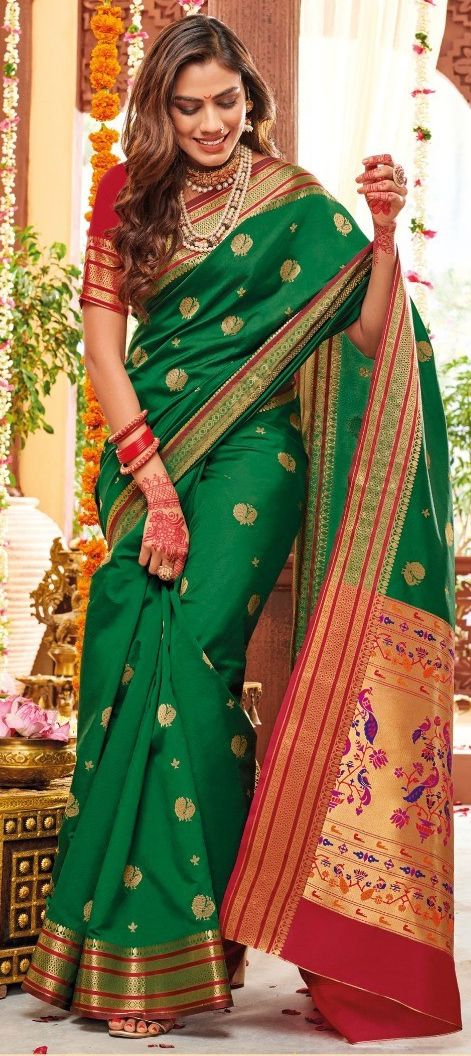 Embellished Zari design saree
When you want to keep your style to-the-point and aligned to suit the tone of the occasion with pro-Indian embellished style, go for a solid shade Zari embraced saree with ornate sequences. This is something to go with the bridal pattern arrangement that endorses the feel of a typical Indian ceremony that is more about exuberance and celebration.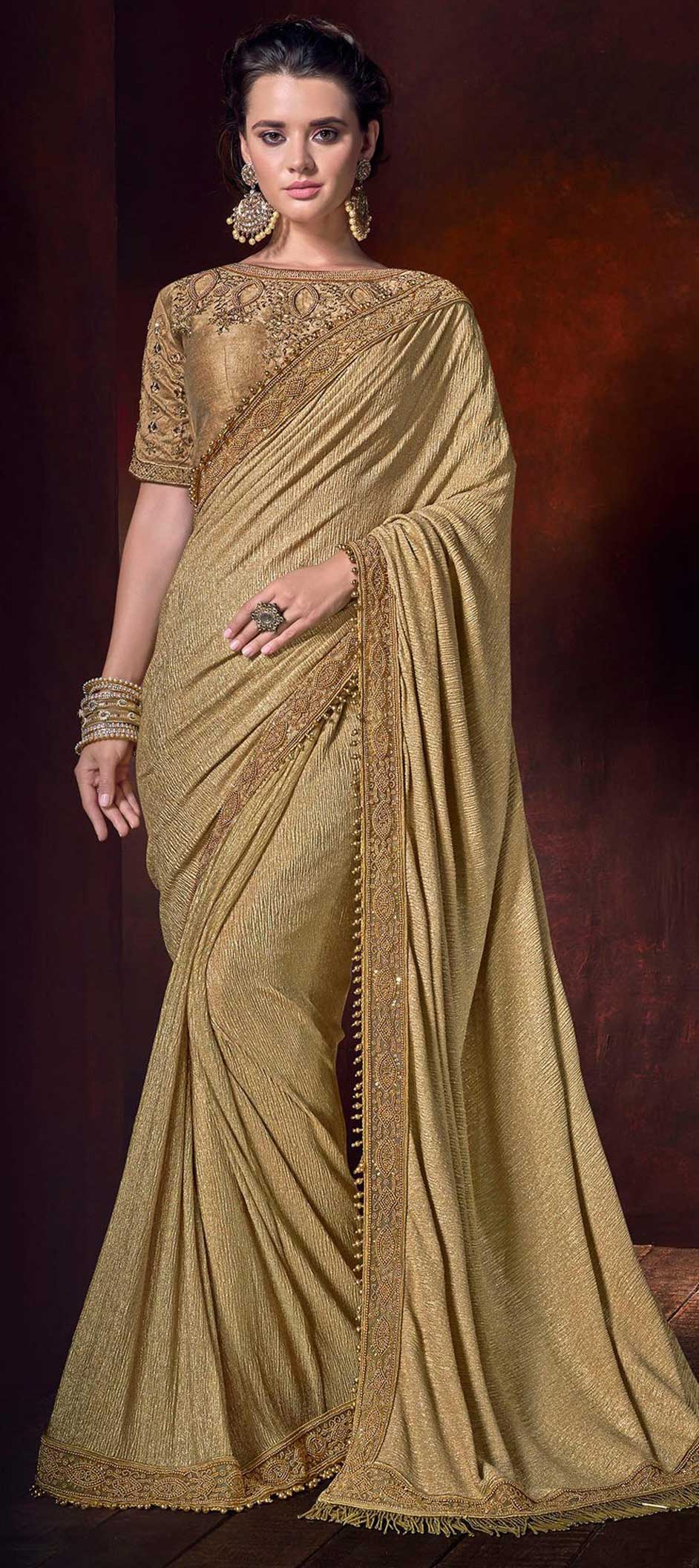 Georgette with lace design saree
This style of engagement sarees is one fine pick to get you to choose something over the much predictable Indian engagement sarees for the bride. The flavorful lacework done all over on the printed georgette base can bring you a design of a simple engagement saree that offers a modern and stylish option for a contemporary wedding affair that sees style in easy and nominal designs.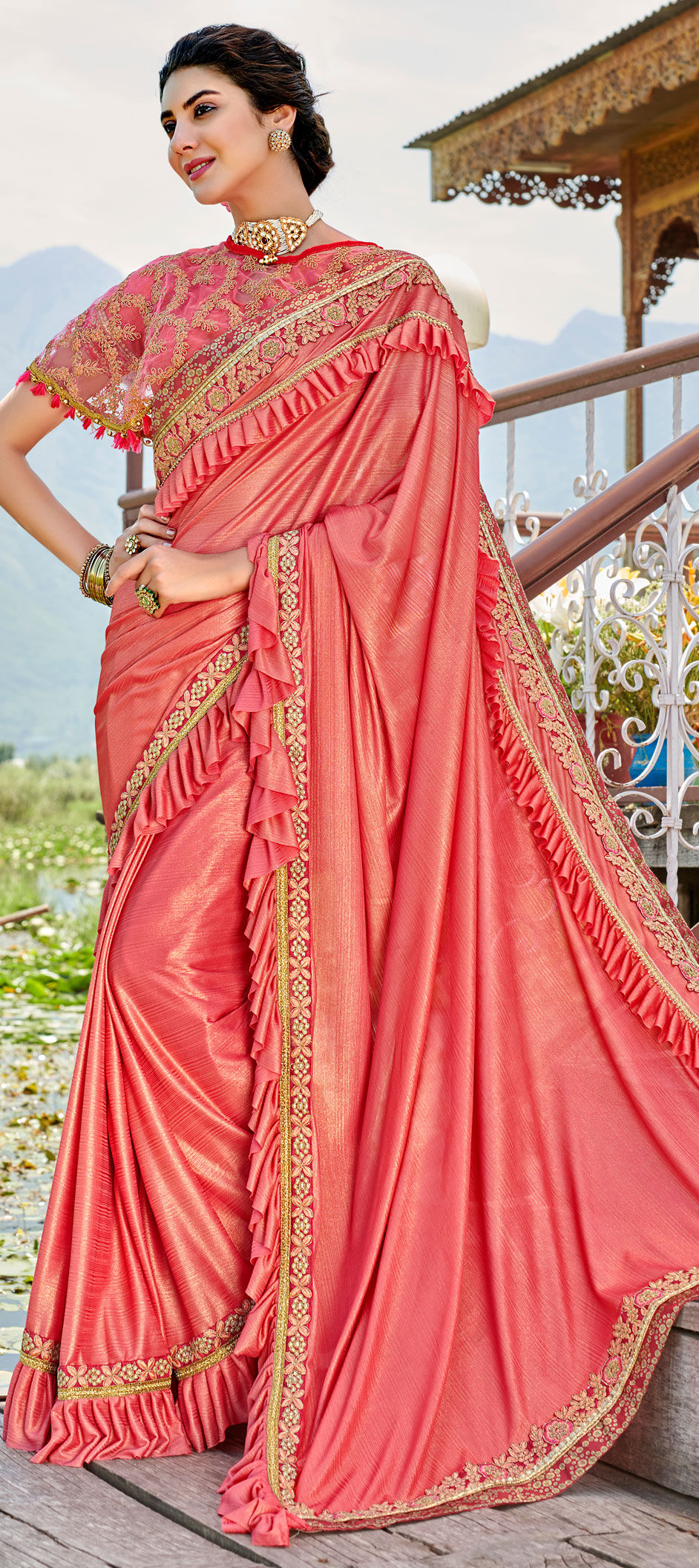 Find your pick
Choose from these designs to get you the trending engagement sarees for bride that are styled to serve the latest bridal fashion. As you look to buy engagement sarees online try checking with these options to get you the most eligible and perfecting dressing option to suit your style on your wedding engagement day.