Festive seasons in India are a time of pure magic, an enchanting blend of tradition, celebration, and fashion. Amidst the myriad choices of traditional attire, none quite encapsulates the grace and versatility that sarees do. Be it Navratri, Durga & Kali Pooja, or the grandeur of Diwali, sarees have an innate ability to elevate your festive style. In this article, we unveil the latest trends in festive sarees, ensuring that you stand out in your festive wear sarees.
Navratri Glam: Lehariya & Bandhej Sarees
Festive sarees come alive during Navratri, and among the most celebrated choices are Lehariya and Bandhej sarees. These traditional Rajasthani sarees are a testament to the vibrancy of Indian culture. The intricately tied and dyed patterns of Lehariya and Bandhej sarees evoke a sense of joy, making them the perfect choice for the colorful nights of Navratri.
When choosing festival sarees, consider opting for Lehariya or Bandhej patterns in vibrant hues like royal blue, fiery red, or sun-kissed yellow. These sarees are known for their burst of colors and patterns, which align perfectly with the festivity's spirit. Pair them with oxidized silver jewelry for that quintessential Navratri look that's both stylish and rooted in tradition.
Elegance for Devotion: Handloom Drapes
For the serene celebrations of Durga & Kali Pooja, the choice of festive sarees shifts towards handloom drapes. Handloom sarees are the embodiment of craftsmanship and elegance, making them an ideal choice for these sacred occasions. These sarees are a symbol of devotion and reverence.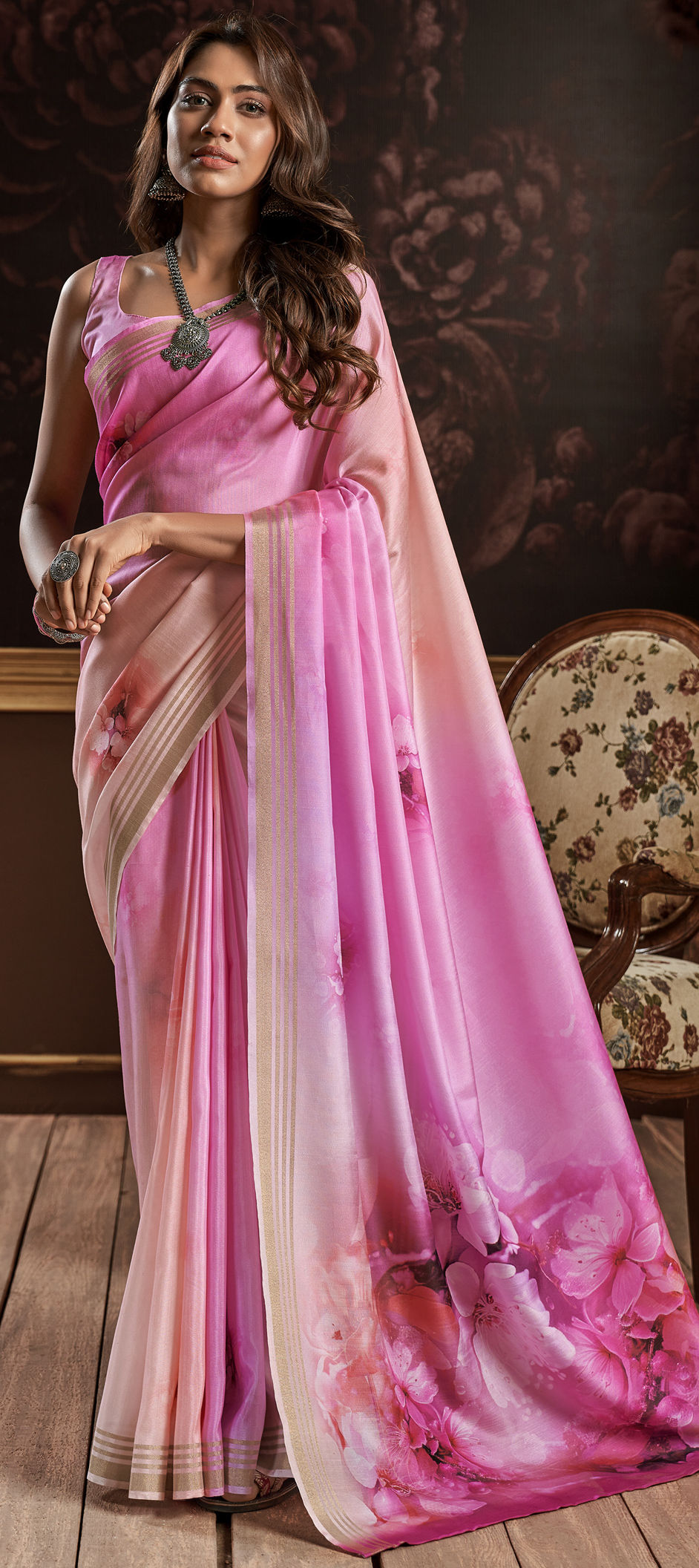 When selecting festival sarees, consider handloom sarees in earthy tones like ivory, beige, or deep maroon. The richness of handloom sarees lies not only in their intricate weave but also in the stories they carry. They reflect the tradition and culture of various regions of India. Drape yourself in the legacy of handloom sarees, accentuating your devotion and style simultaneously.
Diwali Grandeur: Banarasi Silks
As the festival of lights, Diwali calls for nothing less than sheer grandeur, and when it comes to festive sarees, Banarasi silk sarees take center stage. These sarees exude opulence and timeless beauty. The intricate zari work and luxurious silk fabric of Banarasi sarees make them the ultimate choice for Diwali celebrations.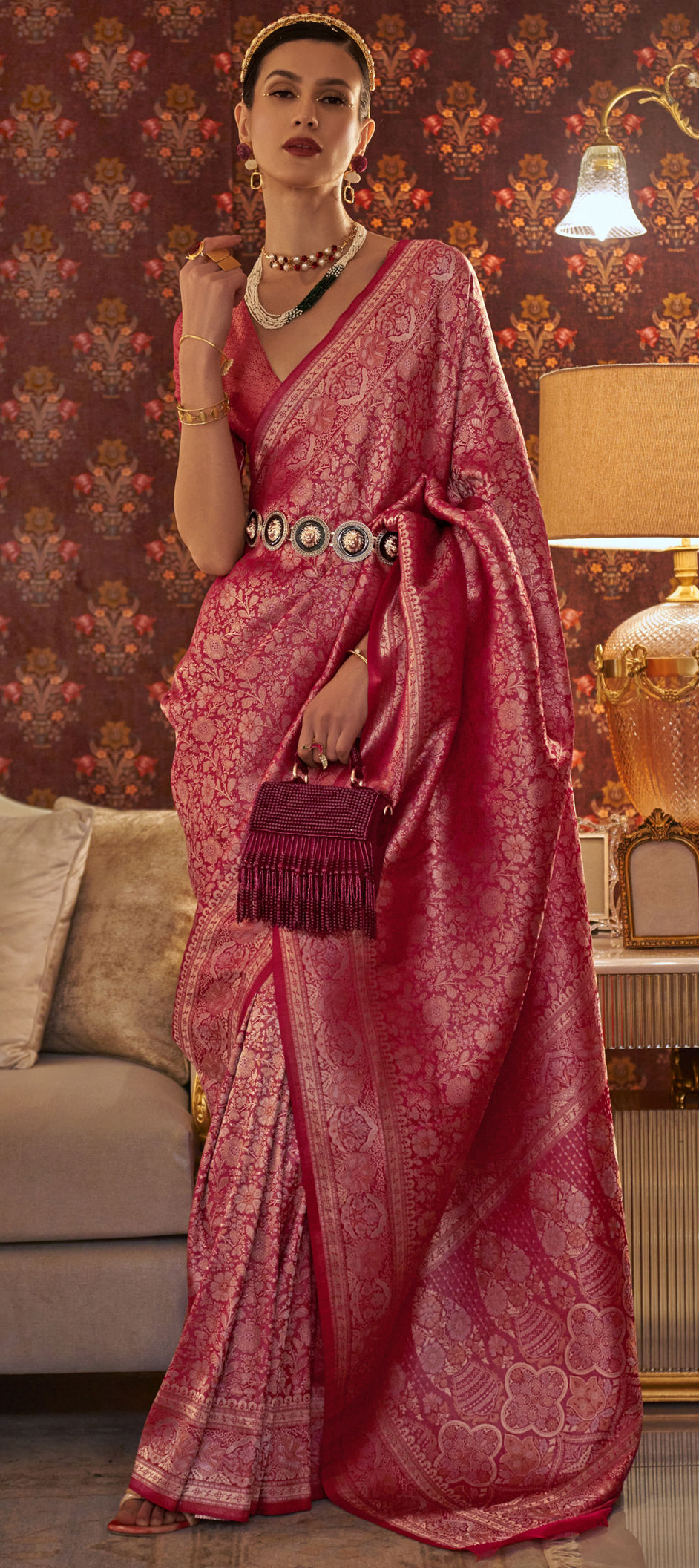 When picking festival sarees for Diwali, explore the vivid world of Banarasi silk in shades of gold, ruby, and emerald. These sarees effortlessly capture the essence of the festival. To complete your Diwali look, adorn yourself with exquisite jewelry, such as kundan or Polki sets. The result? A resplendent and regal appearance that leaves everyone in awe.
The Fabric Fascination
When it comes to sarees for festivals, the choice of fabric can significantly impact your overall look and comfort. Different occasions call for different fabrics. For instance, opt for lightweight georgette or chiffon sarees for a comfortable and graceful appearance during day festivals. On the other hand, the richness of silk sarees, like Banarasi silks, adds a touch of elegance to evening celebrations.
The key is to select festive wear sarees that not only align with the occasion but also resonate with your personal style. Whether it's silk, cotton, georgette, or chiffon, the right fabric can make all the difference.
Accessorizing Your Festive Saree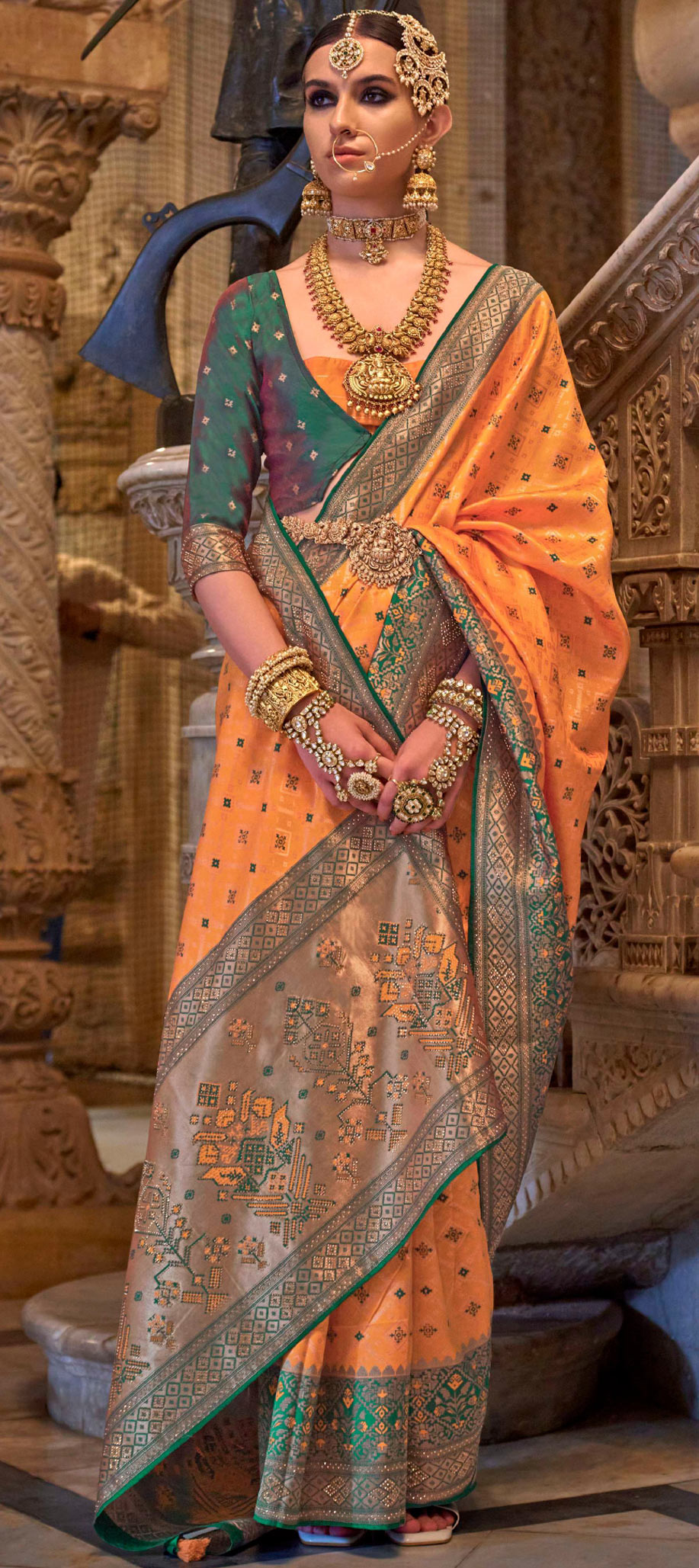 To truly make your festival sarees shine, it's essential to pay attention to accessories. Jewelry, footwear, and handbags play a crucial role in enhancing your festive look. Opt for traditional jewelry sets that complement the style of your saree. Polki, Kundan, or temple jewelry are excellent choices that blend seamlessly with the festivity.
When it comes to footwear, consider mojaris or juttis for a traditional touch. These elegant shoes not only elevate your style but also provide comfort during long hours of celebration.
As for handbags, choose ornate clutches or potli bags that match the color palette of your saree. These accessories add finesse to your overall look, making you the epitome of festive elegance.
The Blouse Chronicles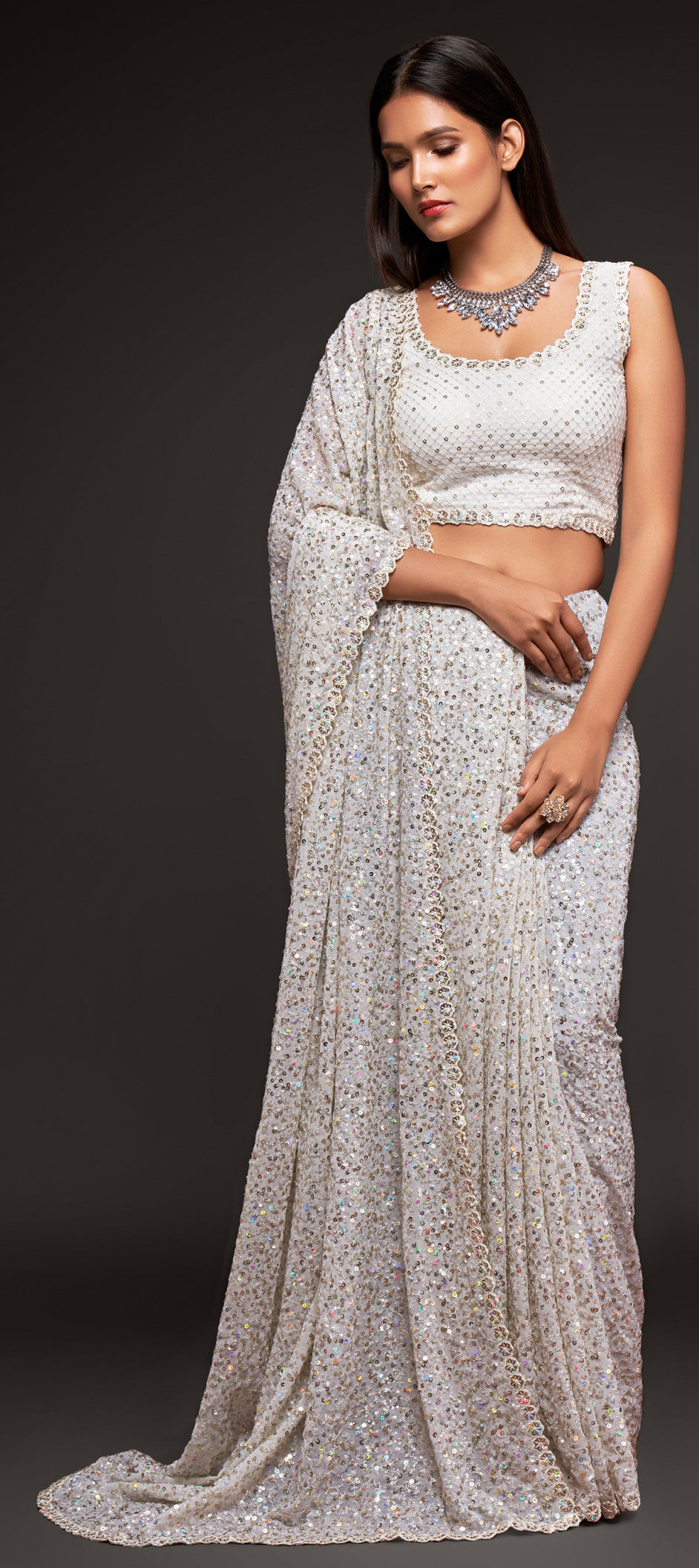 The blouse is often underestimated but plays a pivotal role in enhancing the charm of festive sarees. Consider the latest blouse designs to stay ahead in the fashion game. Off-shoulder blouses, puff sleeves, or backless designs can transform your saree into a fashion statement.
When selecting a blouse for your saree, ensure it complements the saree's design and color. Experiment with contrasting or complementary shades to create a harmonious ensemble.
Caring for Your Sarees
Preserving the allure of your festival sarees requires proper care. After the festivities, make sure to dry clean your sarees to maintain their sheen and quality. Store them in a cool, dry place away from direct sunlight to prevent color fading. Proper storage and maintenance ensure that your festive sarees remain in pristine condition, ready to dazzle at the next celebration.
Budget Brilliance: Sarees for All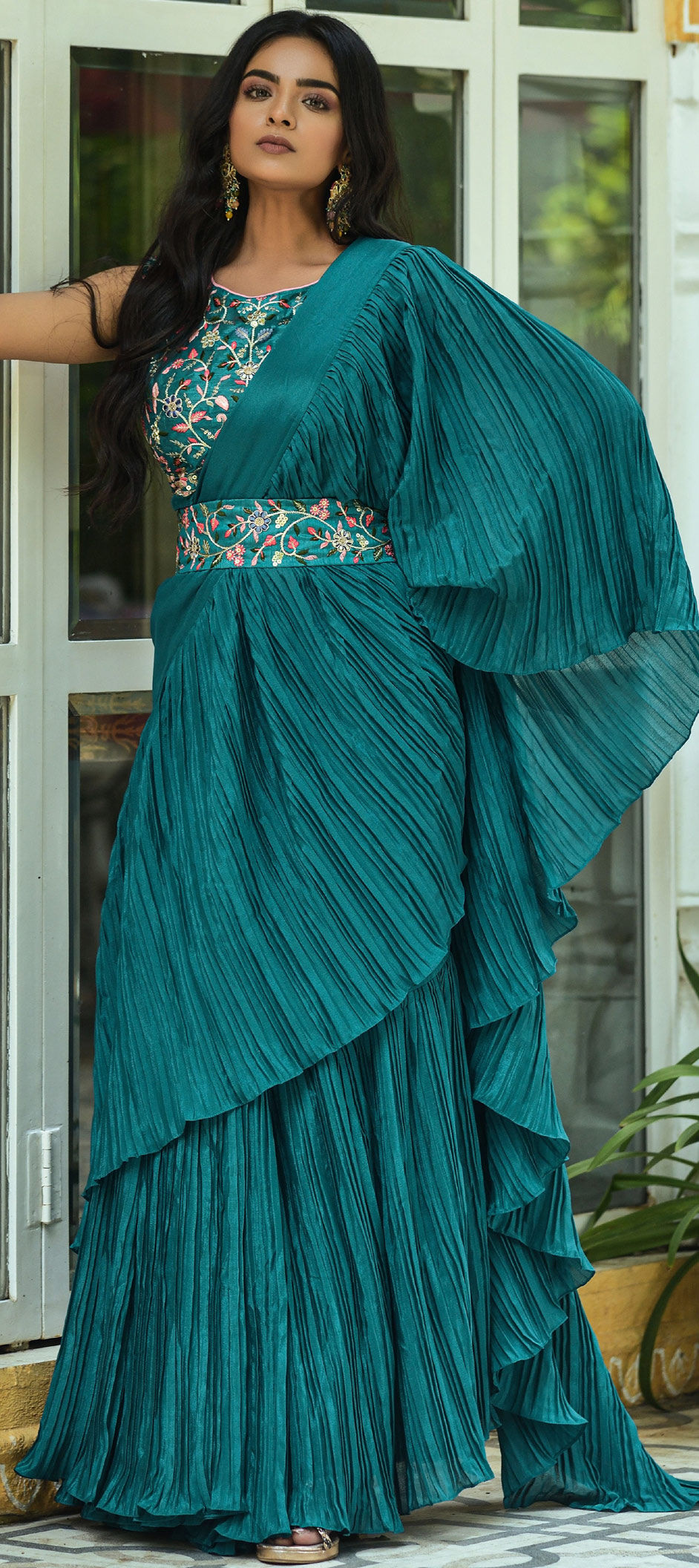 For those looking for festive wear sarees without breaking the bank, there are budget-friendly options available. Explore local markets and online stores for sarees that offer affordability without compromising on style.
These festival sarees may not carry a hefty price tag but can still make you look like a million bucks. Remember, it's not about the price; it's about how you carry the saree and the confidence it brings.
Conclusion: Unveiling Your Festive Glamour
In conclusion, the world of festive sarees is a mesmerizing journey filled with colors, traditions, and unmatched elegance. Whether it's Navratri, Durga & Kali Pooja, or Diwali, these sarees have the power to elevate your festive style to new heights.
So, go ahead, explore the richness of Lehariya and Bandhej sarees, the craftsmanship of handloom drapes, and the grandeur of Banarasi silks. Make these must-have sarees for the season an integral part of your festive wardrobe, and let your attire reflect the essence of celebration.