Sarees have the majestic quality of garnishing and enhancing the looks of a lady up to acme. Every girl desire to drape a saree at least once,especially when it comes to Indian girls and imagine herself that how'd she will look in that saree. In Indian culture, a saree can be draped in multiple styles differing from state to state.
These days most of the girls struggle in draping a saree. So, to save the time and save girls from the hassles of draping a saree, an amazing rescue has been designed called readymade sarees or draped sarees. These ready-to-wear sarees have pre-stitched pallu and pleats. And you know what, these sarees can be worn in just 30 seconds, isn't it some sort of wonder? Pre-stitched sarees look same as the unstitched ones and provides for stunning grace once it is worn. These are perfect party-wear saree.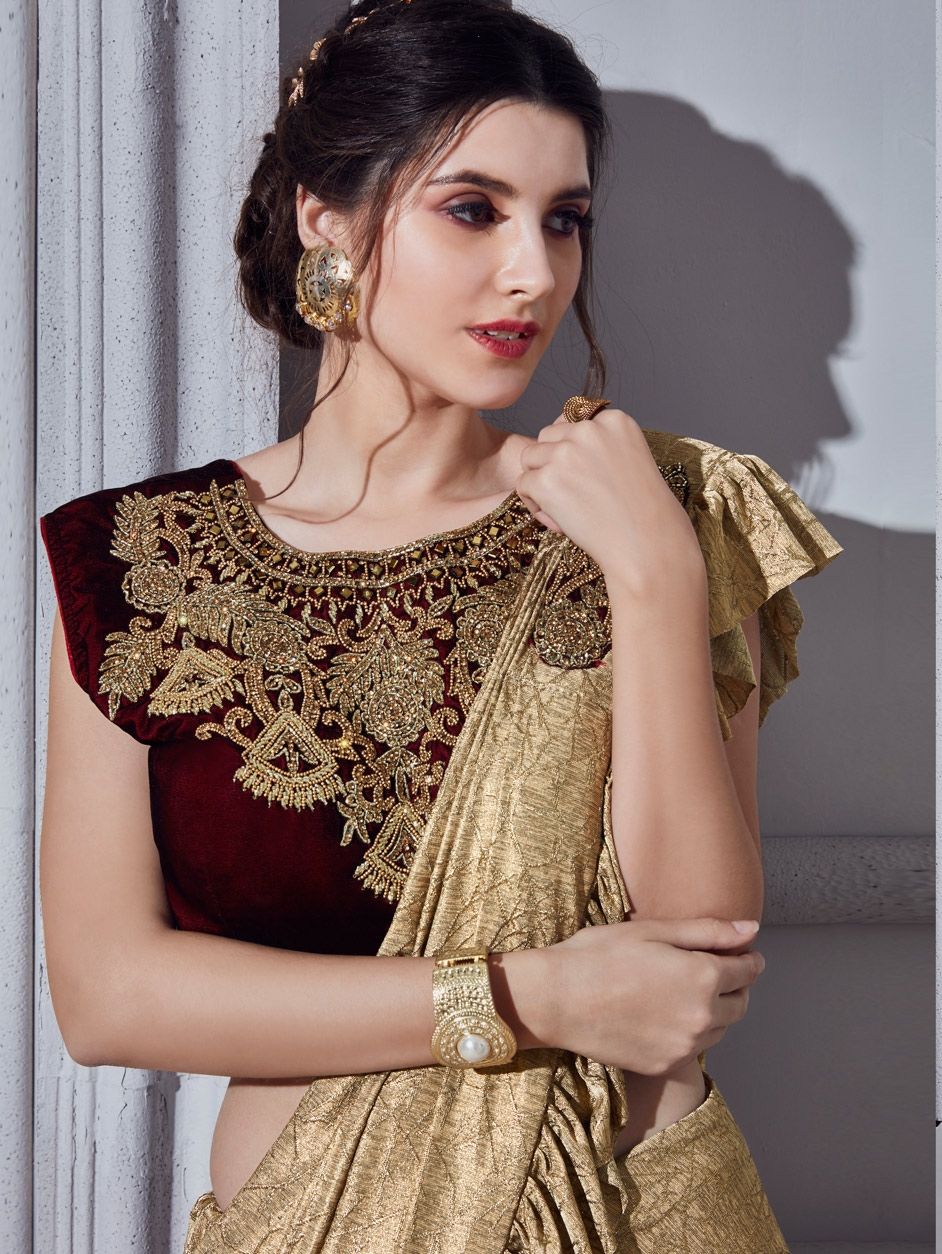 Now-a-days readymade sarees have become voguish especially amongst the young ladies. A pre-stitched saree is a perfect match for a stylish party wear as well as a fast day. The comfort and beauty of these Indian traditional dresses will leave you mesmerized. An ideal blend of stylishness and elegance with traditional traces define these sarees.
We have placed together some of the most stunning draped sarees for you from our Indian saree collection. So that you can check out our fashion mania. And you can add more beautiful outfits to your trousseau.
So, stick to the blog and keep exploring!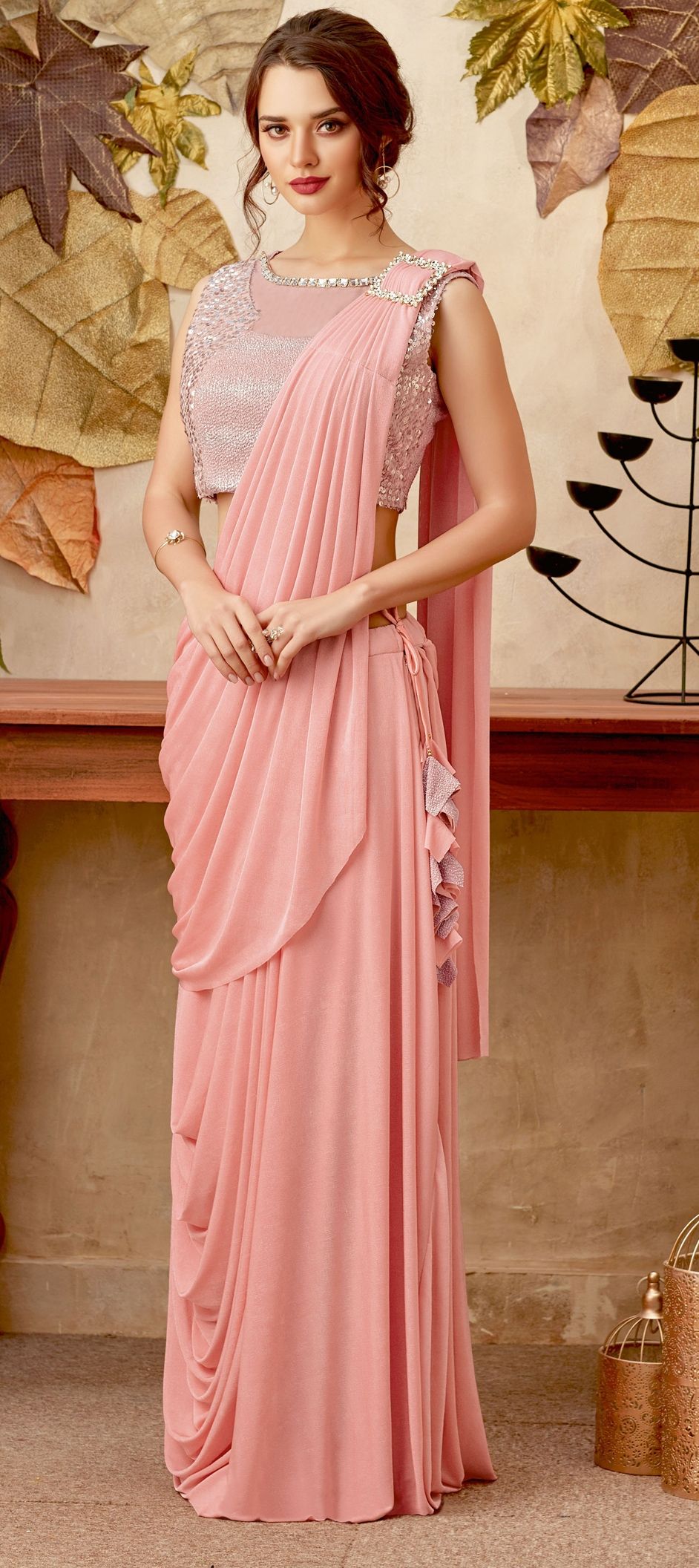 Beautiful pink pre-stitched saree in lycra to be tied with drawstrings at waist and complemented with dazzling blouse woven in gleaming thread and sequins. This will be an ideal outfit for this summer wedding season.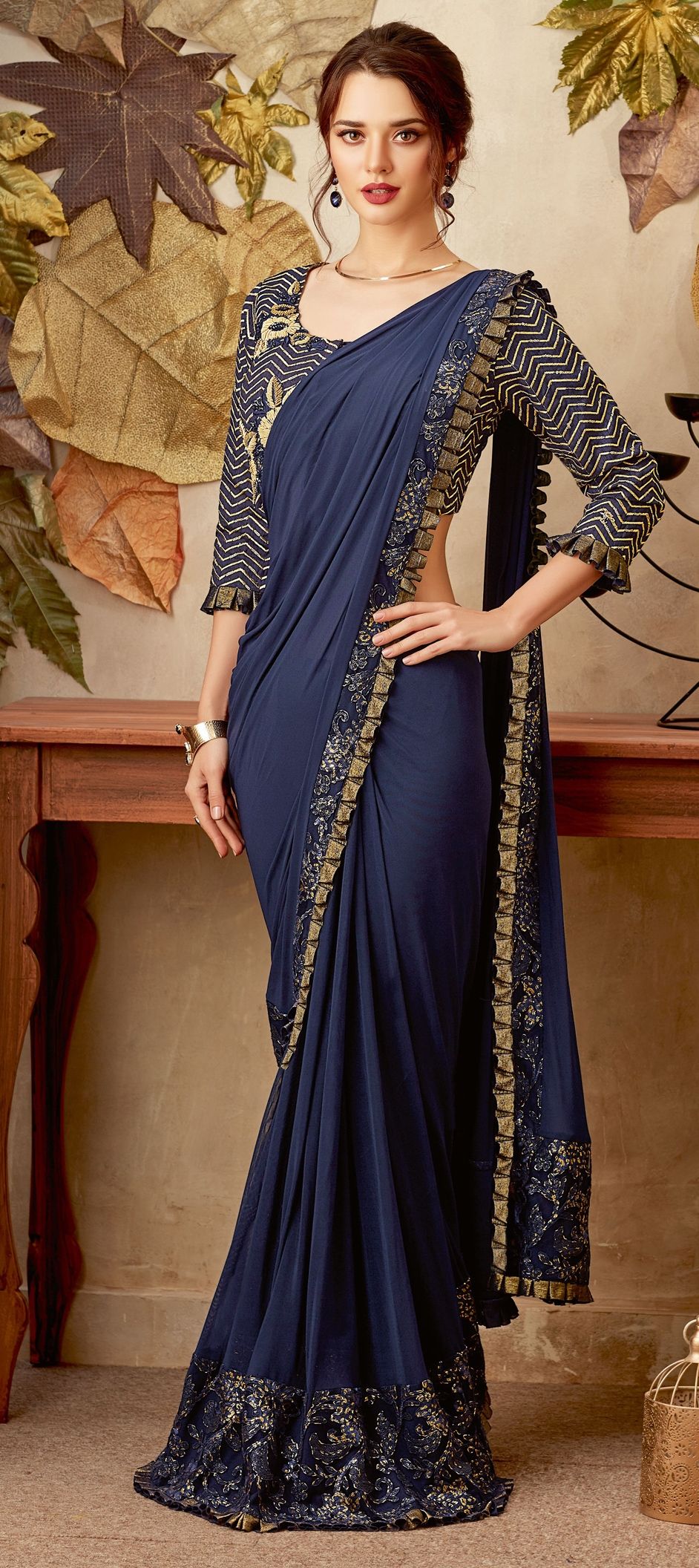 Stunning navy blue lycra pre-stitched saree beautifully embroidered and juxtaposed with ruffle border. A gorgeous blouse woven in resham, thread and bugle beads. A beautiful and subtle shaded saree will perfectly go for a party.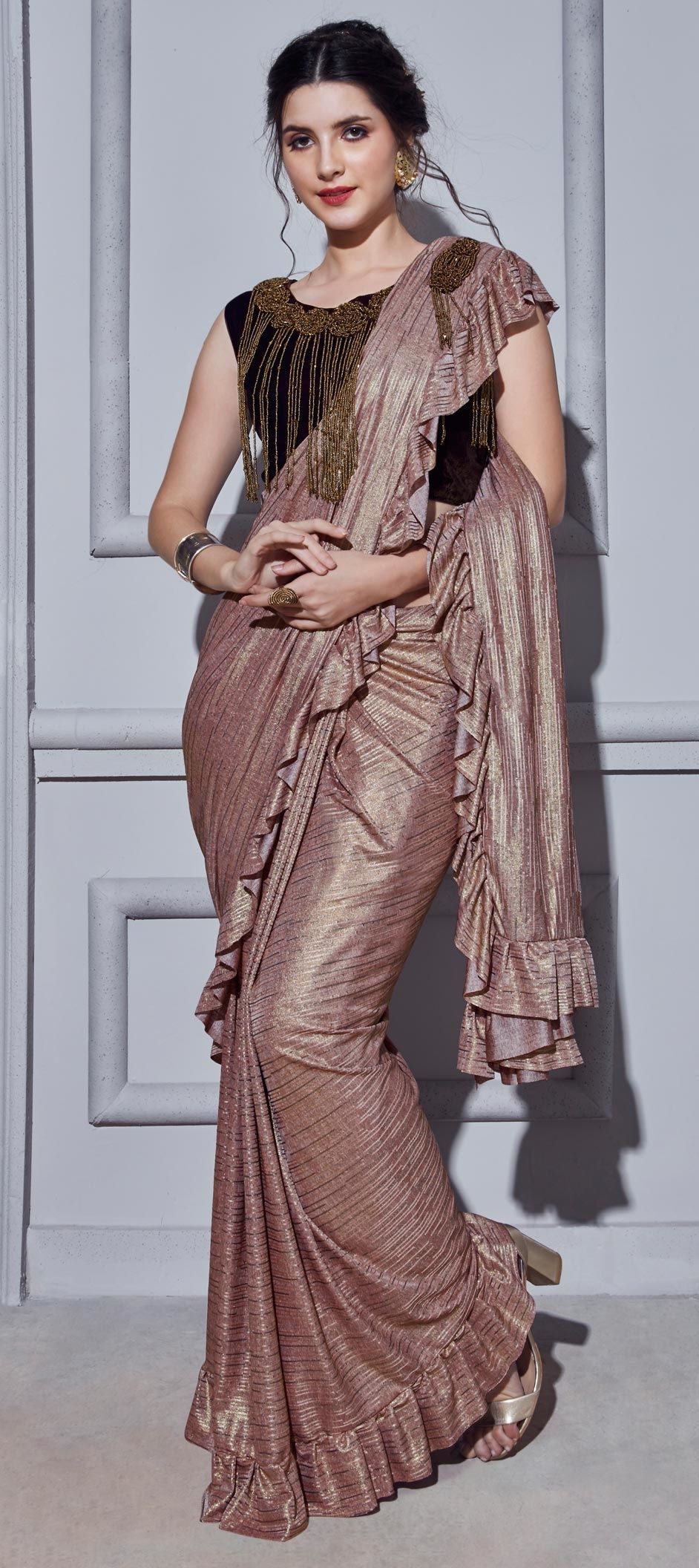 Have a look at this absolutely stunning dusky pink textured lycra saree embroidered in ruffle decorated with patch word to hold pallu pleats and paired with a lush blouse. Cannot find anything more subtle and beautiful for a party or wedding.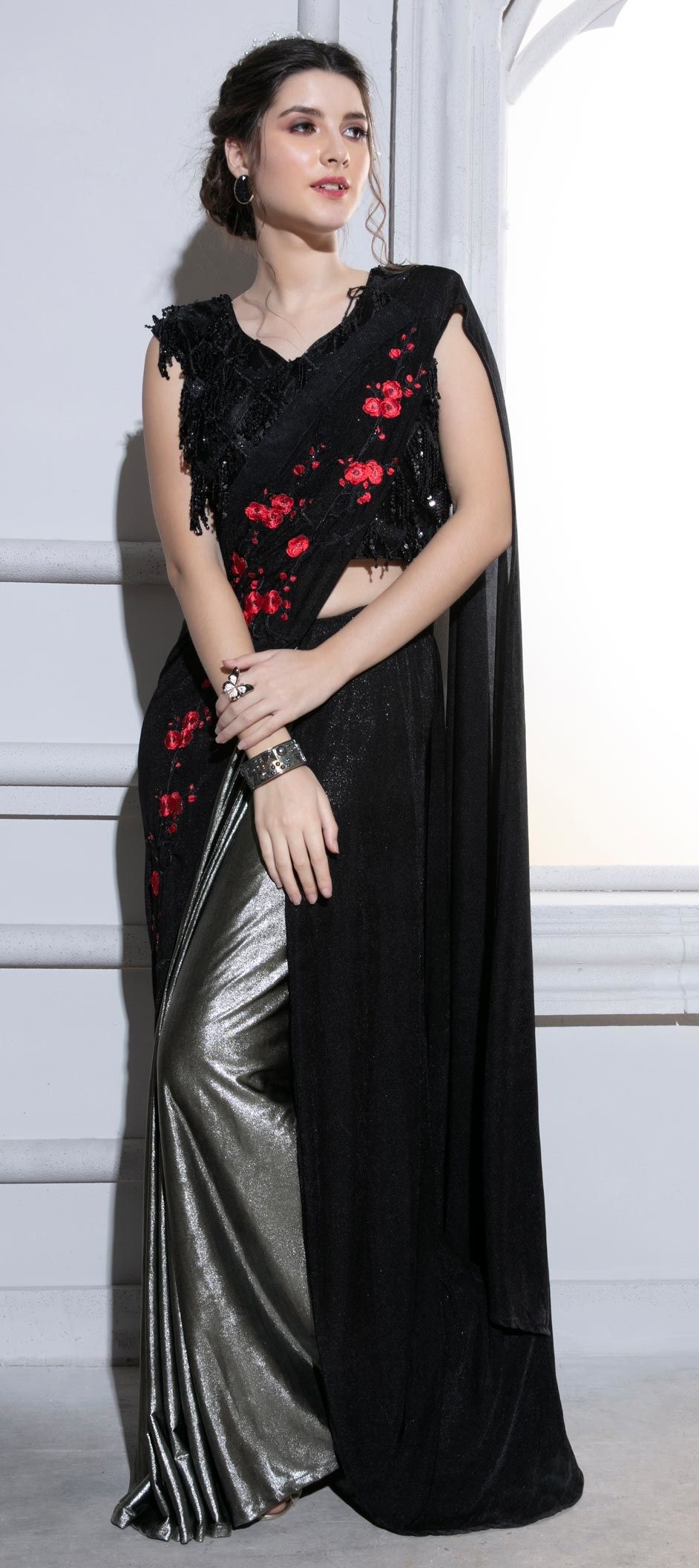 Gorgeous black and grey lycra readymade saree woven in red floral motif with thread and resham complemented with a beautiful and chic black blouse. This will look extraordinarily stunning irrespective of any season and will elegantly jazz your looks for a party or a wedding.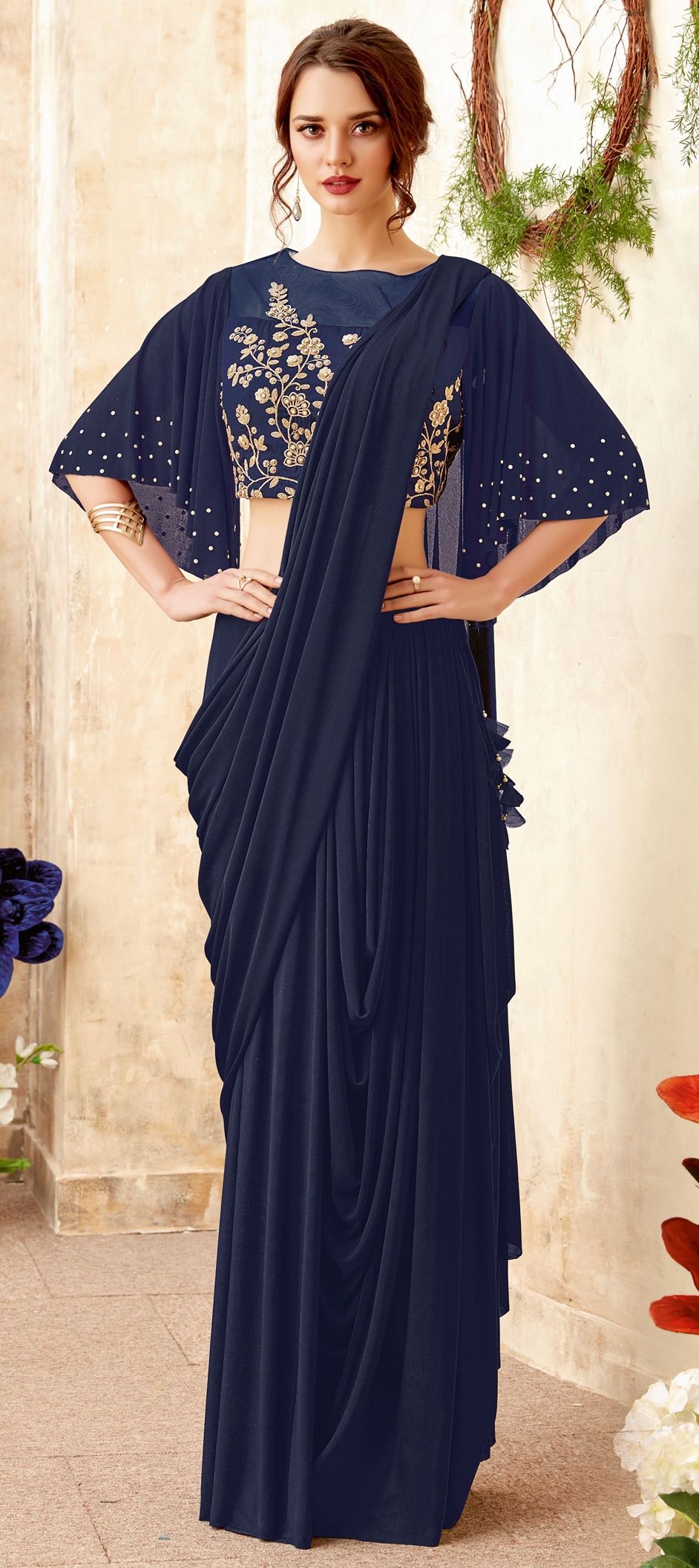 Absolutely glamorous navy blue lycra saree in designer pleats at front and stylish pallu complemented with a lavish blouse enhanced in thread motifs and sequins. Superb match for a wedding or a party.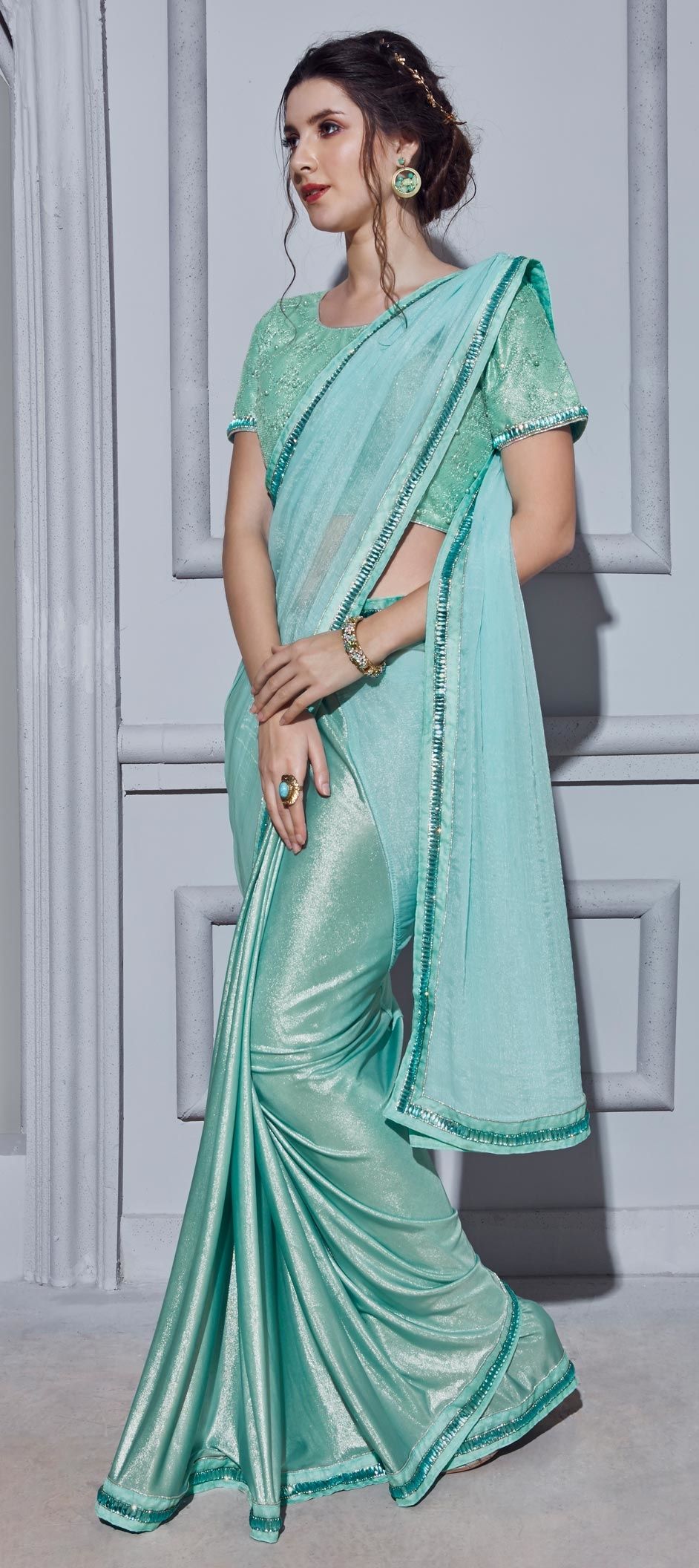 Gleaming icy-blue lycra saree embroidered in lace paired with beautifully crafted blouse. A gorgeous spring-welcoming attire.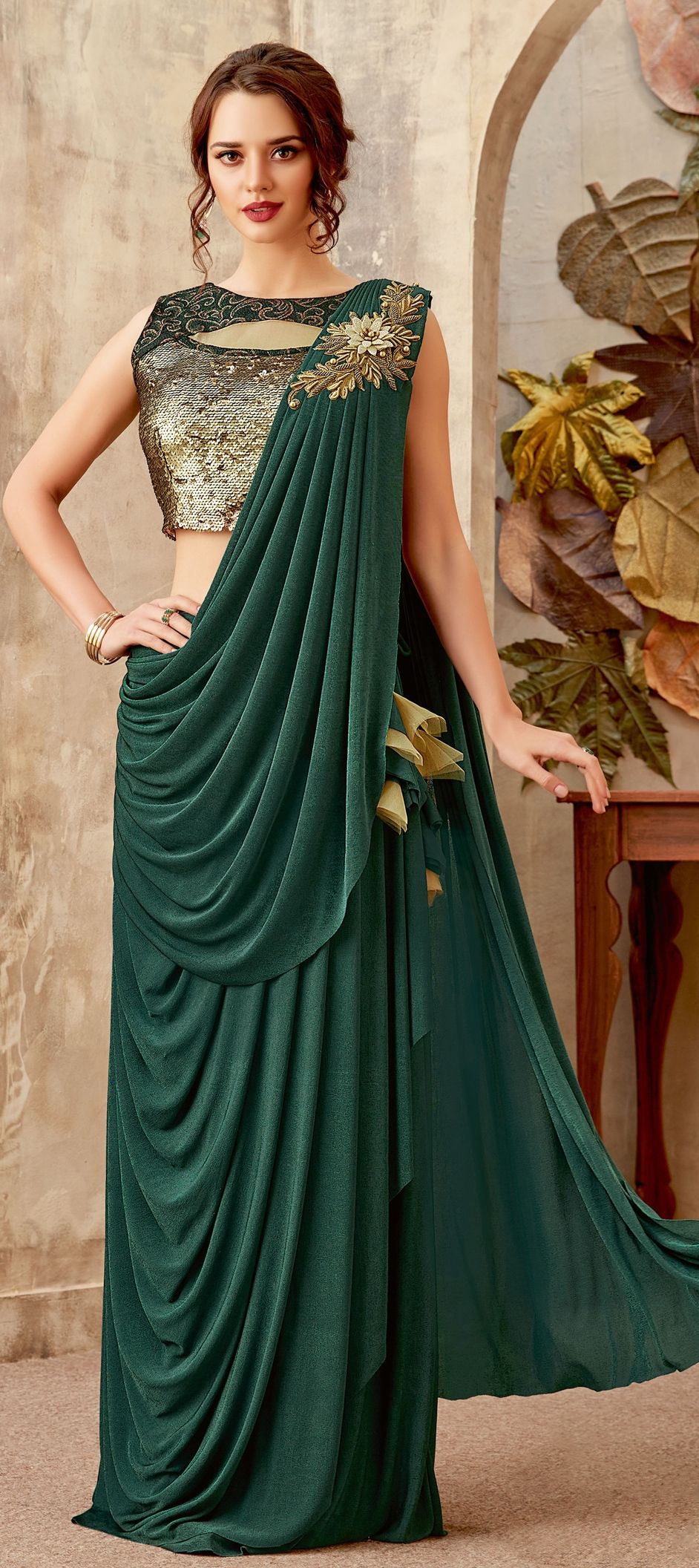 Elegant emerald green lycra designer readymade saree to be tied with drawstrings at waist and lavish floral motif to hold the pallu. Compact golden sequins work beautifies the blouse. An extremely gorgeous draped saree, that will perfectly go for every wedding occasion.
So, this was our look book featuring some of the best Draped sarees for every occasion from our Indian saree collection. Indian dresses have their own elegance. Try any of these and we are sure you are going to leave everyone mesmerized with your glances. We celebrate stylishness & elegance, we always bring subtle creations of ours for you, so that you can embellish your trousseau. For exploring more new outfits, keep checking our blogs…