The fashionable saree blouses are one of the best ways to make the entire look more elegant and mesmerizing. In fact, designer blouses are the latest trends and they are undoubtedly the best compliment to a modern saree. The charm and appeal of these blouses is often perfect for creating the perfect edge in the look and personality of the woman. Gone are the days when ladies were accustomed only to few styles and designs of blouses. However, things have drastically undergone a change in today's date. Most women have access to innumerable designs, styles and cuts in blouses that go with the saree and reflect the overall beauty of the woman.
Going As Per The Latest Trends:
Designer blouses have acquired an equal status like any other outfit. Moreover, you can also expect to find several types of works in them like the sequins, sparkles, and even the mirror works. These are also available in an array of colors. Often, the color of the blouse is in contrast with the color of the saree. Many of them come with different necklines, and these are customized, as per the requirements of the customers.
Varying Types Of Sleeves:
The most appealing thing about today's blouses is the varying types and lengths of sleeves available. Women of all ages go gaga over these lengths and types of sleeves. Here is a list of few of them-
•    Full sleeve- It refers to the full arm length where the arm is fully covered and the sleeves are often laced or embroidered.

•    Half sleeves- It refers to usually ¼ of the arm, and it is well fitted at the end.

•    Sleeveless- The sleeves are cut and it does not contain any sleeve.

•    Elbow- The sleeves are covered till the elbow. Though it is an old style, yet it is highly in demand even today.

•    Noodle strap- The blouse comprises of very thin straps, and these straps are attached to the tube.
•    Cap sleeve- The sleeves are very short and they barely cover the top of the shoulder.
•    Gibson sleeves- The sleeve comes full from shoulder up to the wrist, and a puff is added to the shoulder for an extra element of fullness.
•    Dolman- The sleeve is full at the top and tapers in such a way so that it fits the forearm.
•    Bell style- It can be either long or short sleeves and comes in the shape of a bell.
•    Puffed- A puff is seen at the shoulder of such sleeves.
•    Butterfly- It is close to bell sleeves, but the ends of the sleeves are connected behind the back.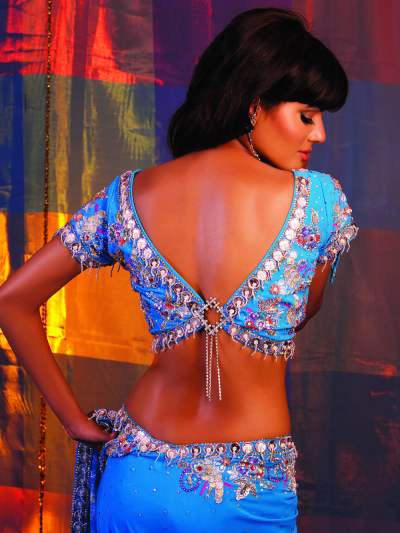 •    Pointed- The sleeves are long and well fitted and they end in a point towards the back of the hand.
Thus, there are innumerable patterns, designs, styles, sleeves for the modern blouses. You are free to choose from any of these options by means of which the overall look of the saree can also be enhanced.