Are you heading for a beach vacation? Wondering how to look trendy and gorgeous in the scorching heat at the beach? Well, beachwear is not only about exposing some skin wearing a one-piece or two-piece bikini. Beachwear has come a long way when it comes to fashion and trendy looks. We offer you some tips to looks smart and suave with or without exposing much.
Scroll down to find out how –
1    Welcome bright colors:
It's time to give those typical black and blue colored beachwear a ditch! Well, these days bright colors look dazzling while you're enjoying some sun bathing. Try your hands on colors such as orange, aquatic blue, pink, peach, indigo and similar tones that will perfectly bring out the feminine beauty in you. A yellow maxi dress that flows dramatically with the sea breeze or a peach colored knee-length beach dress would look chic.
2    Ghagra Skirts:
Want to go all desi with a stylish contemporary twist? Then, grab a ghagra skirt and pair it up with a comfortable tee and a lovely cap to save you from those sweltering sunrays. A matching jacket thrown on a crop top would also look smart and modern. A ghagra skirt with a knee length slit would shyly show your toned legs. Make sure the skirt is light in weight so that it keeps you comfortable at the beach.
3    Dhoti pants:
If you do not want to tan your legs at the beach, then dhoti pants would be the right choice for you. A trend among the fashionistas, dhoti pants would look good with crop tops and flip flops. Designed to suit all body types, you're sure to enjoy a game of beach volleyball with your folks. Get hold of the latest printed or embroidered dhoti pants and pair it up with a matching tee to add flamboyance at your next beach outing.
4    Drapes:
One of the loved attire by most Indian women, drapes brings out a sensuous appeal to the wearer. Be it a one-shouldered or a slit drape dress; be ready to get those envious looks by the onlookers. It is advised to wear a bright colored drape dress that would suit your body type. Pair it up with matching sandals and jewelry, and lead your way to a fun session at the beach.
5    Say 'yes' to black
If you can't get enough of your fetish for black color, then black beachwear – a never dying fashion would be the right choice. What more? Black makes you look slim, so bare it all in black beach attire and grab the much-needed attention of your adorable hubby. A contrasting colored Kaftan would add a smart twist to the attire.
6    Printed beachwear
Beachwear with abstract bold prints or galaxy prints is catching up the fashion trend these days. Be it a beach skirt, or a crop top printed patterns offer a bold and beautiful charm to the wearer.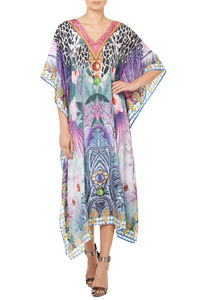 From an overall printed attire to just strategically printed motifs, prints are here to stay!