Sarees have always been an extremely versatile form of garment. For ages, it has managed to grow its craze amongst women whether young or old.  Irrespective of age, women seem to dote on saris and still consider it to be one of the most sought after clothes of all time. In terms of experimenting, one can easily say that sky is the limit. A lot can be done with these 9 yards to ensure that the sari craze never goes down and keeps building up with every passing day.
Here are a few sarees design ruling the fashion circuit in 2015
1 Khadi sari:
Khadi sari was majorly launched by the famous designer Sabyasachi. He simply seems to dote on the fabric and has used it in various ways in all his collections. It is a reality, when we say that the Khadi fabric was introduced as a fashionable fabric by the designer. Slowly, with years it emerged as a fashionable sari. If you take a look at the fashion scene in 2014, you will see that the ramp was majorly ruled by Khadi Sari's as the most preferred option for day wear.
2 Chaos :
Chaos or chaotic sarees seem to be the latest mantra amongst designers. Gone are the days. When the sarees were predefined  by a proper and distinct border , Pallu and Motifs. Today's designers like Masaba Gupta believe in making a splash of colors on the sari and creating beauty in chaos. There is no definite pattern in these saris and it is all about a plethora of bright colors on a garment, to make it look beautiful and exciting. Many Bollywood personalities like Madhuri Dixit and Kajol seem to be doting on this trend and wearing them at various functions and parties to keep their look interesting.
3 Neon Color Sarees:
This fashion trend has stayed on since 2013. The neon color sarees that initially were a huge craze amongst the youngsters have slowly won over hearts of the older generation also. The Neon color sarees are extremely chic and fashionable to say the least. We are not saying  that you need to wear sarees completely immersed in neon colors but even light color sarees with bright neon borders will brighten up the look of the sari and make it look bright and colorful.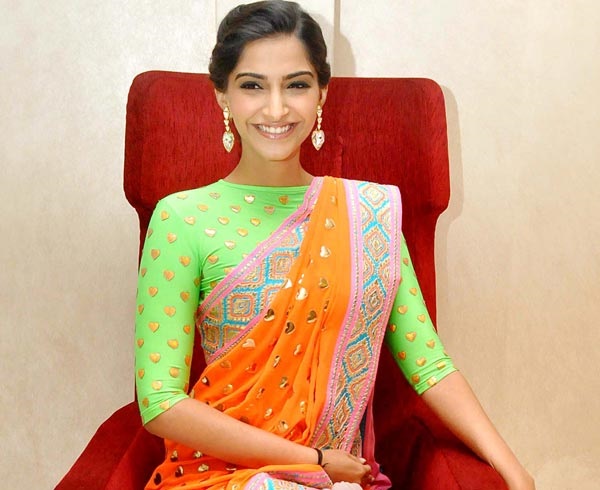 4 Pant Style Sari:
Earlier by pant style sari we referred to the traditional Maharashtran drape of sari called the Nawwari sari. Now, many designers have understood the importance and elegance of such looks and have come up with various pant style saris that are a huge rage amongst youngsters.
5 Gown style Sari:
Both the gown and the sari are extremely graceful and elegant form  of clothing. Imagine what would happen when both the style forms are merged to make one garment. Try the amazing gown style sari that has aesthetics of an Indian Sari but the drape and silhouette of gown. It is indeed a true blend of East meets west.