Lehenga style sarees are the ultimate feminine attire. They define a woman's curves and give her just enough sparkle; making her look like a movie star! This beautiful dress form has its roots in the saree; a six or 9 yard fabric that is made of fine silks and embroidered in delicate techniques which vary across the country. Wearing a saree takes quite a bit of practice and skill but unfortunately many young women today are still unable to dress themselves in it without seeking help. They also fear that the saree might slip off or the pleating is incorrect. This is why lehenga style sarees have become so immensely popular. This elegant attire exudes comfort, grace and style. It is one of the hottest trends in traditional wear; loved by women of all ages.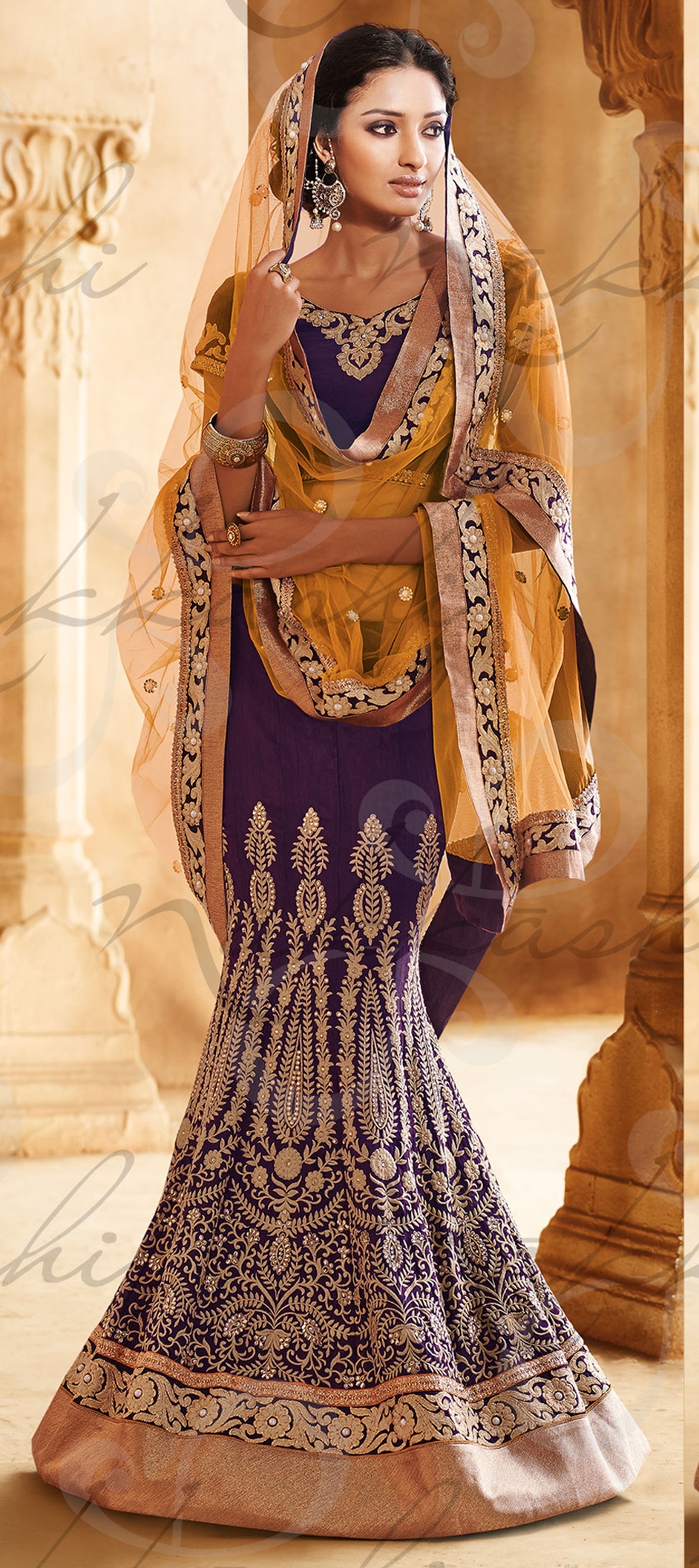 When you shop for a lehenga style saree, you can expect to purchase in a semi-stitched format with 4.5-5.5 meters of fabric attached. It includes the blouse piece, skirt and pallu. Like its saree counterpart, it is made from a variety of fabrics such as crepe, silk, georgette, chiffon and jacquard looms.
Here are seven additional reasons to fall in love with lehenga style sarees:
1. Simple and Easy to Wear
To wear a lehenga saree, you don't need specialized skills. Nor do you have to be concerned about the pleats and their alignment. In a lehenga, the pleats are pre-stitched or formed. This means after wrapping the lehenga around your body and placing the pallu on your shoulder, simply tuck in the top portion of the pleats and you're ready! It takes less than five minutes to wear this attire.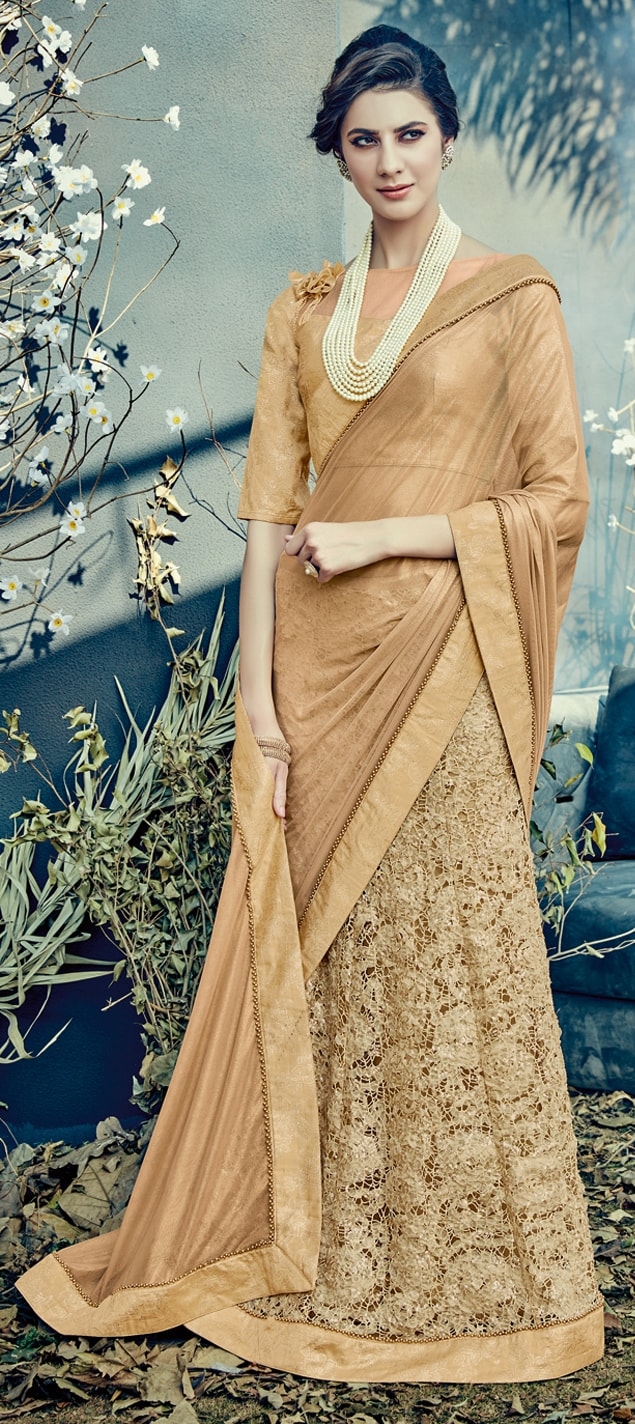 2. Feels Comfortable
Wearing a lehenga saree is like wearing a skirt and blouse. It's long, flowing and airy. After wearing one, you don't have to be concerned about the pleats coming undone or the petticoat loosening or the saree wrinkling. Since the skirt is pulled up and fastened in place by a zipper, your look never changes. You will remain comfortable in your lehenga for the entire night.
3. Fashionable Attire
For some women, a saree can seem like a boring option. With a lehenga saree you have a stylish and trendy alternative. This attire is in trend this season so if you really want to make a fashion statement, a lehenga saree is the way to go. You can opt for a traditional looking lehenga something more modern and chic. Your final look will suit the occasion and your personality.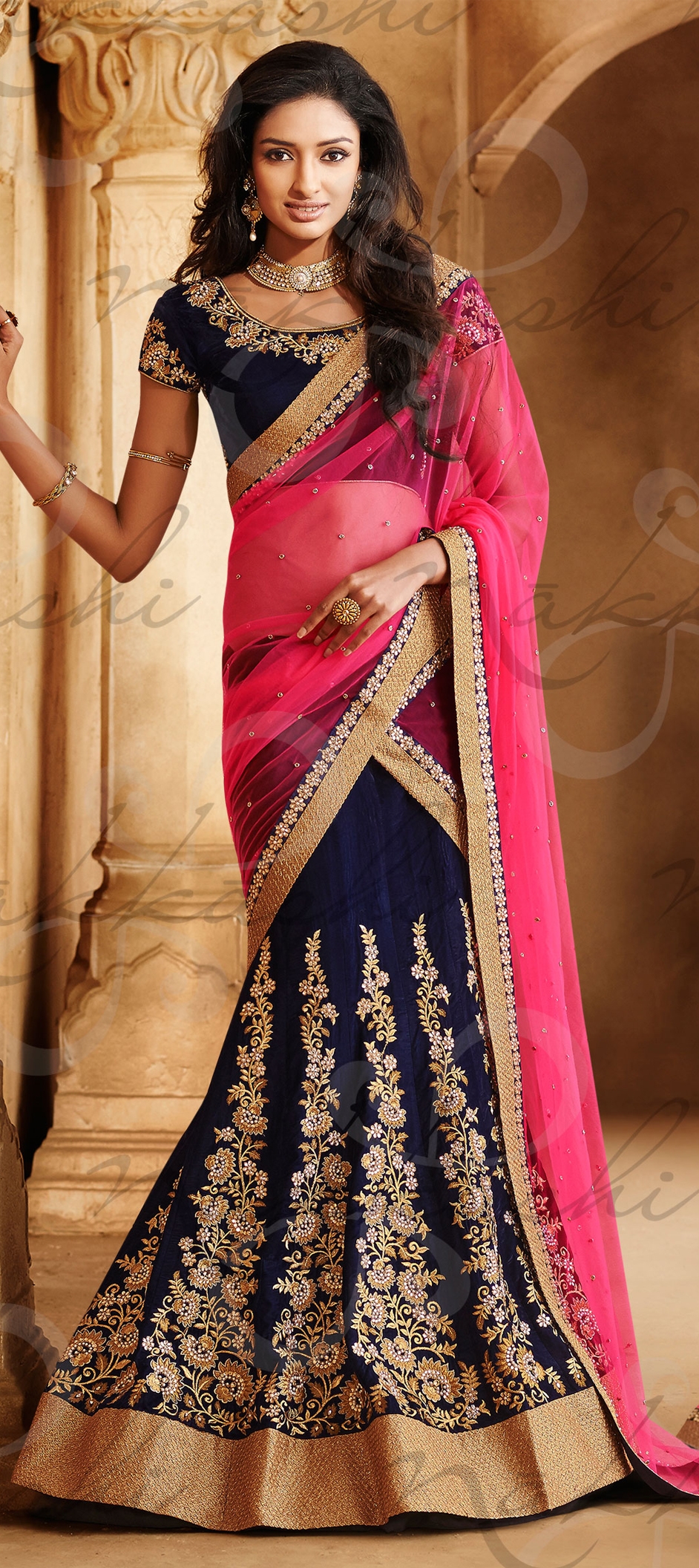 4. Extra Accessories not Required
In a saree, additional accessories are often required such as safety pins to pin down the pleats and the pallu, a tie clip to keep the pleats in the centre, a petticoat to support your saree and a blouse piece with liner. However all these items are not required in a lehenga saree. You simply pull it on, tuck in the pre-stitched pleats, wrap around and toss over the pallu and you're ready to go!
5. 2 in 1 Styling
A wonderful feature of the lehenga saree is that it can be worn as both a saree and as a lehenga. If you opt for the second styling option, you have more choices when it comes to how you want to wear the pallu, i.e. free flowing, pleated, ghungat, Gujarati style, etc.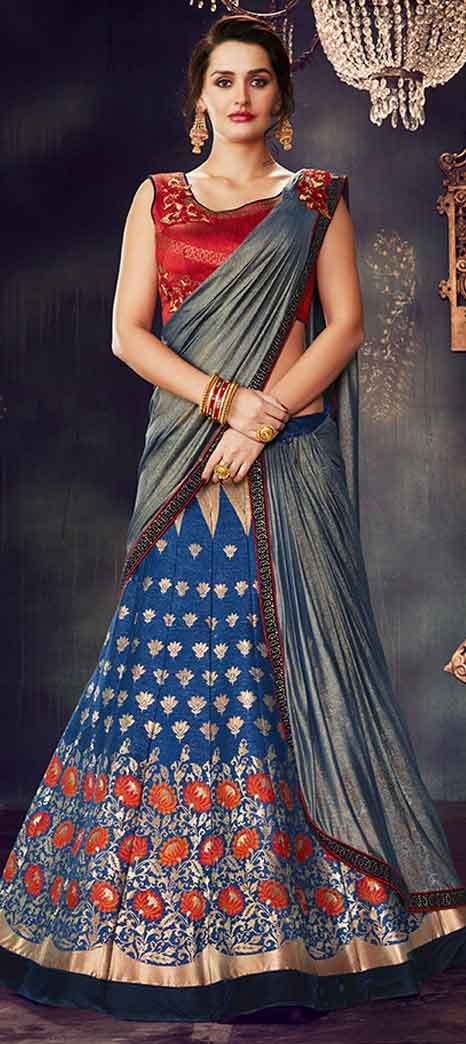 6. Suitable for Weddings and Parties
Lehengas are an elegant attire, making them suitable for both parties and weddings. As more and more brides are opting for comfort and sophistication in their wedding attire, lehenga sarees seem like the perfect fit. This attire enables them to move around easily. In addition, the look remains for the duration of the ceremony without much wrinkling or creasing. Bridal lehengas are so intricately detailed that they actually transform a woman into a princess for her special day. More importantly it is also a modest attire, suitable for solemn ceremonies.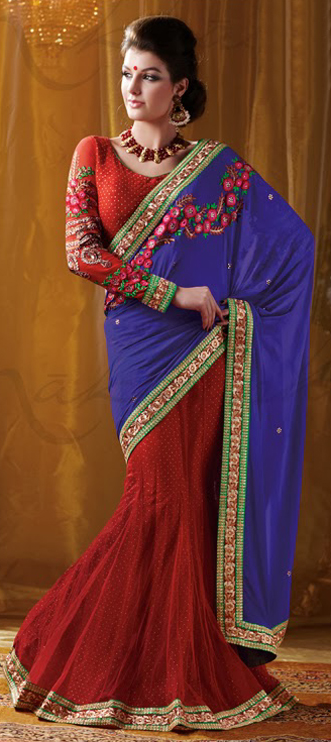 7. Many Varieties and Designs
Similar to sarees, the variety and design options in a lehenga saree are enormous. The spectrum from traditional to contemporary is vast so it's easy to find a look that suits you and makes you feel comfortable.
To shop for beautiful lehenga style sarees, visit Indian Wedding Saree.